'I just wanted to have the conversation going and promoting again, just freedom and justice, liberty for everybody on gender issues, on racial issues which we deal a lot with in this country'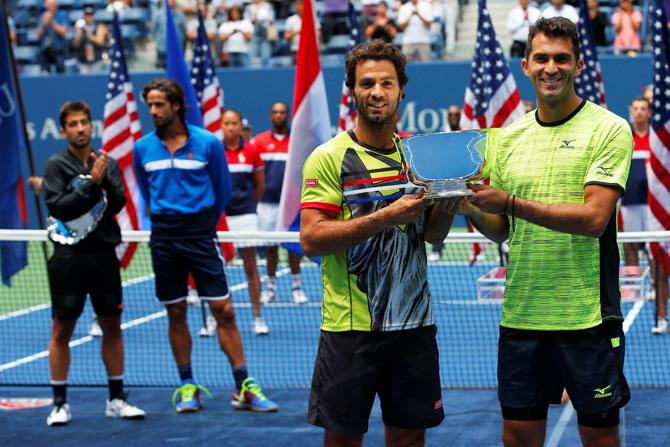 IMAGE: Champions Jean-Julien Rojer of the Netherlands (left) and Horia Tecau of Romania hold up the trophy after defeating Spainish duo Feliciano Lopez and Marc Lopez. Photograph: Mike Segar/Reuters
Jean-Julien Rojer of the Netherlands and Romanian Horia Tecau eased past Feliciano and Marc Lopez 6-4, 6-3 to claim their first US Open doubles grand slam with Rojer making a small political statement following the win on Friday.
The 12th seeded Rojer and Tecau, who rallied from a set down to upset top seeded Henri Kontinen and John Peers in the semi-finals, needed just 86 minutes on a sunny Arthur Ashe Stadium court to add the US Open championship to the Wimbledon title they won in 2015.
The final was the first in the Open era (since 1968) to feature two teams seeded outside the top 10.
During the trophy presentation, Rojer, who was born and lives in Curacao, was asked about the outfit he was wearing, which featured a florescent yellow shirt with a picture of the Statue of Liberty across the front.
The Dutchman explained it was inspired by a rally by white nationalists in Virginia last month that left one woman dead.
"The idea came after the tragic incident in Charlottesville and we came up with this line promoting peace and freedom and liberty," said Rojer as a small crowd cheered.
"I have been wearing it all around and I have another one that has a bunch of people locked in arms civil rights march and hopefully we are moving in that direction.
"I have been here since I was 12 years old, it's a great country I am happy they let me in and that I got to do my job here.
"Hopefully we will create those opportunities for everybody."
His comments come as US President Donald Trump has tightened immigration policies and after he spoke of "very fine people" on both sides in Charlottesvile, shocking even some political allies.
A violent white supremacist rally opposing removal of a statue of General Robert E. Lee sparked a global outcry when neo-Nazis, Ku Klux Klan supporters and others openly marched and confronted counter demonstrators.
Heather Heyer, 32, was killed and 19 others injured when a far-right supporter ran his car into the crowd of counter demonstrators.
"I just wanted to have the conversation going and promoting again, just freedom and justice, liberty for everybody on gender issues, on racial issues which we deal a lot with in this country," Rojer said.
IMAGE: Jean-Julien Rojer and Horia Tecau are congratulated by Feliciano Lopez and Marc Lopez. Photograph: Al Bello/Getty Images
"I feel in tennis we don't say much about it, but this is just tennis... and especially I think it's symbolic to be here."
Racial confrontations, including African-Americans killed by white police officers, also bother Rojer, who comes from the Dutch Caribbean island of Curacao.
"First time I noticed color was when I came to the US, sad to say that, when I was 12, because we don't grow up with that back home," he said.
"It's stuff I know that goes on. I read the news and I see a lot of unfair stuff going on. Some of these people don't have a voice to defend themselves and this kind of stuff, but it just really came about after Charlottesville and I thought it was a good message."
Tecau added that as champion athletes they had an obligation to spread a message of racial equality and social justice.
"We're viewed as role models for a lot of the people," he said.
"It's nice to send this message and spread it, because you have a lot of people that look up to you.
"It's important to see we're not just athletes competing for Slams and prize money and glory. In the locker room, everybody is the same. We're all friends and all compete against each other."
Meanwhile it was more disappointment for Spain.
Spanish teams have been in the Flushing Meadows final three of last four years but again fell short of ending a drought that has stretched back to a victory by Sergio Casal and Emilio Sanchez in 1988.
"We didn't have many chances on their serve and they took all of them," lamented Feliciano Lopez, who was beaten in the third round of the singles by Roger Federer.
"This is something to be proud of and I think we have many years to still play together."