Steady Kerber advances to third round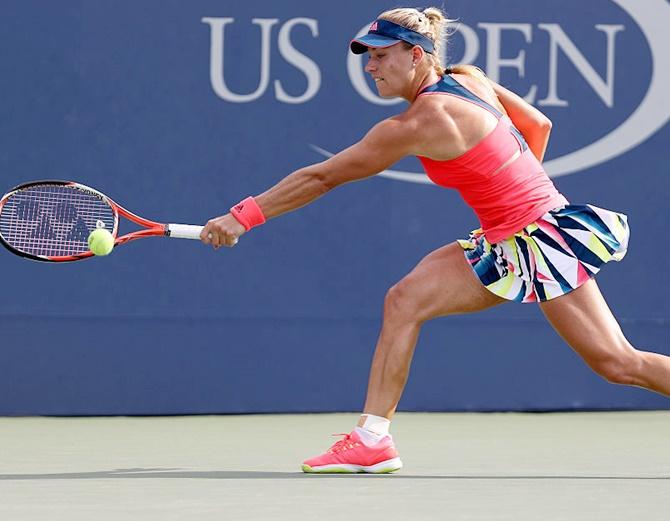 IMAGE: Angelique Kerber of Germany returns a shot to Mirjana Lucic-Baroni of Croatia during her second round women's singles match on Day Three of the 2016 US Open at the USTA Billie Jean King National Tennis Center. Photograph: Joe Scarnici/Getty Images
Second seed Angelique Kerber stayed on track in her quest to unseat Serena Williams as world number one by beating Mirjana Lucic-Baroni of Croatia 6-2, 7-6(7) on Wednesday to reach the third round of the US Open.
Australian Open winner Kerber rifled home an ace to finish the first set against the free swinging, 34-year-old Lucic-Baroni, then won a see-saw second set in which each player was broken three times on the way to a tiebreaker.
The Croat held two set points during the decider, and three overall, before losing it 9-7.
The left-handed German was one match win away in Cincinnati from ending Williams' long reign as number one before losing to Czech Karolina Pliskova in the final and has another chance to leapfrog the American at Flushing Meadows.
Lucic-Baroni raised her game in the second set, but could not overcome the steady Kerber as the big-hitting Croat blasted 37 winners while gifting the German with 55 unforced errors.
"I played very well in the first set," said Kerber, who also reached the Wimbledon final where she lost to Williams.
"I moved good, I played good. I played my game. "In the second set, I was 4-1 up. It was still good for me, but I think she was playing better and she was going for it. Then she was not making too many mistakes like in the first set."
Kerber had to battle to avoid the uncertainty and labours of a third set. The German faced a set point in the 10th game before holding for 5-5.
Kerber fought off two more in the tiebreaker, with Lucic-Baroni serving with a 6-5 lead and again when the left-hander was serving down 6-7.
Three errors by the Croat from that moment ended the match.
"When you win a set like this, you know that you can win when it's really close," Kerber said.
"This is what actually makes me like believing in my game again and in my fight spirit. "I know if I'm down I can turn around the match. It's good to have a set like that."
Wozniacki rallies to upset ninth seed Kuznetsova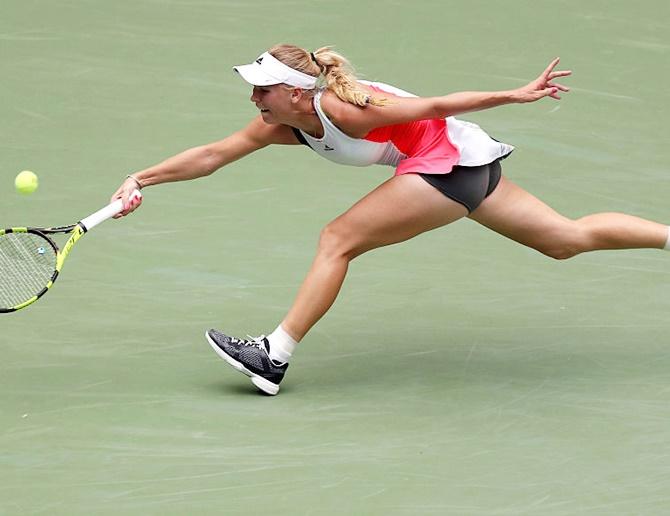 IMAGE: Caroline Wozniacki of Denmark returns a shot to Svetlana Kuznetsova of Russia. Photograph: Joe Scarnici/Getty Images
Former world number one Caroline Wozniacki, one point from falling behind 5-0 in the opening set, rallied to upset ninth-seeded Russian Svetlana Kuznetsova in straight sets.
The unseeded Dane, slowed by injuries this season, took advantage of some sloppy play by the former US Open champion to post a 6-4, 6-4 victory and advance to the third round.
"It was not looking good for me," Wozniacki said on the Arthur Ashe Stadium court after the match.
"I've been in this situation before. I was down 6-1 (actually 6-2), 4-1 (in the fourth round in 2009) to her once on this court I said 'I can do this, I can pull this through.' And I won last time and I won today and I'm really proud of that."
Wozniacki, twice a US Open runner-up, has struggled through ankle and arm injuries this season and came to Flushing Meadows ranked 74th in the world.
"I stopped looking at the ranking once I fell out of the top 10," said 26-year-old Wozniacki, who has endured a couple of down years.
"I feel like I belong at the top."
"Today I beat someone who's been playing really well this year and that's definitely going to build my confidence."
Wozniacki, one of the game's top retrievers, showed no injury effects as she dashed around the court to extend rallies.
Kuznetsova, the 2004 US Open winner, who won at Sydney this season and reached the fourth round at both the French Open and Wimbledon, blamed herself.
"After 4-0 (in the first set) it was very even games, even on my serve," said the Russian.
"Then I made a couple of unforced errors which I shouldn't do and I just let her in the match. And she started to believe. "I was really frustrated because I felt like I was playing good, just didn't close a few balls at the net."
"The second set I tried to hang in there, but a few unforced errors," added 31-year-old Kuznetsova, who registered 31 errors in the one hour, 44 minute match.
Cilic charges into third round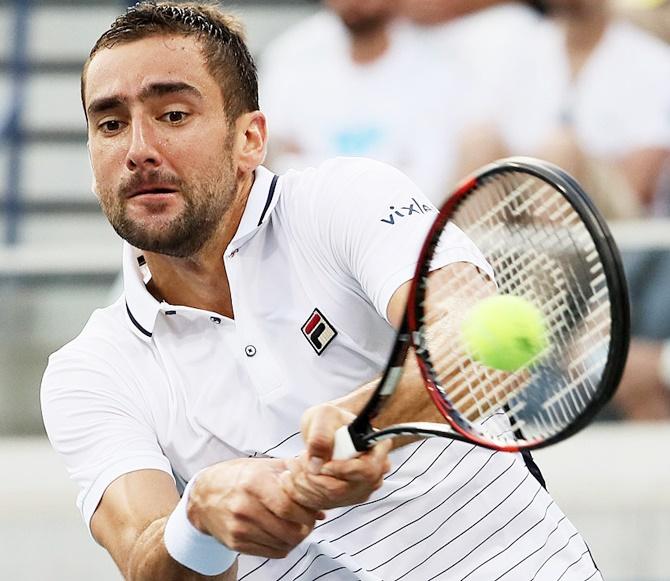 IMAGE: Marin Cilic of Croatia returns a shot to Sergiy Stakhovsky of Ukraine during his second round men's singles match on Day Three of the 2016 US Open. Photograph: Michael Reaves/Getty Images
Seventh-seeded Marin Cilic made it look as easy as one, two, three as he charged into the third round.
Cilic, the 2014 champion, continued his hard court season surge with a 6-1, 6-2, 6-3 rout of Sergiy Stakhovsky of Ukraine to reach a showdown match against American Jack Sock.
"I played really well today from the start till the end," the 27-year-old Croat told reporters.
"I didn't have too many ups and downs in the game. "I felt that I was controlling the match. I felt that I was really mixing up the game well."
Cilic, who recently made a coaching switch away from former Wimbledon champion Goran Ivanisevic, began to put his big-hitting game in gear during the grass court season and has built momentum since. He reached the semi-finals at Queen's Club, where he lost to Andy Murray, and followed that with a trip to the quarter-finals before falling to Roger Federer.
This summer he won his first ATP Masters 1000 event in Cincinnati, beating Murray in the final to end the Scotsman's 22-match winning streak that included his Wimbledon and Olympic triumphs.
Cilic took 100 minutes to eliminate Stakhovsky, facing only two break points in the romp.
"I think that was really, really, high-quality match," he said.
Cilic expects a tougher test against Sock, who came from two sets down to beat him in a five-setter in this summer's Davis Cup matches in Portland, Oregon.
Raonic suffers shock defeat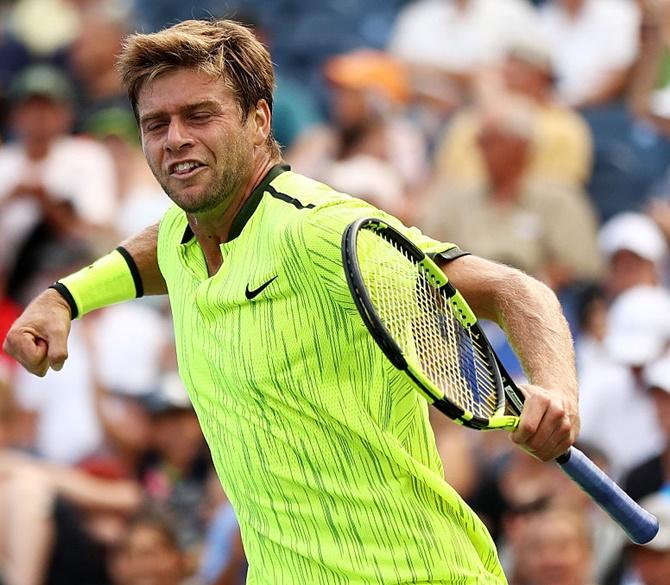 IMAGE: Ryan Harrison of the United States celebrates his win over Milos Raonic of Canada. Photograph: Elsa/Getty Images
American qualifier Ryan Harrison pulled off the biggest shock yet of the US Open by beating fifth seed Milos Raonic 6-7(4), 7-5, 7-5, 6-1 to reach the third round of the year's final Grand Slam.
Raonic, who last month became the first Canadian man to reach the Wimbledon final, arrived at Flushing Meadows looking to take the next big step in his career but his bid was cut short by the 120th-ranked Harrison.
The 24-year-old American, who had beat Raonic once in their previous two meetings, came prepared to give the sixth-ranked Canadian a battle and proved the more durable during in a three hour, 37 minute match played under punishing conditions.
While Harrison remained cool and collected it was Raonic, 25, who wilted and called for the trainers several times to deal with cramps and troublesome left wrist.
Harrison, who advanced to the third round of a Grand Slam for the first time, will next meet Cypriot Marcos Baghdatis, a 6-2, 6-4, 3-6, 6-4 winner over Frenchman Benoit Paire.