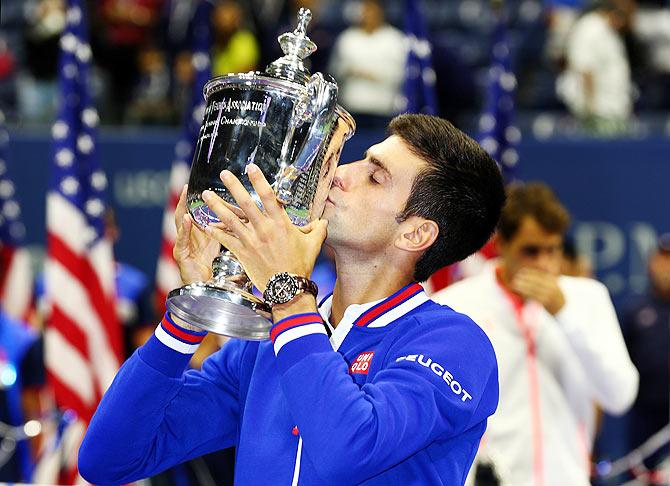 IMAGE: Serbia's Novak Djokovic kisses the trophy after defeating Switzerland's Roger Federer to win the US Open final at the USTA Billie Jean King National Tennis Center at the Flushing Meadows on Sunday. Photograph: Clive Brunskill/Getty Images
Novak Djokovic vanquished long-time rival Roger Federer 6-4, 5-7, 6-4, 6-4 to win the US Open on Sunday to cap one of greatest grand slam seasons of all-time.
The victory gave Djokovic three of the year's four grand slam titles with a loss to Stan Wawrinka in the French Open final his only blemish.
It was the 10th career major for Djokovic but only his second U.S. Open.
The 28-year-old Serb had known more frustration than success on the Flushing Meadows hardcourts having previously reached the final five times and lifting the trophy just once in 2011.
"It's been an incredible season. Next to 2011 probably the best season of my life," said Djokovic, who won the same three grand slam titles in 2011. "But I'm enjoying this year more than any previous one because I'm a husband and I'm a father and that makes it even more sweeter.
"I love this sport."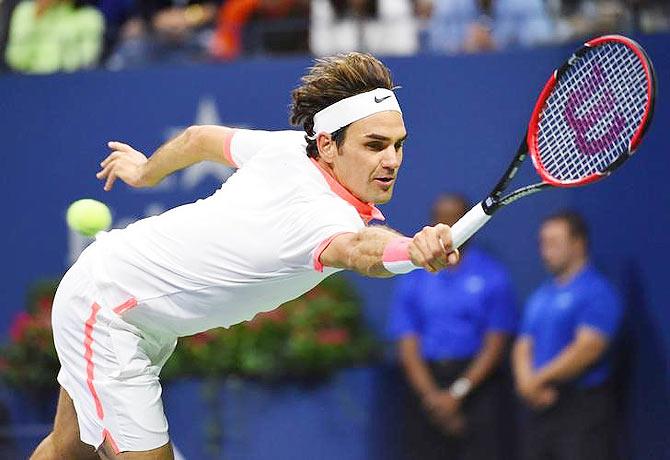 IMAGE: Roger Federer stretches to play return against Novak Djokovic. Photograph: Robert Deutsch-USA TODAY Sports/Reuters
It was more grand slam misery for the 34-year-old Swiss who, for the second consecutive grand slam, made to the final only to be denied an 18th title by Djokovic.

"I had a wonderful last two weeks," Federer, who has been stuck on 17 grand slam title since 2012, said after competing in his first U.S. Open final in six years. "I'm very pleased where my game's at.
"Being back in the finals is where you want to be. Playing against a great champion like Novak is a massive challenge and I enjoyed it. I thought it was a great match."
The US Open men's final between top seed Djokovic and second seed Federer began three hours after the originally scheduled start due to rain at the US National Tennis Center on Sunday.
Skies darkened and winds picked up just before the players were scheduled to take the court for warm-ups at 4 p.m. ET (2000 GMT) and the start was then delayed after rain began to fall.
With the blue court dried and the storm system gone from the area, the players finally came out at 7:10 p.m. ET to warm up at Arthur Ashe Stadium, where the shell of a retractable roof is in place and expected to be in operation for next year's US Open.
In a match peppered with marathon rallies, Federer broke Djokovic in the eight game and then held serve in the ninth to stay alive.
In the sixth game of the 4th set, Federer had a break opportunity but could not convert. Djokovic then lead 4-2.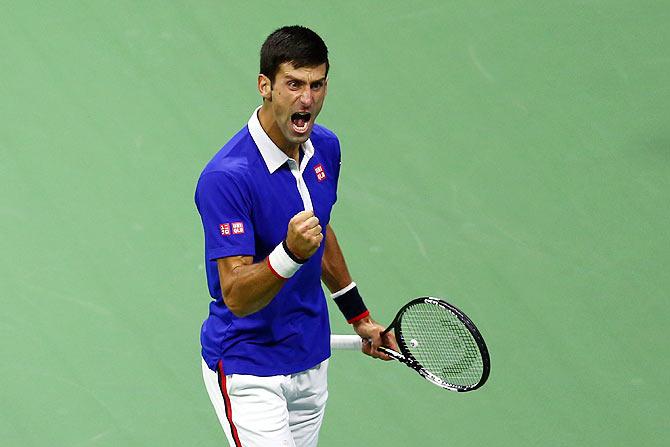 IMAGE: Serbia's Novak Djokovic celebrates a point against Switzerland's Roger Federer during their US Open men's singles final at the USTA Billie Jean King National Tennis Center at Flushing Meadows on Sunday. Photograph: Maddie Meyer/Getty Images
Djokovic kept up the pressure with a break to open the fourth and then again to go up 5-2 to put the US Open within his grasp.
Early in the fourth set , Federer had 7 unforced errors to Djokovic's 2.
But Federer would not go down without a fight, digging into his reserves the Swiss would break and hold serve to cut the deficit to 5-4 and put the crowd in full roar.
With Djokovic again serving for the match, Federer would get three more break chances but this time the Serb would not falter and clinched the title when Federer's return sailed long.
Djokovic broke Federer in the ninth game of the third set and then held his serve to go up a set and lead the match 6-4, 7-5, 6-4.
Earlier, Federer ripped a backhand crosscourt winner in the 12th game of the second set to take it 7-5 and go level against Djokovic at one set apiece on Sunday.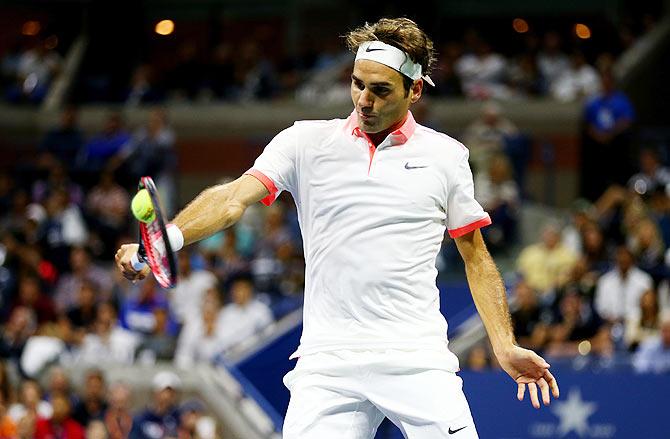 IMAGE: Roger Federer returns a backhand shot to Novak Djokovic. Photograph: Clive Brunskill/Getty Images
The second-seeded Federer, gunning for his first grand slam title in three years, scored on his fourth set point as he delivered for the packed audience at Arthur Ashe Stadium that cheered his every point and every Djokovic miss.
The 17-times grand slam winner from Switzerland gave a celebration roar after the sizzling winner, elated to avoid a tiebreaker after losing the opening set 6-4 to the world number one.
Djokovic had saved two set points in a tension-packed 10th game that lasted seven deuces and 20 points, and tried to win some of the crowd support but they remained firmly behind the 34-year-old Federer.
In the opening set, Djokovic overcame a bloody tumble in the best-of-five final that began after a three-hour wait due to rain in Flushing Meadows.
Federer, who had lost just two service games in his six matches in the championship, was broken twice by Djokovic, one of the best returners in tennis, in his first four service games.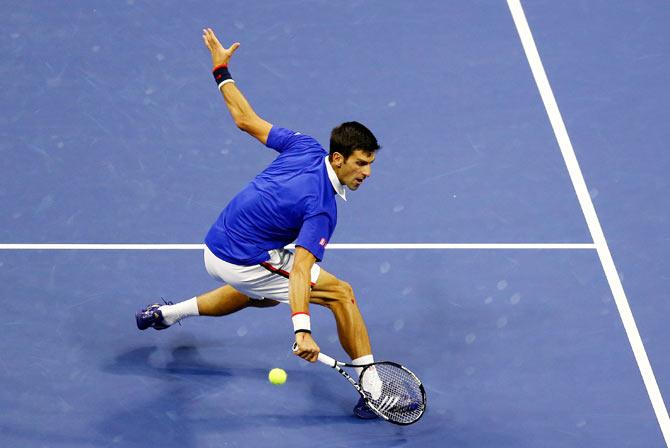 IMAGE: Novak Djokovic Serbia returns a backhand shot to Roger Federer. Photograph: Maddie Meyer/Getty Images
Djokovic took an early lead when he broke second seed Federer in the third game on his third break point after a long rally to take a 2-1 lead.
But the Serb looked in trouble in the next game, when his right ankle gave way as he chased after a backhand volley by the Swiss and crashed to the ground, scraping his right arm below the elbow, the back of his right hand and his right leg.
Djokovic carried on but appeared somewhat shaken and Federer broke him at 15 to put the set back on serve at 2-2.
The top seed received some treatment during the changeover trailing 3-2, and revived for the next two games.
He ended the sixth game with an ace to hold at 15 and then broke Federer with a backhand passing shot down the line to seize a 4-3 lead and serve out for the set.