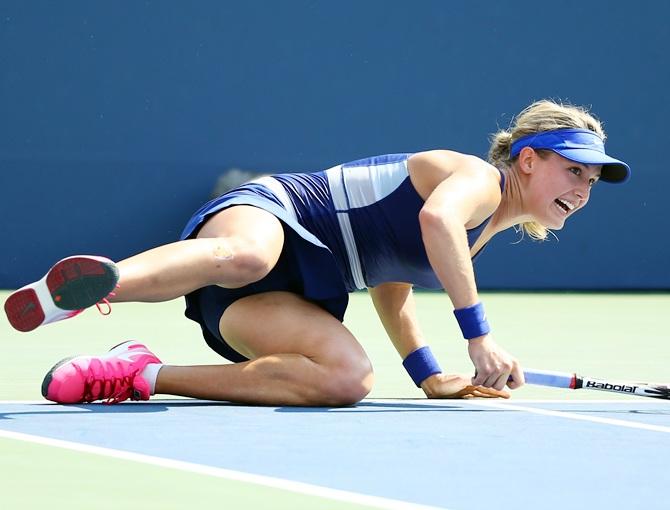 Image: Eugenie Bouchard of Canada falls to the ground against Olga Govortsova of Belarus to win their women's singles first round match of the 2014 US Open. Al Bello/Getty Image
Eugenie Bouchard proved again she is a player for the big occasion by powering into the second round of the US Open with a 6-2, 6-1 demolition of Olga Govortsova on Tuesday, bringing a smile to the player hyped as the future face of women's tennis.
With one match win from three US open tune-up events, the 2014 Wimbledon finalist had precious little to smile about when she arrived at Flushing Meadows.
A clinical 59-minute dissection of the 117th-ranked Belarussian will do nothing to boost Bouchard's status as future grand slam champion.
The victory, however, will nonetheless provide the seventh-seeded Canadian with a badly needed jolt of confidence after a forgettable buildup to the year's final grand slam.
"I want to kind of get on a roll and keep the momentum going," said Bouchard. "I feel like the past few weeks have been a bit of a struggle.
"I have the inner confidence that I know if I'm playing as well as I know I can that I can do well."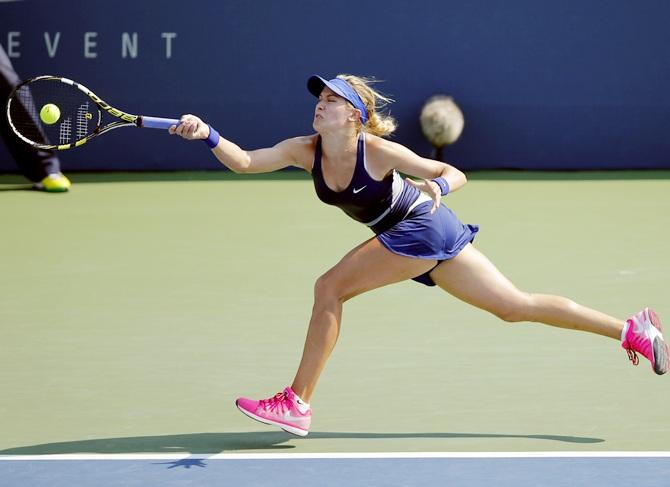 Image: Canada's Eugenie Bouchard hits a return to Olga Govortsova of Belarus. Eduardo Munoz/Reuters
The only player to reach the semis of all three slams this season and a finalist at Wimbledon, Bouchard has been hyped as the future face of women's tennis, her combination of skill and beauty landing her on the cover of New York Times Magazine's US open issue.
On the cusp of fulfilling her dream, Bouchard stumbled one step short of her Grand Slam quest at the All-England club when she was humbled 6-3, 6-0 by Petra Kvitova.
Suddenly Bouchard's upward arc turned into a dizzying downward spiral, the 20-year-old dropping her opening matches in Montreal and Cincinnati before temporarily halting the slide with a win in New Haven.
But after brushing past an overmatched Govortsova the Bouchard buzz was back at Flushing Meadows.
"It's a different atmosphere than Wimbledon," said Bouchard. "They are each special in their own way, but the energy coming from the city and from the fans is always so special.
"I haven't experienced it too much but today I definitely felt the fans get really intense."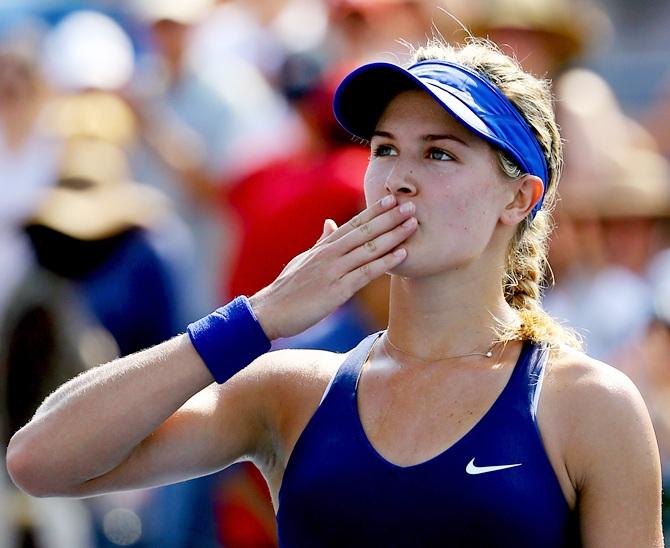 Image: Eugenie Bouchard of Canada reacts. Al Bello/Getty Images
While Bouchard's fans fretted more and more with each loss, the Canadian insisted there was no reason to panic. Indeed, Bouchard is developing the reputation of a player who embraces the spotlight.
In what has been a quirky pattern, Bouchard lost the opening match in her only Australian Open tune-up but then marched into the semis of the season's first Grand Slam.
In the buildup to the French Open she failed to win a match in Madrid and Rome then won a title in Nuremberg and reached the semifinals in Paris.
An opening match loss in Hertogenbosch, her only grass court event ahead of Wimbledon, was followed by a march into the final at the All England Club.
"I look back on my year, and I had different leadups to every slam and performed well on every one of them," said Bouchard, who will next face Sorana Cirstea of Romania. "I don't think there is a magic recipe that if I get to the quarters of a women's event I'll do well at the slam.
"I think you just take it as it goes."