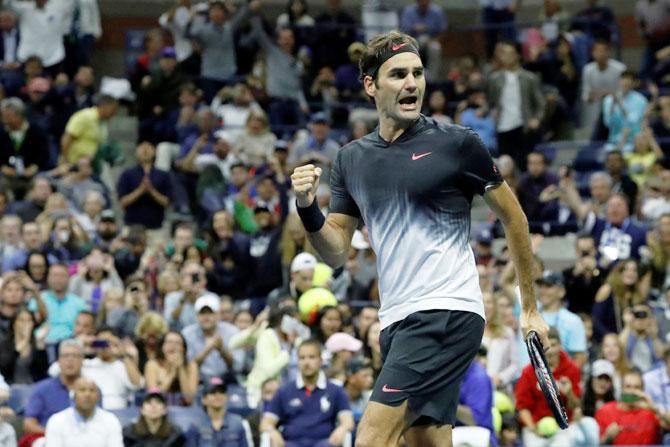 IMAGE: Switzerland's Roger Federer reacts upon winning match point of his third round match against Spain's Feliciano Lopez on day six of the US Open tennis tournament in Ashe Stadium at the USTA Billie Jean King National Tennis Center on Saturday. Photograph: Andrew Kelly/Reuters
After two marathons, Roger Federer had the after-burners on, sprinting past Spaniard Feliciano Lopez 6-3, 6-3, 7-5 and into the fourth round of the US Open on Saturday.
Chasing a sixth US Open title, Federer needed just one hour and 46 minutes under a closed roof at Arthur Ashe Stadium to put away the 31st seed Lopez, leaving plenty in the tank after being forced to go the distance in his opening two matches.
It has been a far different start to the US Open than Wimbledon where an economical Federer stormed to his 19th grand slam title without dropping a set.
In his opening two matches at Flushing Meadows, a misfiring Federer had been forced to five sets, first by American young gun Frances Tiafoe then Russian veteran Mikhail Youzhny.
After being broken eight times and committing a whopping 124 unforced errors in those first two contests, a focused Federer tightened up his game against Lopez, operating with his hallmark efficiency.
"It was clearly nice to go up two sets to love for a change," smiled the Swiss.
"I was happy I had good energy because I think that was my biggest worry, that somehow after the two five-setters that I was going to feel a little slow, hard to throw the engine on, that I would have to force myself so much, I would get tired from that.
"It didn't happen.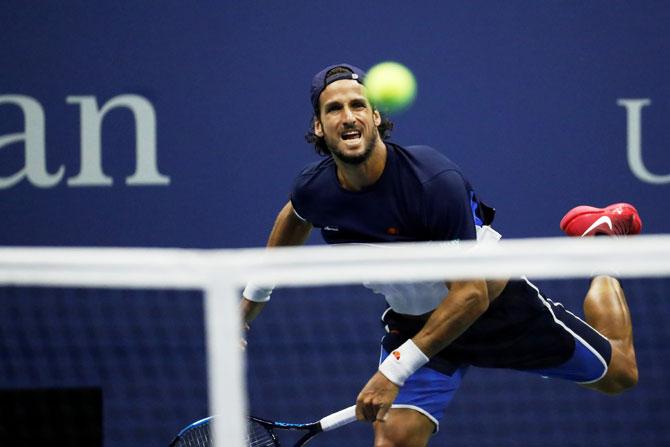 IMAGE: Feliciano Lopez in action during his third round match against Roger Federer. Photograph: Andrew Kelly/Reuters
"I'm really pleased with the performance.
"It's exactly I guess maybe what I needed going into the next round."
A capacity crowd saw Federer try out everything in his tool bag. The timely big serve, the elegant backhand, laser forehands, hustle and defense were all on display.
He committed just 16 unforced errors while firing 32 winners to run his record to 13-0 against the 35-year-old Spaniard.
Federer started the match as if he had dinner reservations, breaking Lopez to go up 4-2 then holding serve to clinch the opening set in a snappy 25 minutes.
He marched on, his focus only faltering slightly in the third set when he allowed Lopez to break back.
But the 36-year-old Swiss just buckled down and broke Lopez again to close out the match and set up a fourth round meeting with German Philipp Kohlschreiber.
"I know Philipp very well. Practised with him a ton," said Federer.
"Had some good matches against him in the past.
"He's a good player. Got great rotation on the ball. Plays with a lot of topspin. Has a nice one-handed backhand, which I love to see, of course."