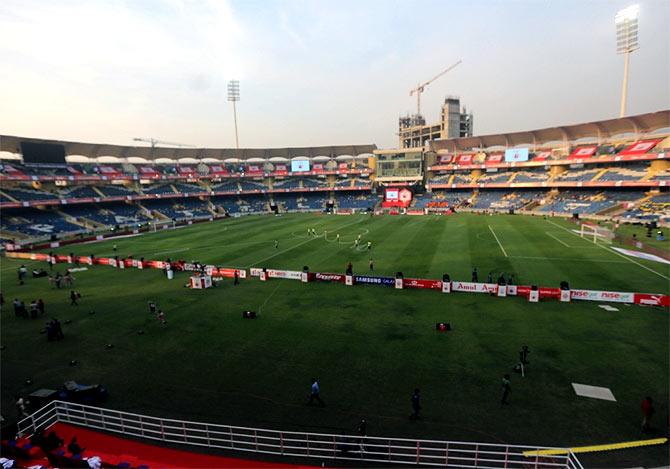 IMAGE: The D Y Patil stadium in Navi Mumbai. Photograph courtesy: dypatil.edu/sportsacademy
The D Y Patil Stadium in Navi Mumbai brightened its prospects of hosting Under-17 World Cup football matches next year, with the head of a FIFA delegation on Wednesday calling it a 'high quality' arena.

"We think this is a fantastic stadium, as you can see it is of high quality. One colleague of mine was saying, with a few amendments this could be a big World Cup-level stadium. We are satisfied and happy to be here," said FIFA's Jaime Yarza after inspecting the stadium picked as one of the six venues to host matches in the mega-event next year.

The delegation is led by Yarza - FIFA's head of events - and it would now travel to three other cities - New Delhi, Kolkata and Guwahati - after having visited Kochi and Goa earlier, to oversee preparations for the U-17 World Cup.

"We need to do some construction work and renovations for dressing rooms, various areas, doping, technical rooms and medical - all this is in the plans. We have come here today, (we) did the review of the plans and the facilities, and suggested some changes to make it a high level standard from what we expect from a World Cup-level stadium.

"They (stadium owners) have agreed to all these changes and the whole planning was to be 95 per cent correct, in the sense that there would be some minor adjustments. So we are very satisfied from this visit today and we think this is going to be one of, if not the best," Yarza said.

Asked to compare facilities in Kochi and Goa with the D Y Patil Stadium, he said, "We don't like doing comparisons. The situation is different in every city. I think we would have six fantastic stadiums at the end for the tournament. They all have the same requirements.

"Obviously, the finishing and final tuning will be of higher level than others. This stadium is comparable to any stadium in Europe, USA or Asia."

"Not much has been done, but I am satisfied with the situation," he added when asked about the progress made from their last visit.

"We are looking at October, 2016, by which time all the core infrastructure must be ready, one year before the tournament," said Javier Ceppi, the U-17 World Cup Tournament Director.

"We have come over here to see five or six ISL (Indian Super League) matches. We were here for ISL 2014 Final as well. So we know how the stadium operates, when Mumbai City FC is playing. We are satisfied with certain changes to make it compliant to FIFA standards, but it is a good base.

"A few friendly matches will be played prior to the tournament. It is a good opportunity for Indian national team and Under-19 team to play in this stadium," he added.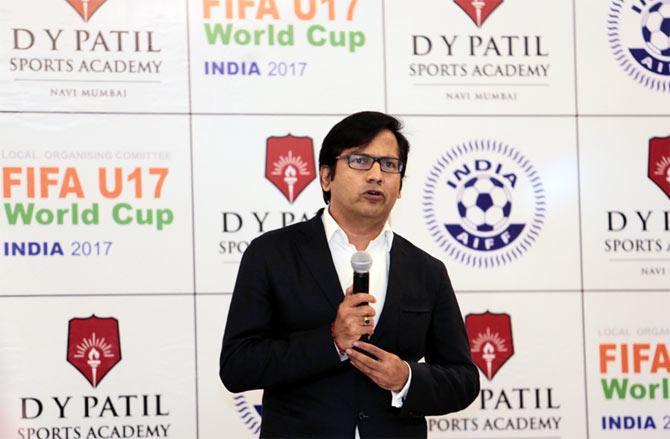 IMAGE: Vijay Patil, owner of D Y Patil stadium. Photograph courtesy: dypatil.edu/sportsacademy
According to the Ceppi, September-October is the best window to hold the tournament.

Asked about air pollution in Mumbai, Yarza quipped said, "We are requesting for some fresh air, but we are not sure whether it will be responded to."

Vijay Patil, owner of D Y Patil stadium, who was present on the occasion, said, "This is a historic moment for Indian sport. We are deeply honoured that FIFA is visiting our facility. We are putting our best foot forward and it is going to be a great movement in India's sporting history."

Apart from Yarza, the FIFA delegation comprised Tracy Lu, Felipe Restrepo and Vijay Parthasarathy (Competitions Department), Christina Hollerl (Marketing), Jochem Steinhoff (Media), Paul Calder (TV), Jean Pierre Koeltgen (Ticketing), Mike Pfister (Senior Development Manager) and Shaji Prabhakaran (Development Officer).