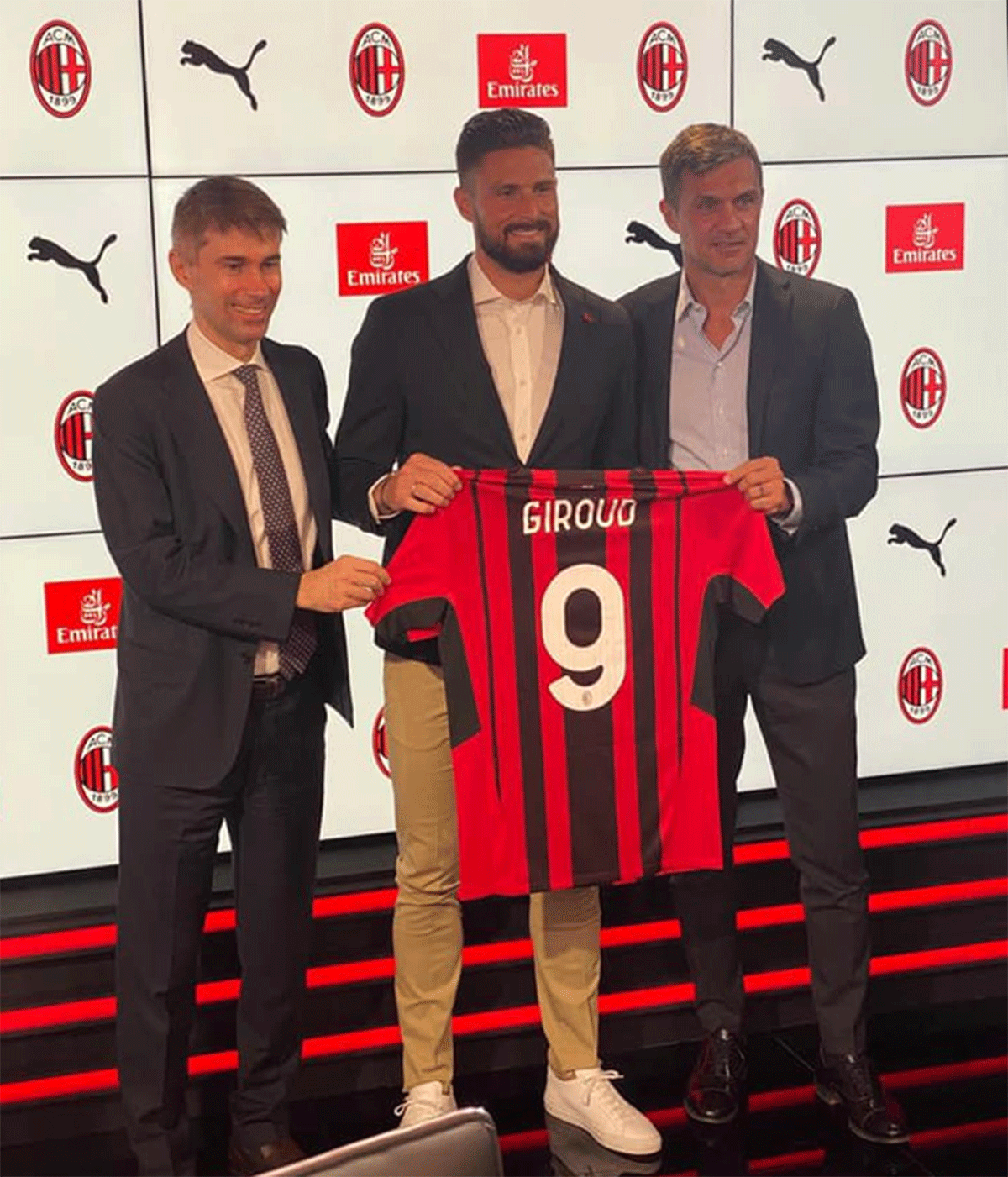 France international striker Olivier Giroud signed a permanent transfer to AC Milan on Saturday after spending nine years in London with Arsenal and Chelsea.
'Hi Milan fans I'm very proud to have Italian origins and I can't wait to start this exciting adventure with you. I would like to thank Ivan Gazidis who I know for a long time, Paolo Maldini, Frederic Massara and mister Pioli for the welcome. See you soon San Siro,' Giroud wrote on his Facebook page after being unveiled as AC Milan's newest signing.
Earlier, he thanked Chelsea's fans, players and coaches for "special moments" as his switch away from the Premier League club drew closer.
World Cup-winner Giroud scored 39 goals in 119 games in all competitions for Chelsea and helped the London outfit claim the Champions League, Europa League and FA Cup since joining them from Arsenal in 2018.
"To all the Blues, to my team mates, to all my coaches, to the whole club, a huge thank you for these special moments," Giroud tweeted.
"I'm starting a new journey with a light and happy heart. Our victories in the FA Cup, Europa League and Champions League have been magnificent."
The 34-year-old joined Chelsea from Arsenal for a reported 18 million pounds ($24.79 million) in January 2018 and had a year left on his contract at Stamford Bridge.
He started only eight Premier League games for Chelsea last season following the arrival of German forwards Kai Havertz and Timo Werner.
He was part of France's Euro 2020 campaign where the world champions were knocked out by Switzerland in the last-16.
Sky Sports said Giroud arrived at Milan's La Madonnina clinic on Friday to undergo a medical. Reports added Milan would pay around one million euros ($1.18 million) for the player who is expected to sign a two-year deal.
In June, Milan signed Chelsea's Fikayo Tomori on a permanent transfer after the defender spent the second half of the 2020-21 season with the Italian side on loan.
Milan, who finished second in Serie A last season, begin their 2021-22 league campaign away to Sampdoria on August 22.
UEFA announces UCL final hosts for next four seasons
The next four Champions League finals from 2022-2025 will be hosted by St Petersburg, Istanbul, London and Munich respectively, European soccer's governing body UEFA said on Friday.
The Krestovsky Stadium in St Petersburg was scheduled to stage the 2021 final. However, due to the postponement and reallocation of the 2020 final to Lisbon because of the COVID-19 pandemic in Europe, the final hosts were pushed back by a year, with St Petersburg now hosting the 2022 final.
Istanbul, which lost the 2021 final hosting rights to Porto to allow a limited number of fans to attend the match, will instead stage the showpiece game in 2023.
Munich, originally scheduled to be the venue for the 2023 final, will now host the match in 2025 while London's Wembley Stadium will retain the rights for the 2024 final.
Bilbao and Dublin, who were unable to stage matches at this year's European Championship, agreed a settlement with the UEFA executive committee and will host the Europa League final in 2024 and 2025 respectively.
Bilbao will also host the women's Champions League final in 2024.
"We were all disappointed when the COVID-19 pandemic saw the four UEFA EURO 2020 games moved away from Dublin so this really is something to look forward to just three years from now," Football Association of Ireland chief executive Jonathan Hill said in a statement.
"The 2024 UEFA Europa League final will be a landmark event with huge economic benefits for Dublin and for Ireland along with the boost it will give our game in the build-up to the final."
Next year's Europa league final will be played in Seville, with Budapest set to host the 2023 title decider for the second-tier European club tournament.