'Catalyst for growth of Indian football'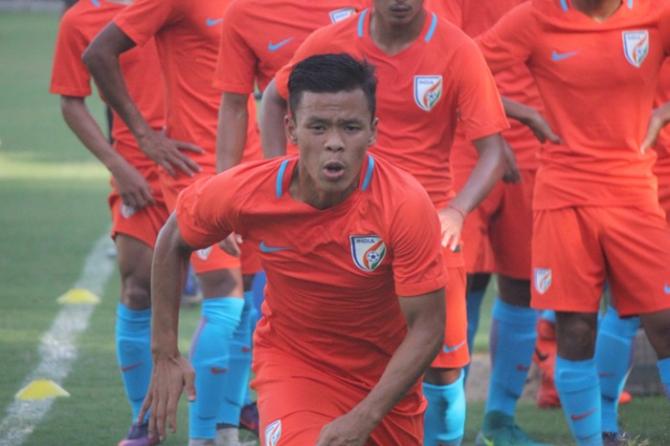 IMAGE: India's Suresh Singh during training. Photograph: AIFF Media
The All India Football Federation believes that the FIFA U-17 World Cup, beginning October 6, can be a catalyst for the sport.
At the Grassroots Development Summit 2017, organised by the Mumbai City Football Club, the senior AIFF officials exuded confidence about the future of the sport in the country.
"Over the last three years, we have worked very hard with this U-17 World Cup team and Indian football is on the threshold of some very good things to come," AIFF general secretary Kushal Das said.
"Hopefully, it (the World Cup) will also be the beginning of a new era for Indian football," he said.
"We may lack behind on technique and technical aspects, but these boys are equal in terms of physicality, fitness and endurance, with the rest of the world. They will run their socks off on the field and will make us all proud," said AIFF Technical Director Savio Madeira.
Deputy Chairman of AIFF's Technical Committee Henry Menezes was equally positive that the boys can pull off a surprise.
"The U-17 team has been given more world-wide exposure than any other Indian team. This lot is the best of our next generation of players. With a little bit of host luck, and the entire country's support, I think they are very close to pulling off a surprise in the tournament," Menezes said.
"If that happens, it will change the entire football scenario in the country," he added.
Brazil U-17 team chief coach Carlos Amadeu and manager Raul Fachini, England's U-17 World Cup manager Neil Dewsnip and New Zealand's U-17 manager Simon Hilton spoke about their respective country's grassroots development programmes.
Constantine, Westwood helped in preparing: England U-17 coach
England U-17 football team coach Steve Cooper is happy to get inputs from British coaches working in India including Stephen Constantine and Ashley Westwood, which has helped a lot in their preparation for the FIFA U-17 World Cup, starting October 6.
Cooper has sought advice from the likes India senior team coach Stephen Constantine, Atletico de Kolkata's Teddy Sheringham and Steve Coppell of ISL teams Jamshedpur FC and Atletico de Kolkata and former Bengaluru FC coach Ashley Westwood.
"We have reached out to some people who have worked in India. The India national team manager, Stephen Constantine, has been a real help and I've been fascinated at some of the stories that he has had to tell," said Cooper.
"Steve Coppell (former Kerala Blasters and current Jamshedpur FC coach) has managed out there and I've had a great conversation with him too and we have some other staff members, who have worked out here in terms of sports science.
"Ashley Westwood (former Bengaluru FC) is the technical director at Kolkata, where Teddy Sheringham is the manager, and they've all helped to give us a really good insight into what it looks like in India," said the Young Lions coach.
Cooper is happy with the preparation levels of his squad ever since sealing their World Cup spot by virtue of their performance at the U-17 Euro Finals in May in Croatia where they lost out on the title after a penalty shootout defeat to Spain.
The England squad have been undergoing a pre-tournament training camp in Mumbai for five days and they are heading Kolkata on Tuesday ahead of their group matches.
Kohli wishes India U-17 players
The Indian football team underwent their first practice session at the training pitch at the Jawaharlal Nehru Stadium in New Delhi.
The players had a feel of the floodlights at the pitch just adjacent to the stadium which will host all of India's three matches on October 6, 9 and 12.
They trained for around two hours under the watchful eyes of head coach Luis Norton de Matos.
The players were training at the Heritage School Ground in Gurgaon earlier before they shifted base to New Delhi.
Meanwhile, Indian cricket team captain Virat Kohli wished the players good luck for the U-17 World Cup.
"Good Luck boys, make us proud!," Kohli wrote on his official Twitter handle.
To this the official Twitter handle of the Indian national team replied: "Thank you @imVkohli for your support. Boys are leaving no stone unturned to make it count in #FIFAU17WC."
Iraq undergo 2-hour practice session
Less than 24 hours after they landed, in Kolkata, Iraq national team headed to a private club for a gruelling two-hour practice session ahead of the FIFA U-17 World Cup, starting October 6.
The 21-member Iraqi team, who landed at 2.10 am this morning, headed to the club at 3pm to train under the watchful eyes of coach Qahtan Jathir and six support staff in a close door session.
The team members were seen playing against each other before a drill and the team media officer said it was "very good" and will train again on Wednesday.
The war-ravaged country defeated Iran to become Asian champions last year and qualified for their second U-17 World Cup.
Making a comeback after their only appearance in UAE in 2013, it will be a test of character for Iraq, who are placed in group of death featuring heavyweights Mexico, Chile and England.