Former heavyweight boxing champion Mike Tyson has been granted a visa to enter Australia for a series of motivational talks next month, organisers said on Wednesday.
"We are thrilled and are very grateful to the Australian government for granting Mike Tyson a visa and allowing him to visit Australia for the very first time" Max Markson, CEO of tour promoter Markson Sparks said in a statement.
Tyson's speaking engagements in Australia were supposed to include a similar visit to New Zealand, though his visa was revoked by the country's Associate Immigration Minister Kate Wilkinson after it had been approved.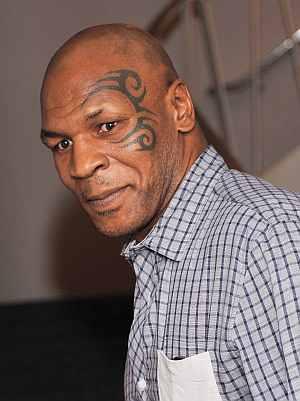 Tyson, who served three years of a six-year U.S. jail sentence for rape, needed dispensation under New Zealand immigration laws because of his conviction.
However, a youth-related charity trust which originally backed his visit to appear at the Auckland event, billed as "Day of the Champions", said it no longer wanted to have anything to do with Tyson's visit due to his conviction.
Tyson's promoters applied for a new visa for New Zealand after a second community group said it would support his application in exchange for him talking to at-risk youth.
"We hope we will also receive good news about Tyson's visit to New Zealand and are now patiently waiting on their response," Markson added on Wednesday.
Tyson, 46, was undisputed world heavyweight boxing champion in the 1980s but he was convicted in 1992 of raping teenage beauty queen Desiree Washington and served three years in prison.
He added to his notoriety when he bit rival Evander Holyfield on both ears in a 1997 bout, for which he was disqualified and temporarily suspended from boxing.
Tyson declared bankruptcy in 2003 and retired from professional boxing three years later.
Last month, Tyson spoke to a financiers' conference in Hong Kong about his life before and after boxing, his family and his acting career, which includes a recent one-man show on Broadway.