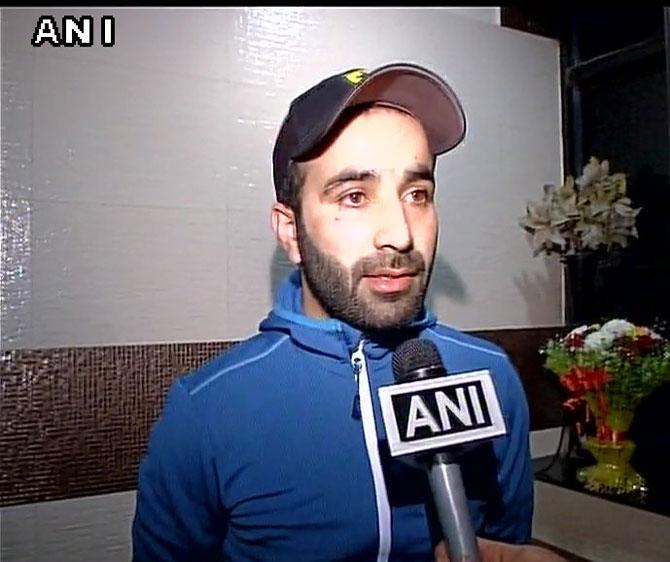 IMAGE: Kashmiri snowshoer Tanveer Hussain. Photograph: ANI/Twitter
Two snowshoers from Kashmir have alleged they have been denied visa to the United States of America due to "current (US) policy" even as the American Embassy in New Delhi maintained that Indians are not affected by the recent executive order of President Donald Trump.
The snowshoers who have been reportedly denied visas are Abid Khan and Tanveer Hussain.
"Indian Snowshoers Denied Visas, due to 'current (US) policy'. This from our good friend Abid Khan, from Kashmir, minutes ago in our Facebook Messaging," Clyde Rabideau, Mayor of the Village of Saranac Lake in New York, wrote on his Facebook page.
Tanveer Hussain, a 'snow shoe- running' champion was selected to represent India in one of the world championships to be held in New York on 25th February. But in spite of complete documentation, he was held back by the embassy citing 'current policy' which weren't in his favour.
"The World Federation of Slow shoe-running had sent a letter to Indian Federation, and then Indian federation selected me for the slow shoe running championship," he told ANI.
The athlete had represented India in a world championship in Italy last year, where he impressed every one and was invited to the U.S.
"My preparations were on full swing. My camp was set up in Gulmarg, I had put in a lot of effort practising on the snow. My documents were complete, with letter from the world federation, and a letter from the Mayor of the venue where the event was to be conducted, which they mailed to the embassy," Hussein said.
"I went to embassy today for an interview, post which they screened all the documents and asked me to show some of my sports achievements. I showed them some of the newspaper cuttings, but later they broke it to me that due to 'current policies' they can't provide me the visa," the distraught athlete shared, adding that the Embassy further refused to comment and moved to on to the next candidate.
Meanwhile, Hussain and his team is trying his best to get the U.S Visa.
"My manager Mr. Abid Hussain has mailed the World federation and they ensured that they will try their best to convince the embassy. A clear picture would come out only in the evening", he said.
Hussain appealed that he was just an athlete, who wanted to represent India worldwide in the sport and there was no ulterior political motive to it.
"There were many athletes from Kashmir and outside who found no sponsor, but I found a sponsor in J&K Bank and had full support of the Kashmir Government, but still my visa has been denied," Hussein asserted.
When contacted, US Embassy Spokesperson in Delhi said, "For privacy reasons we cannot discuss specific visa cases. However, we note that Indian citizens are not affected by the recent executive order."
The Indian duo was scheduled to participate in the World Snowshoe Championships at Saranac in New York from February 24-25 at the invitation by World Snow-Shoe Federation.
According to the conversation posted by Rabideau on his Facebook page, Khan informed him about the denial of the visa.
"Sorry sir, Visa denied," Khan wrote to the Mayor, a Democrat.
Khan claimed all the paperwork for both the athletes was in order including "local Government sponsorship, federation, your support letter, my financial background. They did not miss any supporting document."
"The lady officer at US embassy in New Delhi after checking all docs (sic), just went inside into another room. After returning she said 'Sorry, due to our current policy we cant issue you visa'," Khan said.
Rabideau, while promising help with the visa, said "this will not stand".
Trump signed an executive order last week barring citizens from Syria, Iraq, Iran, Yemen, Libya, Somalia and Sudan from entering the country for 90 days and suspended the admission of all refugees for 120 days. The order indefinitely bans entry of those fleeing from war-torn Syria.