Trolls don't spare anyone. Recently, they had a gala time criticising former England football captain David Beckham.
The football star had posted a picture of him kissing his seven-year-old daughter Harper on the lips.
Soon a host of comments were posted suggesting it was wrong for the father of four to kiss his daughter in that manner.
The 43-year-old star's fans rushed to his defence.
Beckham shared the father-daughter photo, which was taken during an ice-skating trip in London.
Another Instagram user wrote: "She's your daughter. .why are you kissing on her lips..?..that's ur wife kiss..." while a another shared, "I feel like a kiss on the cheek is better than that n the lips. The lips is just weird."
Another said: "It's not wrong to kiss your kids but it is wrong to do it on the lips!!! lip kisses are for romantic partners not your parents."
However, the former Manchester United and Real Madrid star was also strongly defended by a plethora of replies, with one user suggesting: "The saddest thing about this whole debate is that the people who think it's wrong for a father to kiss his daughter on the lips, are actually the people that have something wrong with themselves and don't actually realize it."
Another posted: "There is nothing wrong, if you think there is then go get some help because you have mental health issues, seriously."
Another supporter said: "It's a beautiful photo of a loving father. Why do people have to ruin something so innocent?"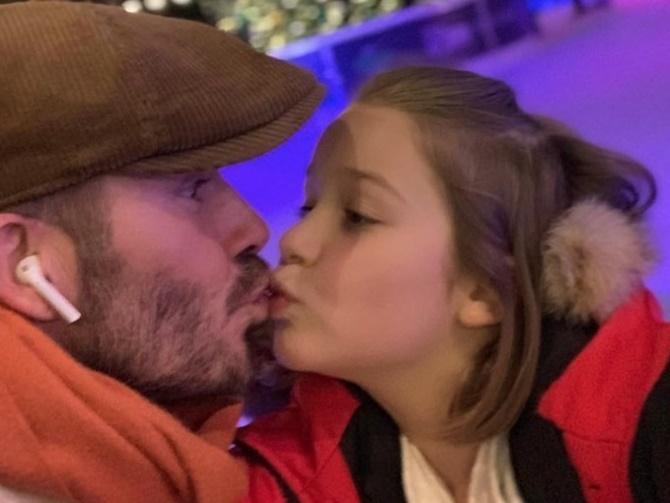 Even NFL superstar Tom Brady weighed in to offer his support. The New England Patriots legend backed Beckham with a simple message, "Dad and daughter. So sweet!"
Leicester City star Jamie Vardy's wife, Rebekah insisting people were 'sick' for ruining a completely natural image.
The WAG took to Twitter and wrote that it was perfectly normal, saying she kisses her children on the lips 'all the time'.
Beckham himself addressed the issue in a Facebook live video, saying: "I got actually criticized for kissing my daughter on the lips the other day. I kiss all my kids on the lips."
"Brooklyn, maybe not. Brooklyn's 18, he might find that a little bit strange. But I'm very affectionate with the kids. It's how I was brought up, and Victoria, it's how we are with our children."
"We want to show our kids love and we protect them, look after them, and support them, and you know, we're very affectionate with them."
Last year, Victoria Beckham copped online abuse after she posted a photograph of her and daughter Harper giving each other a kiss on the little girl's birthday.
"We all love you so much, kisses from mummy," the former Spice Girl wrote.
Critics labelled the picture 'strange', 'pervy' and 'old-fashioned'.