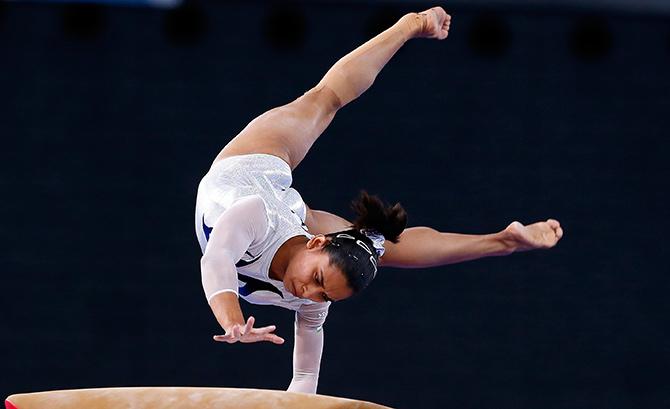 IMAGE: Dipa Karmakar of India performs during the women's gymnastics vault apparatus. Photograph: Andrew Winning/Reuters
Excitement and expectations has reached a feverish pitch in Tripura as the people from the small north-eastern state will watch their favourite daughter Dipa Karmakar vault into history during the finals at the Rio Olympics, on Sunday night.
Her event is scheduled to be held at 11.15 pm.
Agartala, from where Dipa hails, is covered with posters wishing her grand success and many local clubs have performed yagnas for her.
Her parents Dulal Karmakar and Gauri Devi are predictably tensed.
"I will stay at home today. Many of our relatives will come in the evening to sit before the television with us to see Dipa's performance. I called up Dipa and told her to go ahead and that God will be with her," said her father, who is also a wrestling coach.
"I am only praying to God that her performance makes the country and our state proud," said mother Gauri.
They visited Tripureswari temple at Udaipur, one of the 51 shaktipeeths of the country, about 50 km from Agartala on Thursday to offer puja so that Dipa did well in Rio.
Mantu Debnath, an Arjun awardee in gymnastics from Tripura, said, "Dipa has already created history as the first woman gymnast to enter Olympics from the country and she is also the first to make it to the finals of an event.
"If Dipa can bring a prize, it will be a matter of great joy. She has all the potentials to earn a medal," Mantu said.
Tripura Chief Minister Manik Sarkar, Sports Minister Shahid Chowdhury and President of the Olympic Association and M.P, Jitendra Chowdhury have wished her success.
Secretary of the state Olympic Associoation, Sujit Roy has appealed to the people to pray for her success.
Soma Nandi, Dipa's first coach said, "After coaching for few years, seeing her talent I decided to handover her to my husband, Biswaswar for proper training. I wish her all success. She has already made us proud."
Dipa is the first Indian gymnast to make the cut in the Olympics in 52 years.
She is a specialist at 'Prudonova' vault and would also attempt the Tsukahara 720 vault. She is the fifth woman gymnast in the world to be skilled in the Prudonova.