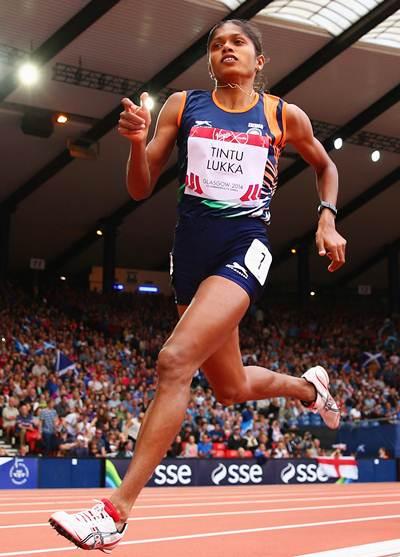 Asian Games silver medallist Tintu Luka ruled the track on the final day of competition at the 35th National Games, smashing an 18-year-old meet record to win the 800 metres gold before inspiring Kerala to the 4x400m title in Thiruvananthapuram on Friday.
Services Sports Control Board (SSCB) completed a hat-trick of overall titles by finishing atop the medals table.
Services led the tally on account of a higher number of gold medals and emerged as overall champions for the third straight time.
The team finished with 158 medals (91 gold, 32 silver and 35 bronze), followed by hosts Kerala, who rode on a strong athletics performance to aggregate 161 (54 gold, 46 silver and 61 bronze) and Haryana 106 (39 gold, 40 silver and 27 bronze).
Vociferous home supporters filled the athletics arena and Tintu's star turn made their day.
A protege of the legendary P T Usha and outright favourite before the 800m, Tintu lived up to the top billing as she stopped the clock at 2:01.86sec to win the gold and better the 2:03:08sec mark, set by K C Rosa Kutty way back in 1997.
Tamil Nadu's Gomathi Marimuthu was a distant second in 2:05.09sec, while Sini Markose clocked 2:06.37sec for the bronze.
"I am very happy because I have broken the meet record. It was a good race for me. I am lucky to have a coach Like P T Usha. I would like to thank her for getting me so far," Tintu, an Asian Games gold-medallist in the 4x400m relay event and a silver-winner in the 800m, said after the race.
Asian Games bronze-medallist Lalita Babar also lived up to the favourite tag as she breached the meet record to clinch the 3000m women's steeplechase gold with a timing of 9:42.63sec -- a massive improvement on the previous mark of 10:40.81sec set in the last edition of the Games by Priyanka Singh Patel.
Babar, representing Maharashtra, is also the national record holder in this event, which currently stands at 9:35.37sec.
"I had come here with the aim of breaching meet record and had I not participated in the 5000m race, I could have improved on the national record as well. Also, I had undergone after high altitude training and it was not easy adjusting to the heat and humidity but I am very happy with how I performed," she said.
Uttar Pradseh's Sudha Singh, who was a gold-medallist in the 2007 edition of the Games, clocked 10:04.30sec to win the silver this time, while Maharashtra's Jayashri Boragi (10:28.44sec) picked the bronze.
The men's 800m gold was bagged by Kerala's Sajeesh Joseph for a third successive time after he crossed the finish line in 01:53:68sec, ahead of SSCB's Jinson Johnson (1:53:88sec) and state-mate Muhammed Afsal (1:54:08sec).
The women's 200m sprint turned out to be quite a stunner as pre-pace favourite Dutee Chand was outshone by local girls Santhini V and Anilda Thomas. Dutee, who won the 100m gold with a new Games record, had to settle for a bronze after clocking 24:56sec.
Santhini won the gold with a timing of 24.11sec, while Thomas ended up third in 24.11sec.
Later, in the women's 4x400m relay, Tintu outshone Dutee, the 100m champion, as she inspired Kerala's team to gold by handing the hosts a decisive edge in the second lap much to the joy of a packed University Stadium ground.
Kerala's team combined to clock a new meet record of 3:35.34sec, beating Andhra Pradesh's mark of 3:36.25sec. Karnataka (3:42.66sec) snatched the silver leaving Haryana (3:43.83sec) at the second position.
Among the men, Haryana's Dharambir completed a golden double and after the 100m gold with a meet record, he notched up the 200m top honours, again with a new Games mark, after clocking 21.12sec to finish ahead of Tamil Nadu's Manikanda Arumugam Manickam (21.53sec) and Odisha's Amiya Mallick
(21.57sec). Dharambir bettered Ajay Raj Singh's previous mark of 21.20sec, which was set in 2001.
SSCB added to their strong showing in athletics when Naveen Kumar bagged the 3000m men's steeplechase gold in 8:52.54sec.
Another SSCB man, Jaiveer Singh, placed second with a timing of 8:54.67sec, followed by Maharashtra's Sachin Patil (9:00.27sec).
Tamil Nadu won the men's 4x400m relay in 3:11.26sec, followed by West Bengal (3:11.50sec) and hosts Kerala (3:11.63sec).
Punjab's Navjit Kaur won the women's discus throw gold after clearing a distance of 50.52m, beating Haryana's Sandeep Kumari (46.92m) and Rajasthan's Praveen Kumari (46.16m).
SSCB's Kundan cleared 5m to clinch the men's pole vault, while Kerala's Bimin K P Paul (4.95m) signed off second. Karnataka's Balakrishnan (4.90) settled for the bronze medal.
The women's heptathlon concluded with West Bengal's Swapna Barman emerging as the champion after logging 5288 points. Kerala pocketed the silver and bronze medals through Liksy Joseph (5263) and Niksy Joseph (5055).
The home state then made a clean-sweep in the women's triple jump in which Sheena Nellickal Varkey (13.27m), Amitha Baby (13.11m) and Prajusha Antony (13.04m) finished first, second and third respectively.
Kerala, as expected, topped the medal count in athletics with 13 gold, as many silver and eight bronze medals.
In the badminton final in Kochi, Madhya Pradesh's Sourabh Verma won the gold medal after defeating Haryana's Akshit Mahajan 21-17, 8-21, 21-18. The women's gold was clinched by home favourite P C Thulasi, who sailed past Telangana's Rithuparna Das 21-18, 21-18.
The mixed doubles gold was also bagged by Kerala through Arun Vishnu and Aparna Balan, who edged past Telangana's Tarun Kona and Sikki Reddy 21-18, 14-21, 21-15. Telangana finally struck gold in the women's and men's doubles final.
In the women's final, Rituparna Das and Sikki Reddy rallied to beat state-mates Maneesha Kukkapalli and Meghana Jakkampudi 16-21, 21-19, 21-11, Sumeeth Reddy Buss and Nanda Gopal Kidambi upstaged Kerala veterans Sanave Thomas and Rupesh Kumar 21-14, 19-21, 21-19 in the men's competition.
In the boxing arena in Thrissur, former World cadet champion Vipin Kumar, representing West Bengal, emerged as the new bantamweight 56kg champion at the Games after his opponent, SSCB's Durga Rao Vankala, was forced out midway through the bout owing to an injury.
But SSCB took the 52kg gold as Sandeep thrashed Punjab's Jatinder Singh 26-10 in the summit clash. Kerala also had reasons to celebrate when Sandeep Chhikara defeated SSCB's Narender Berwal 18-9 in the +91kg final to nab the gold medal.
In Kozhikhode, Kerala clinched the women's volleyball title defeating Karnataka 3-1.
In kho-kho, Maharashtra and Kerala emerged as the respective men's and women's champions.
Image: Tintu Luka
Photograph: Getty Images