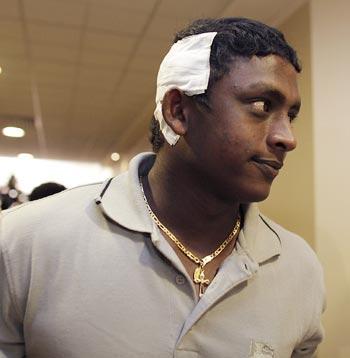 Angolan authorities have arrested two people on suspicion of taking part in an attack on a bus carrying the Togo national football team to the African Nations Cup in which two members of the delegation were killed.
Here are some details of previous major attacks on athletes and which have affected big sporting events.
September 5, 1972 -- Eight guerrillas from the Palestine Liberation Organisation (PLO) splinter group Black September raided the Israeli team's quarters in the Olympic village in Munich, Germany.
-- They killed an Israeli weightlifter and a wrestling coach almost immediately, took nine athletes and officials hostage and demanded the release of more than 200 prisoners held in Israel.
-- Later at Munich's military airport, from where the guerrillas were hoping to leave Germany, police opened fire and a gunfight erupted. All nine hostages were killed in two helicopters where they were being held, and five of the gunmen and a policeman also died.
July 1996 -- A powerful nail bomb exploded in Centennial Olympic Park on July 27 during the Atlanta Olympics in Georgia. The bomb killed one and injured more than 100 people. Eric Rudolph, who was sentenced to three life terms without parole in 2005 for Atlanta and other bombings, said the Olympic bombing was designed to "confound, anger and embarrass the Washington government in the eyes of the world for its abominable sanctioning of abortion on demand."
May 2002 -- A car bomb explodes in the Pakistani city of Karachi near the hotel where the New Zealand cricket team were staying, killing 13 people, including 11 French navy experts. New Zealand called off the tour within hours of the attack.
May 26, 2006 -- Gunmen shot and killed the coach of Iraq's national tennis team and two of his players in Baghdad. Witnesses said the three were dressed in shorts, and were killed days after militants issued a warning forbidding the wearing of shorts.
May 17, 2006 -- About fifteen athletes and officials from a taekwondo martial arts squad were kidnapped from a highway in western Iraq as they travelled for a training course in Jordan.
-- The decomposed bodies of at least 13 of the squad were found in the desert in June 2007 in Anbar province.
July 16, 2006 -- Up to 50 gunmen seized about 30 Iraqi sports officials, including the national Olympics chief Ahmed al-Hadjiya, and their bodyguards, in a brazen daytime raid on a central Baghdad hall. They are still missing.
March 3, 2009 - Gunmen attacked a bus carrying Sri Lanka's cricket team outside a Lahore stadium in Pakistan, killing seven people, including six policemen and a driver. Six of the cricketers and a British coach were wounded.
January 8, 2010 - A Togo soccer team bus, travelling from the Republic of Congo to the African Nations Cup in Angola, had just entered Cabinda province when it came under heavy gunfire from separatists. Team media officer Stanislas Ocloo and assistant coach Amalete Abalo were killed. Seven people were wounded, including reserve goalkeeper Kodjovi Obilale. The team returned to Togo on Jan 10. The driver of the bus, who was initially believed to have died, was alive and out of danger.
-- The Front for the Liberation of the Enclave of Cabinda (FLEC), who have fought for independence of the oil-producing province, claimed responsibility for the attack. Angolan authorities arrested two people Monday on suspicion of taking part in an attack.
Image: Sri Lankan cricket player Ajantha Mendis returns to Colombo after getting injured during the attack on the Sri Lankan team's bus in Lahore in March 2009
Photograph: Reuters