Tiger Woods's taxpayer-funded visits Down Under did nothing to help Australia's ailing golf tour, which is stuck in a losing battle for relevance unless it does more to embrace Asia, according to five-times British Open champion Peter Thomson.
Woods's tournament appearances in Sydney and Melbourne over the last three years brought crowds and media attention to Australian golf courses not seen since former World No.1 Greg Norman was in his prime.
Any hopes that Woods had put Australia back on the golfing map, however, were specious, Thomson said.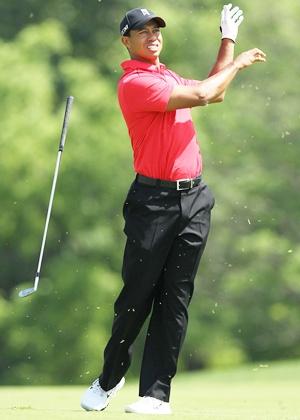 "I think Tiger Woods's impact was minimal barring the few days he was here," the 83-year-old said. "It cost heavily and it changed nothing, fundamentally.
"The tour still struggles to attract top players because we can't afford the appearance fees."
Once a drawcard for the likes of Gary Player and Jack Nicklaus, Australia's tour has been relegated to a nursery for locals with occasional visits by top foreign players for appearance fees.
The expansion of the U.S. and European Tours into Asian markets has also crimped Australia's room in the crowded golf calendar, leaving the tournaments struggling to attract sponsorship.
Local media reported that Victoria's state government shelled out A$1.5 million -- or 50 percent of Woods's appearance fee -- to attract the 14-times major champion to Melbourne for the Australian Masters in 2009.
Woods won and returned to defend his title in 2010, before warming up at the Australian Open for last year's Presidents Cup in Melbourne, a gathering of golfing talent unseen Down Under since the 1998 edition of the biennial tournament.
Australia added the A$2 million Perth International, a European Tour co-sanctioned tournament with heavy backing from the Western Australia state government, joining the three local showpieces -- the Australian Masters, Australian Open and Australian PGA.
"At this stage in the economic cycle, these events remain very dependent on state government support," Australian PGA CEO Brian Thorburn said at the Australian Masters in Melbourne on Saturday.
"But in that sense they're no different to other major events like the Grand Prix," he said, referring to the Formula One race in Melbourne, which has cost taxpayers more than A$50 million to hold in recent years.
Maintaining the momentum remains a challenge. The Perth International drew South African former major winner Charl Schwartzel along with American world number 10 Jason Dufner.
Packed galleries at the Australian Masters for Woods's visits are a distant memory at this year's $1 million tournament at Kingston Heath, where more modest crowds have turned up to see local favourite Adam Scott and Ryder Cup hero Ian Poulter.
The A$1.25 million Australian Open's headliners are Scott and seventh-ranked Briton Justin Rose, while Northern Irishman Darren Clarke and former world number one Norman are booked for the Australian PGA Championship in Coolum, Queensland.
"From an international persective, on an annual basis we're not going to get eight to 10 world top 20 ranked players down here," Thorburn said.
"The competitive forces and opportunities in Asia and elsewhere and the long distance mean that it's just impractical.
"But will we get two-to-three top-ranked guys down here? Yes we will ... Will we get a Rory McIlroy, a Tiger Woods or a Phil Mickelson down here in the next couple of years? Yes, I believe we will."
Throwing money at top players to lure them Down Under was not the answer, said Thomson, who called for Australia to embrace its geography and stake its future on the rise of Asia.
"In the long-term there's only going to be three tours, the US, European and one Asian tour," Thomson said.
"The rise of Asia is potentially very lucrative for Australia, because China is very keen on international exposure.
"Of course, they will have a huge number of talented young golfers coming through and we need to encourage them to nurture their careers down here."
Photograph: Andy Lyons/Getty Images