Five-times Olympic champion Ian Thorpe declared himself relieved after finishing second in his heat of the 100 metre individual medley in his comeback race after a five-year hiatus on Friday.
The 29-year-old Australian finished behind Omar Pinzon of Colombia in a time of 56.74 seconds, sixth best across the heats to qualify for the final of the Singapore leg of the World Cup meeting later on Friday.
"Yeah I'm happy, it is nice to get the first swim out of the way. I was a little bit nervous before it. I cant remember the race I don't know if it was any good or not," Thorpe told reporters.
"I came second, it was a heat swim and I am glad I have another opportunity for a final tonight. I'm sure when I watch the video there will be things I can work on. It is my first race and I'm glad it's out of the way."
Austrian Markus Rogan was fastest qualifier across the heats with a time of 55.25 with Pinzon third quickest in 55.81.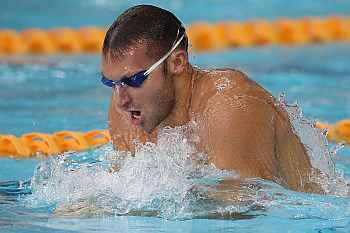 Thorpe received loud cheers as he came out to the pool at the Singapore Sports School but cut a stern look in his black swim shorts as the nerves took hold of him.
"I was worse 10 minutes before you saw me and then when I walked out i was a little bit better but yeah I was nervous. I don't think there was a chance I wouldn't be nervous."
The towering Sydney-born swimmer was slow out of the blocks and always trailed his Colombia opponent who kept Australia's most successful Olympian at bay to win the heat with a time of 55.81 seconds.
"Exciting," was the 22-year-old Pinzon's verdict after winning the heat. "I have never raced against him, when he was retiring I was just starting to get into swimming seriously. Tonight is when it counts."
It was also Thorpe's first race in the discipline since winning silver at the 2003 world championship and it is highly unlikely he will try and attempt to qualify for the event at the 2012 Olympics.
WELCOME BACK
Simply used as part of his training preparation in his attempt to qualify for the Games early next year in the trials in Adelaide, Thorpe will also take part in the 100m butterfly in Singapore on Saturday.
Thorpedo, as he is known, smashed world records for fun in his pomp and collected five golds, three silvers and a bronze at the 2000 and 2004 Games along with 11 world championship titles.
His favoured discipline is freestyle which, after competing in the next two World Cup meets in Beijing and then Tokyo this month, he is expected to revert to.
His coach Gennadi Touretski refused to say whether he was pleased with Thorpe's first competitive swim.
"I can call the situation 'welcome back'. I feel that he has not only potential but a great desire to swim fast and challenge any goals."
Another Australian returning to the pool after time away was triple Olympic champion Libby Trickett.
The 26-year-old qualified for the finals of the 100 metres butterfly and the 50 metre freestyle both with fifth fastest times across the heats in her first international meet since the 2009 world championships.
"I'm so happy to have made it through to the finals. I feel giddy and I know it's weird for a 26-year-old to feel giddy but it's true," said Trickett.
"I'm just so happy right now and I honestly have the best job in the world. While both swims hurt, I'm really looking forward to tonight."