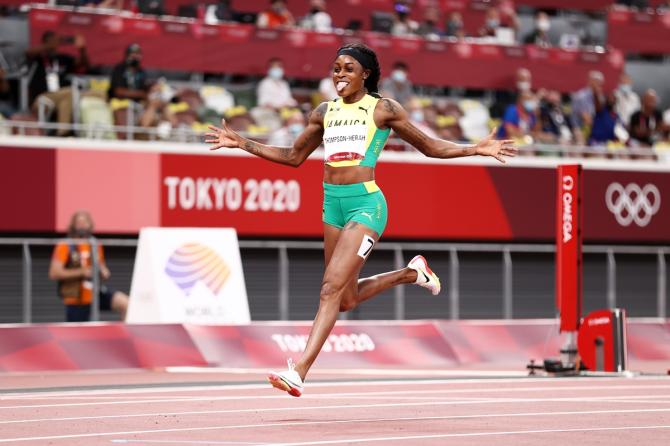 Elaine Thompson-Herah completed a second successive Olympic sprint double on Tuesday when she won the 200 metres gold in a blistering time of 21.53 seconds, the second-fastest time in history.
The Jamaican controlled the race from the start and was a clear winner, but 18-year-old Christine Mboma of Namibia produced an astonishing final 30 metres to make up four places and take silver in 21.81.
Thompson-Herah, 29, ran 21.66s to win her semi-final. But, on a warm and humid evening at the Olympic Stadium, she was able to find an even higher gear.
The Jamaican, who won the 100m on Saturday, became the first woman to successfully defend the sprint double, breaking Merlene Ottey's national record on the way.
"Oh my god, it's amazing that I have ever seen this day. That I could complete another double. I can't believe it," she said, adding that her body needed urgent rest.
"It feels amazing to win two golds again. I have had a rough week. I haven't slept after the 100m final. I really had to pull it out to win the 200m. It's a new PB (personal best) and a national record. I am so, so happy."
American Gabby Thomas, who had the fastest time of the season of 21.61 coming into the race, took the bronze in 21.87s, just edging out 100m silver medallist Shelly-Ann Fraser-Pryce (21.94s).
Sweden's Duplantis soars to pole vault gold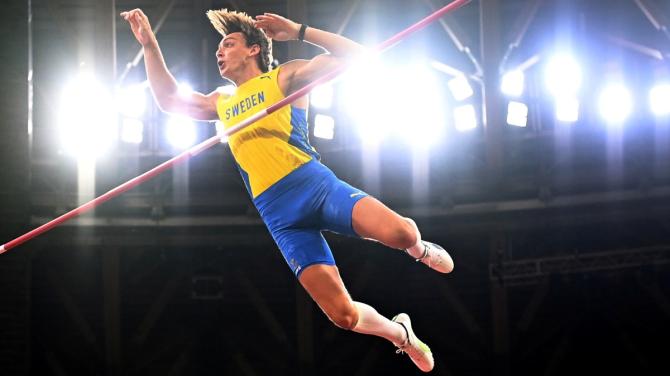 World record holder Mondo Duplantis of Sweden won the Olympic men's pole vault gold medal on Tuesday after clearing a height of 6.02 metres on his first effort.
The 21-year-old Duplantis, who finished with a silver medal behind World champion Sam Kendricks of the United States in 2019, remained the only man to fly over six metres this year.
American Chris Nilsen cleared the bar at 5.97 with his first attempt but could not match Duplantis and picked up the silver medal.
Brazil's Thiago Braz, who won the title at his home Olympics in Rio de Janeiro five years ago, took bronze with his effort of 5.87.
Teenager Mu ends long American wait for 800m gold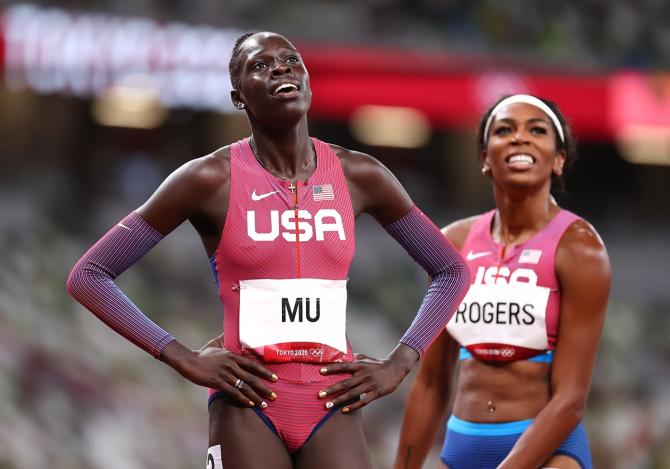 Athing Mu of the United States won the gold medal in the Olympic women's 800 metres final on Tuesday, her country's first victory in the event in more than half a century, as her compatriot Raevyn Rogers grabbed bronze.
The absence of South Africa's double champion Caster Semenya, ruled ineligible due to heightened testosterone levels, opened up the field to a new winner and the 19-year-old Mu took full advantage.
She dominated the race, leading almost from the start and crossing the line clear of her rivals in a time of 1:55.21s, to secure the US a second gold in the event after Madeline Manning's triumph in 1968.
Keely Hodgkinson of Britain took silver.
Mu, whose parents moved to the US from Sudan two decades ago, said it was "awesome" that she won gold at such a young age.
"I wasn't really putting gold on that, but as it got closer to the final today, I was like, 'Yeah, we want gold'," the 19-year old said.
Mu said getting ahead quickly was part of her strategy.
"I wanted to go early from the front and not let anyone mess up my race plan. I just wanted to do my own thing," she said.
Mu's time was an American national record.
Along with the bronze for Rogers, who posted a personal best of 1:56.81, the pair became the first US medallists in the event since 1988.
Britain's Hodgkinson ran a brilliant second half of the race to earn silver and after the race, she was excited about two teenagers winning medals at the grandest stage.
"There's not just one 19-year old in the race, there is two...which is unbelievable. Hopefully it stems for a good competitive 10-15 years ahead and faster times on the horizon," she said.
The 19-year old broke 2004 Olympic champion Kelly Holmes's British national record with a time of 1:55.88s.