'I am a mother after all and will be a fan of my son in Rio'
IMAGE: Nino Salukvadze with her son Tsotne Machavariani
The Rio Olympics will be the eighth Games for Georgian shooter Nino Salukvadze, but it will be the first time when she will be joined by a very special team mate - her own son.
It is believed to be the first such case in Olympic history when a mother and her son will compete side by side.
"I am very happy and very proud that I will be competing alongside my son. We will do our best to perform well," Salukvadze, 47, said.
Salukvadze was 19 when she won a gold medal in the women's 25-metre sporting pistol competition and silver in the women's 10-metre air pistol competition at the 1988 Seoul Olympics when she represented the team of the now defunct Soviet Union.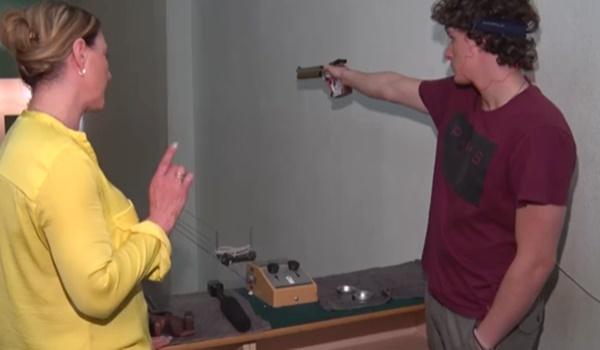 At the 2008 Beijing Olympics she won a bronze medal for Georgia in a 10-metre air pistol event.
Salukvadze's 18-year-old son Tsotne Machavariani shot a personal best in the 10-metre air pistol at the European Championship in February to get an Olympic qualifying spot.
"It's a double joy for me, because I will participate in the Olympics for the first time in my life and because I will compete in Rio alongside my mother," Machavariani said.
Salukvadze said she believed that family relations do not matter in sports and should not cool sport ardour.
"But, frankly speaking, I am a mother after all and will be a fan of my son in Rio," she said.