'I am feeling very low because I am not wrestling.'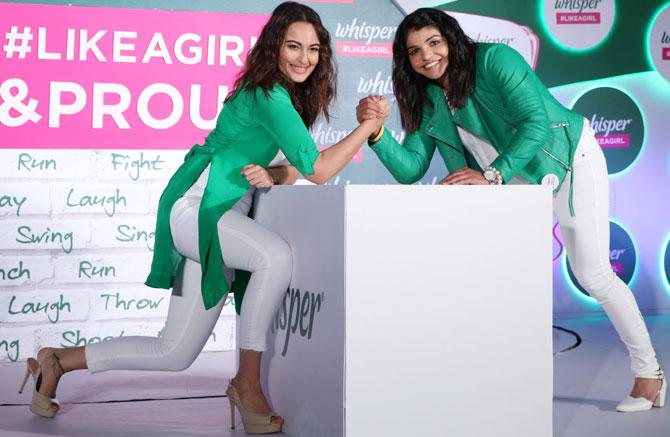 IMAGE: Rio Olympics bronze medalist Sakshi Malik with Bollywood star Sonakshi Sinha at a promotional event in Mumbai. Photograph: Hitesh Harisinghani/Rediff.com
Star wrestler Sakshi Malik was in Mumbai on Tuesday, September 20, for a promotional event.
The Rio Olympics bronze medalist shared the stage with Bollywood star Sonakshi Sinha for the Whisper 'Like a Girl' campaign.
Asked about the trend of making biopics on sportspersons, Sonakshi said she would be thrilled to star as Sakshi if a movie was made based on the wrestler's life.
Rediff.com's Aruneel Sadadekar spoke to the wrestler about her stardom and future plans.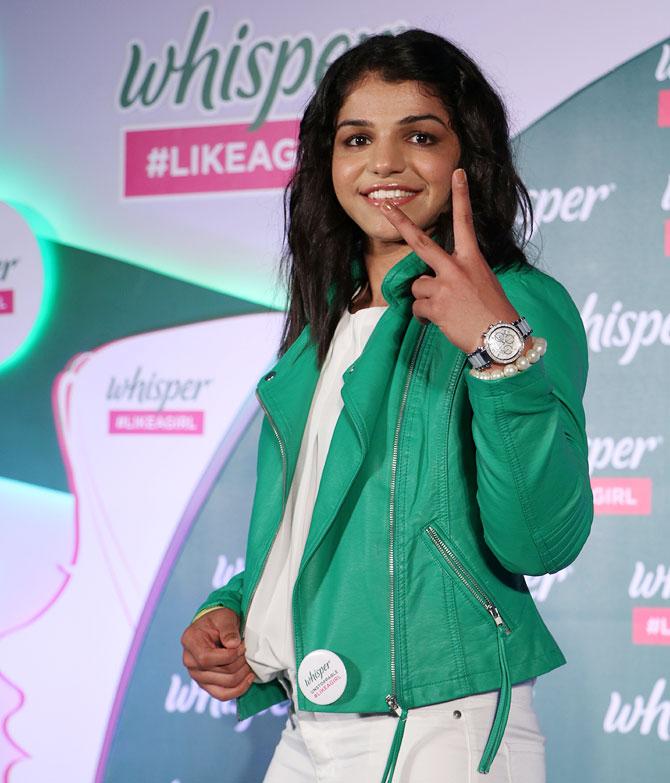 IMAGE: Sakshi Malik at the event. Photograph: Hitesh Harisinghani/Rediff.com
How does it feel to be in the company of celebrities now?
(Laughs) All this celebrity status is only because of my medal. I am thankful for the tremendous love I have received.
I also know that all this will die down if I don't win medals in wrestling.
I miss my training a lot and desperately want to get back to it.
What plans now?
I will soon get back to training, hopefully from October 1.
I am feeling very low because I am not wrestling.
The plan is to improve my technique and strength, to win a gold medal at the Tokyo Olympics.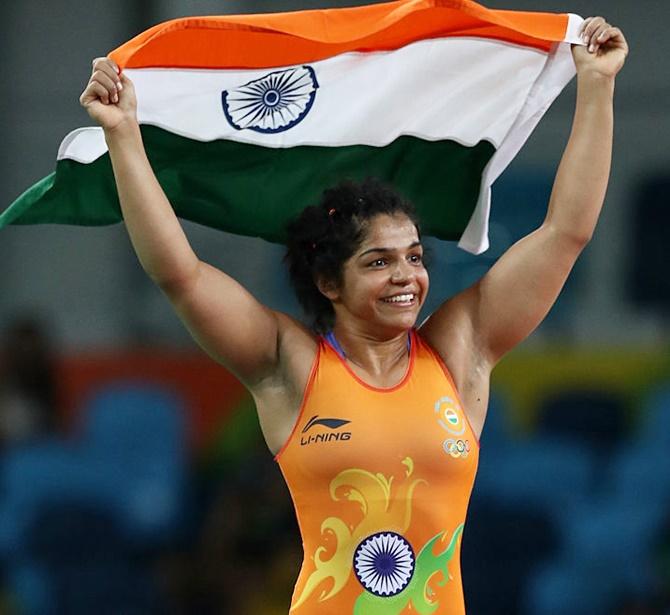 IMAGE: Sakshi celebrates after defeating Kyrgyzstan's Aisuluu Tynybekova in the women's Freestyle 58 kg bronze medal match at the Rio Olympics. Photograph: Lars Baron/Getty Images
Tell us about your journey...
It will take two hours for my entire story. I have been wrestling for 12 years now and have faced a lot of trouble.
I remember walking for 7 kms to reach my school. It was difficult to continue with my passion (wrestling) with all the villagers taunting me for being a girl.
My parents are the only ones who supported me throughout this journey.
When I spoke to Yogeshwar Dutt recently, he said your medal can pave the way for other women to take up wrestling.
Yogeshwar along with Sushil Kumar are my role models in the sport. I have witnessed all the difficulties that women wrestlers in India face.
In fact, it is applicable to all the other sports except for cricket where money and recognition is in abundance.
I am aware that I am now a role model for many young women wrestlers and a lot of kids want to learn from me.
Most importantly, I feel happy that a lot of Indian mothers look towards me as an inspiration for their kids.
I am sure women wrestling will grow in India after this medal.
At my training centre now, more girls have taken admission and want to make a career in wrestling.
It was India's best showing at the Rio Paralympics with 2 gold medals, 1 silver and bronze each. Do you think the para-athletes are getting the same kind of recognition as P V Sindhu and you?
I am proud of all the Indian para-athletes.
I recently met Deepa Malik (the first Indian woman to win a medal at the Paralympics). Her story is inspiring and engaging. I have learnt a lot from her.
I am sure the government is doing its best in supporting these heroes.
IMAGE: Sonakshi said she would love to act as Sakshi if a film was made on the champion wrestler's life. Photograph: Hitesh Harisinghani/Rediff.com
What about the condition of Olympic sports in India? How can you contribute towards improving it?
I think I have already contributed.
Main sirf medal jeetke hi badlav laa sakti thi (I can only change things by winning a medal).
Improving sporting facilities should be our priority. I remember my training. The room where we trained was so hot that you guys will not even stand in it.
All the equipment was of poor quality. It is important to support sports at the grassroots to see results at the world level.
I try my best to teach young girls. After I retire from wrestling, I want to contribute by starting a coaching academy for girls.
18 soldiers died in a terrorist attack in Uri...
I am deeply saddened. I want to salute these martyrs and the other soldiers who give their lives for the country.
It is because of them that we are safe in our homes.