Norma Godinho challenges sporting know-it-alls.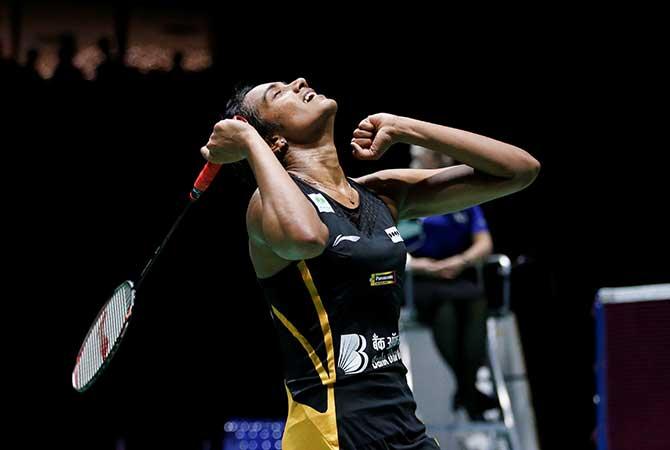 Just click on the right option.
Ready, steady, go:
1.
At the 2019 World Championships, P V Sindhu won the gold medal in the women's category. Another Indian won the first bronze medal in 36 years in the men's division. Name the player.
1. B Sai Praneeth
2. Lakshya Sen
3. P Kashyap
2.

The 2002 Antigua Test is remembered for Anil Kumble coming out to bowl after getting hit on the jaw by a Mervyn Dillon delivery the day before.
It was a special match for another Indian player who scored a maiden ton in only his third Test. Name this wicket-keeper who also bowled one over in that match.
1. Deep Dasgupta
2. Ajay Ratra
3. Parthiv Patel
3.

Germany won the 1996 European Football Championships. But the golden boot was won by an Englishman who scored 5 goals in the competition. Name this Newcastle legend.
1. Les Ferdinand
2. Alan Shearer
3. Rob Lee
4.

He is one of India's most successful Kabaddi players. He led India to the 2014 Asian Games gold medal and the 2016 Kabaddi World Cup gold. Name this Arjuna Awardee.
1. Manjeet Chhillar
2. Anup Kumar
3. Rakesh Kumar
5.

Who was the first Indian woman to win a Wimbledon title?
1. Nirupama Vaidhyanathan
2. Sania Mirza
3. Rushmi Chakravarthi
6.

This was the first Goan football club to win the NFL in the 1998-1999 season. Name the club which is also the oldest football club of Goa.
1. Churchill Brothers
2. Dempo FC
3. Salgaocar FC
7.

In the Adelaide Test in 2003, Rahul Dravid (233) and V V S Laxman (148) helped India to victory with the bat.
Another catalyst for the memorable win was this all-rounder who picked six wickets (6 for 41) in the second innings of that Test and redeemed himself on Australian soil. Name this bowler.
1. Yuvaj Singh
2. Ajit Agarkar
3. Harbhajan Singh
8.

Before his big move to Chelsea FC in the summer of 2004, Jose Mourinho had led this Portuguese soccer club to Champions League glory and the treble in the 2003-2004 season. Name the club.
1. Sporting Lisbon
2. Benfica
3. FC Porto
9.

Andre Agassi won his 8th and final Grand Slam, the Australian Open, in 2003. Whom did he beat to win that Major?
1. Michael Stich
2. Rainer Schuttler
3. Yevgeny Kafelnikov
10.

He was one of India's best hockey defenders and an unassuming captain. A three-time Olympian, he acted in an Odia film after he was forced to quit the sport at the age of 33 due to a string of injuries. Name this iconic India player.
1. Dilip Tirkey
2. Dhanraj Pillay
3. Joaquim Carvalho