Singaporeans cheer return of golden boy Schooling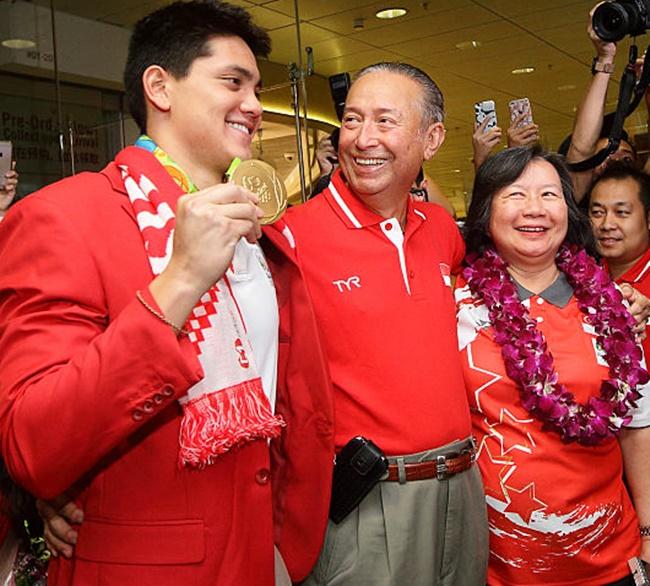 IMAGE: Singaporean swimmer Joseph Schooling, left, poses for a photo with his parents, Colin Schooling and May Schooling during a welcome home ceremony at Changi Airport , Singapore. Photograph: Suhaimi Abdullah/Getty Images
Singaporeans waved flags and cheered for swimmer Joseph Schooling on his return to the island city state on Monday after winning the country's first Olympic gold medal.
Hundreds of screaming fans joined Schooling's family at Singapore's Changi Airport to welcome home the 21-year-old, who beat American swimming great Michael Phelps in the 100 metres butterfly in Rio de Janeiro on Friday.
"Feels great. I haven't seen my dad in a while, so it's always great to see him and my mom. All three of us together," Schooling told reporters.
Known at home for smashing national records and taking multiple titles in regional competitions, Schooling had held the hopes of Singapore, a Southeast Asian island nation of less than six million, which had only won two silver and two bronze medals since it joined the Olympic fold in 1948.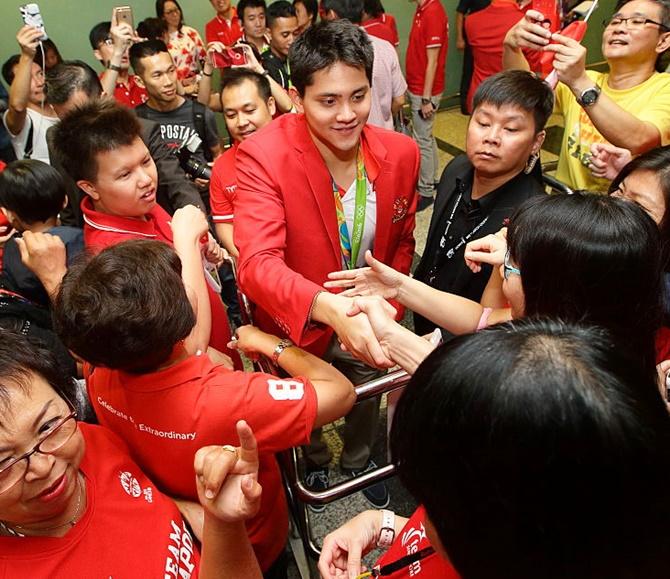 IMAGE: Singaporean swimmer Joseph Schooling greets his fans during a welcome home ceremony. Photograph: Suhaimi Abdullah/Getty Images
"I'm here because he's Singapore's first gold medallist (at the Olympic Games) and he's a hero to all of us," said 33-year-old fan Joyce Lee.
The cheering crowd included one of his uncles, Philip Schooling.
"Joseph, we love you...and all the best, and thanks for giving Singapore children and Singapore itself a dream," he said, giving his nephew a hug.
Schooling left Singapore at 14 to train in the United States and now studies at the University of Texas in Austin, where the swimming program is led by former US Olympic men's head coach Eddie Reese.
Schooling's request for another deferment from national military service was approved, the Armed Forces Council said on Monday, paving the way for the young swimmer to train and compete in the 2020 Olympics in Tokyo.
"Mr Schooling has been exemplary in fulfilling the raison d'etre for his deferment – he trained hard and met all performance milestones on his way to Olympic glory," the Council said in a statement.
Kosovo's first Olympics winner gets hero's welcome at home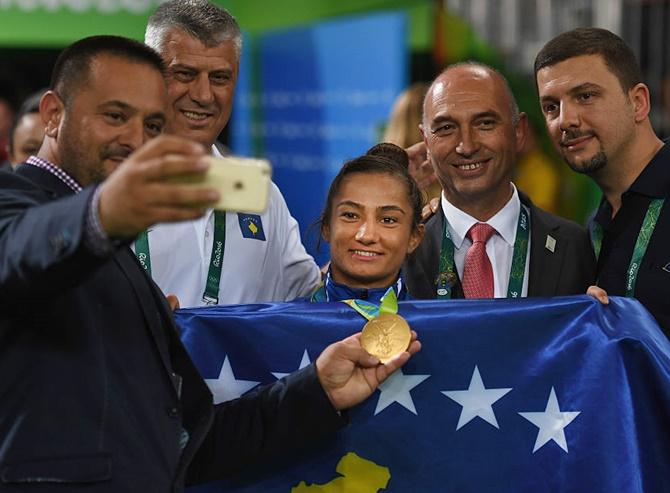 IMAGE: Kosovo's gold medalist Majlinda Kelmendi is the centre of attention. Photograph: Laurence Griffiths/Getty Images)
Thousands lined the streets of Kosovo's capital on Sunday to give a hero's welcome to judo champion Majlinda Kelmendi as she arrived home after winning a gold medal in Rio 2016, the first Olympic games in which the small Balkan country took part.
Twenty-five year-old Kelmendi won gold last Sunday in the 52kg category, making history for the country of 1.8 million people which became independent in 2008.
Fans waving Kosovo flags chanted her name "Majlinda! Majlinda!" as Kelmendi waved to people from an open bus covered with her photo.
"When she won I cried like a baby. That was the best moment of my life since we declared independence," said Emin Krasniqi, 62, as the bus carrying Kelmendi drove by.
The young woman had taken part in the London 2012 Olympics under the flag of Albania, as Kosovo was not yet recognised by the Olympic Committee.
"It still looks as a dream," Kelmendi told reporters after walking on the red carpet rolled out for her at Pristina's airport, where she was welcomed by Prime Minister Isa Mustafa.
"All the hard work and sacrifice I made, I did them for my country and my people," Kelmendi said, adding that she plans to participate in the next two Olympics.
Many sports officials in Kosovo are calling on the government to declare judo a sport of national interest.
Kelmendi will get 100,000 euros ($112,000) from the government for winning the gold medal as Kosovo, one of Europe's poorest countries, has said it would reward all medal winners.