'I have always been rough and tough. I take risks in life and they pay off.'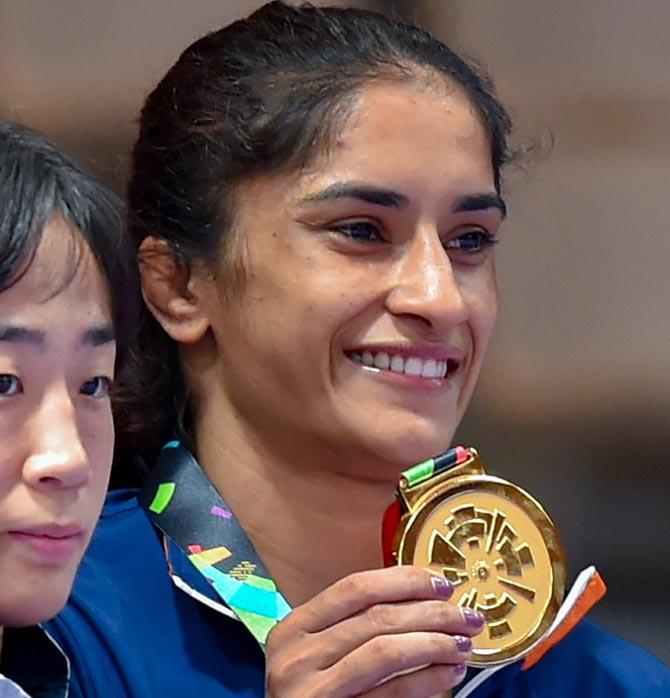 The knee-injury which cut short her Rio Olympics campaign had left Vinesh Phogat writhing in pain, but the tears in her eyes on Monday after winning a historic gold medal at the Asian Games had a different meaning.
Vinesh was stretchered out of the wrestling arena at the 2016 Rio Games after suffering a horrible knee injury and what followed was a long painful period of rehabilitation.
She rued the missed opportunity but decided not to break down and started her journey all over again.
"I had targeted gold. I had 3-4 silvers at the Asia level. So I was determined to win gold today. My body responded well. I had trained well and God was also kind to me. Everything fell in place for me today," said Vinesh, her eyes moist, after winning gold in the 50 kg freestyle category.
"Injuries are part of an athlete's career. It is difficult, both emotionally and physically. But I shrugged off everything to deliver some good medals recently. Someone has said an athlete becomes strong after injury and I feel I indeed have become stronger than before," she added.
As fate would have it, Vinesh first took on China's Yanan Sun against whom she lost that Rio Olympics bout. And she asserted that she always felt she is a stronger athlete than Sun and Monday was the day to prove it.
"There was pressure but it was to prove that I am actually stronger than her. I wanted to prove this today because I lost thrice to her before. And I have done this today," she said.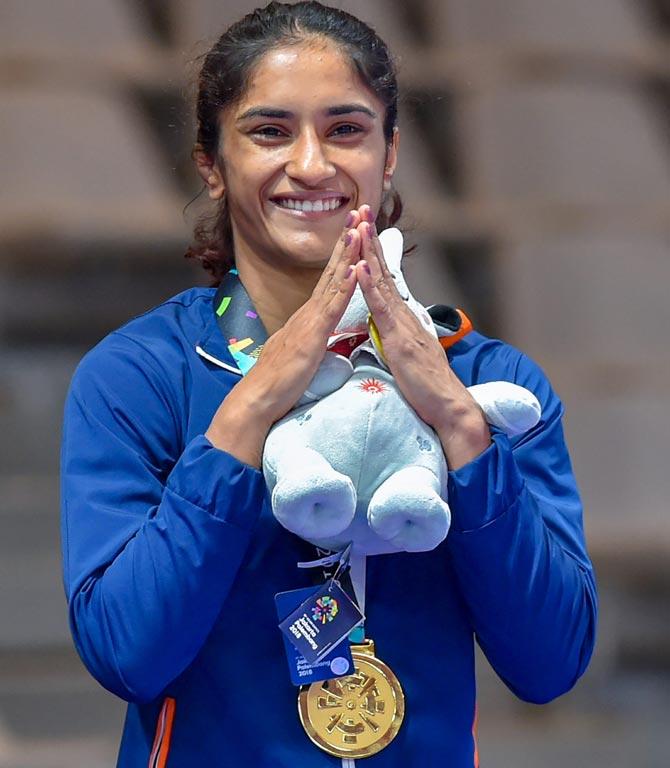 The 23-year old from Haryana is considered one of the most mentally strong wrestlers in India. She says it comes naturally to her.
"I work on this but I am like this from childhood. I have always been rough and tough. I take risks in life and they pay off. I have self-belief. I feel there is nothing that I can't do," said Vinesh, who won gold at the 2018 Gold Coast Commonwealth Games earlier this year.
Asked if she idolises any wrestler, she replied in the negative.
She, however, said interactions with Sushil Kumar left a positive impact on her.
"I listen to Sushilji a lot. Whatever he suggests I take note. In 2014 when I won bronze in Incheon he said, 'don't worry, whatever happens, happens for good. Maybe, you have something bigger in store'. I always remember this message from him."