What still motivates Leander Paes? How long does he intend continuing playing at the top level? Harish Kotian attempts to find out.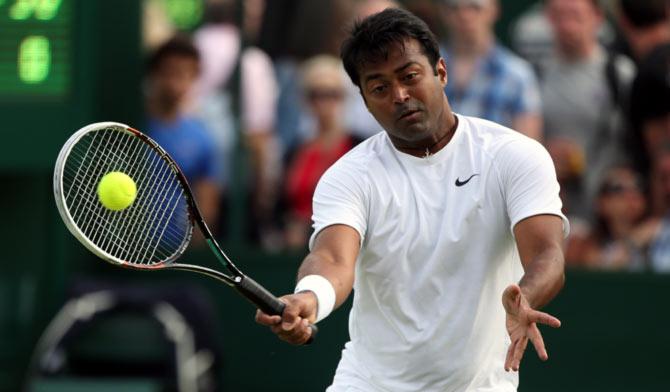 Leander Paes in action at Wimbledon. Photograph: Steve Bardens/Getty Images
Leander Paes would surely like to forget 2014 in a hurry. On and off the field it was nightmarish for him. While he had to make several rounds to the family court in Mumbai following a bitter break-up with partner Rhea Pillai, he had little to cheer about his results on the tennis court.

The 41-year-old won just one title in 2014 and failed to add to his 14 Grand Slams, which resulted in him dropping out of the top-25 in the doubles rankings. He also did not qualify for the year-end ATP World Tour Finals.

But Paes, who is in the 25th year of his tennis career, is not ready to give up just yet. He is keen to get back on the winning track in 2015 and win a few more Grand Slams. His bigger target, though, is the 2016 Olympics Games in Rio, which could be his seventh consecutive Games.

Rediff.com's Harish Kotian caught up with the Indian tennis legend on the sidelines of the Champions Tennis League in Mumbai to find out what still motivates him and how long he intends to continue playing the game.

The Champions Tennis League is a great format as far as development of Indian tennis is concerned. Each team has an Indian male tennis player along with a junior Indian girl and boy and the international stars. The youngsters are getting to interact and practice with top players from around the world. How big is that for Indian tennis?

I think the CTL league is a great format. One, it gives the junior Indian players a great chance to mingle with their heroes. They also get a chance to sit on the bench and rub shoulders and get some great information and knowledge with the likes of Venus Williams, Martina Hingis, Tommy Robredo, Kevin Anderson, Juan Carlos Ferrero, Sergi Bruguera, among others.

You don't get that opportunity every day. I think it is a great opportunity for them to hit and be a practice partner for these players and see how they develop their game, ask them the right questions, learn from their game. I believe that this format really helps the young Indian players. Also, if you look at it, we professional Indian players playing on the pro circuit, both men and women, are getting to play with international stars men and women -- you have the men's singles, men's doubles, mixed doubles, men's singles, and legends, so it is a good mix there. It is a great showcase for tennis, for the fans and, at the same time, it is the best format I would say.

The sudden withdrawal of David Ferrer from the Punjab Marshalls team meant you not only had to come in, but also play in the singles. How was it playing singles after a long time?

It is so cool to come back and play singles. It has been a little while since I have played singles. It is really nice to be able to go there and run around the court. I am a serve and volley player and I am playing against guys like Sergi Bruguera and Juan Carlos Ferrera, who are baseliners.

Also, if you look at the fitness Juan Carlos has, it is incredible. For me, it is a great opportunity to go out there and have fun with guys I used to play with before when I played singles.

Bruguera won the silver medal at the 1996 Olympic Games and if I had beaten Andre Agassi in the semi-finals I would have ended up playing against him in the final. So, to come back and play against him, it kind of comes a full circle.

Was it a difficult decision to give up singles?

Very much, it was a very difficult decision. To now come back on the court and play singles again after many, many years -- I think it has been nearly 11 years since I last played back-to-back singles matches. I also got to make sure that the body holds out well. It is a new challenge.
Leander Paes (right) and Radek Stepanek pose with the trophy after winning the men's doubles title at the 2013 US Open in New York. Photograph: Elsa/Getty Images
You look like you never want to give up playing tennis. How long do you intend playing?

You know, it is fun! I have a lot of fun with my tennis. I am very passionate about my tennis and I really enjoy it. So as long as I have fun, I will keep doing it.

But there must be some target you must have set yourself as far as retiring from tennis is concerned? You started your tennis career at the same time as Sachin Tendulkar started his cricketing career -- in 1989. He retired from cricket last year, but you don't look that keen on retiring even after 25 years in the sport.

Yes, I set targets. I am very goal-oriented; I have been the same since I was a young boy. My next target is to win a Grand Slam in 2015.

This year, 2014, was a really hard year for me, so I want to make a strong comeback in 2015. I want to win a Grand Slam next year and also get my ranking back in the top-10 in the world.

2014 has been a very bad year both on and off the court. Right now, coming to the end of the year I have been able to do things quite solidly. I have been able to keep my ranking, I have been able to keep my job a little bit. It's been hard.

At one point towards the end of the year, in September-October, I was losing my ranking a lot, but now it is coming back, which is nice. I am looking forward to next year. I have got a few things I look forward to and, hopefully, things will roll around better.

On saying that, the realistic goal for me is the 2016 Olympic Games. It is something that I am also looking forward to.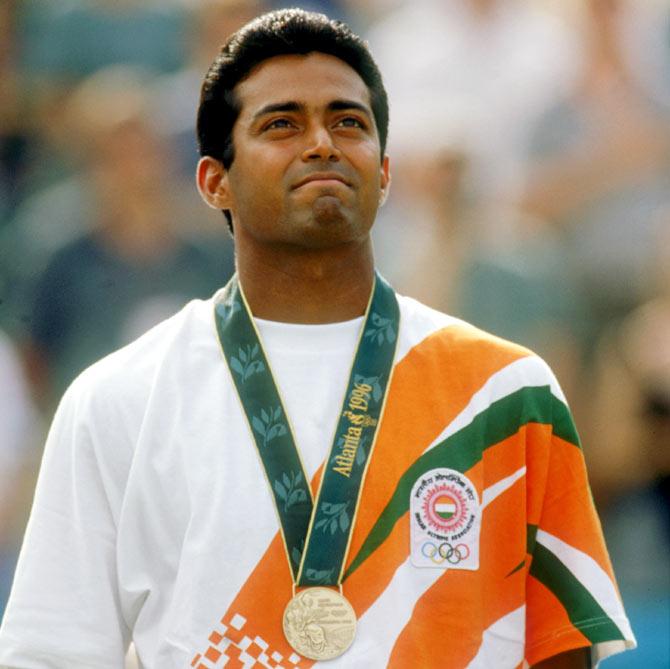 Leander Paes stands on the podium after winning a bronze medal in the men's singles at the 1996 Summer Olympic Games in Atlanta on August 3, 1996. Photograph: Gary M. Prior/ Getty Images
Would you consider partnering Sania Mirza in the mixed doubles at the Rio Olympics Games? That could give India a big chance of winning a medal?

At the end of the day, I am sort of a person who is very goal-oriented. I work towards targets and that is why I have been able to get to 31 Grand Slam finals and win 14 of them. I have already won my Olympic medal in singles. For me, the Rio Olympics is a very important one because it is going to be my seventh Olympics. And because I have been so systematic and professional in my thought processes and in my planning towards my goals, that is the reason I am going for, hopefully, my seventh Olympics.