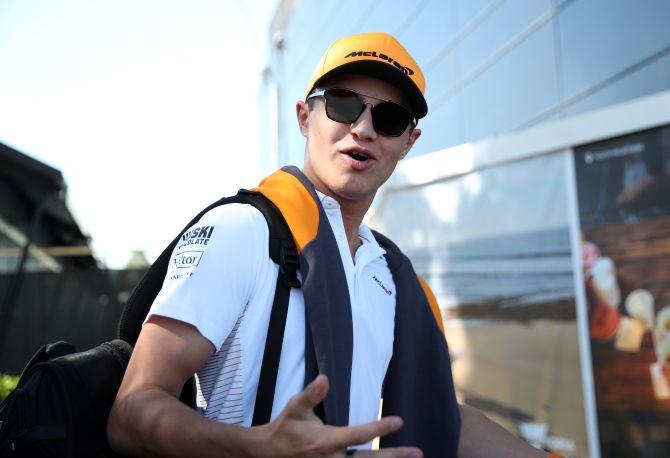 The Formula One season finally shifted into overdrive with the season's opening race in Austria on Sunday, July 5.
The Austrian GP had all the ingredients of a perfect race -- there was drama, there was a retirement, there was a penalty and a new face on the podium.
The race at the scenic Red Bull Ring saw the emergence of Lando Norris who pipped defending champion Lewis Hamilton for a third place finish, logging 16 points and two records in the process.
Norris became only the third youngest racer to have a podium finish in Austria.
At 20, he was the youngest driver in Sunday's race and the youngest Briton to stand on an F1 podium.
He also claimed a bonus point for fastest lap in the opening race of the season.
Born in Bristol to an English father and a Belgian mother on November 13, 1999, Norris's tryst with racing started as a seven year old when he and his older brother competed in kart races.
The son of the 501st richest man in the UK -- retired money manager Adam Norris -- Norris Jr won his first major title in 2013 -- the WSK Euro title -- and followed that up with the Karting KF Championship title.
In 2014 he moved to racing cars and by the following season he was racing in Formula Four.
With Team Carlin, he impressed with a win in the opening race and his pace saw him finish third in the championship that season.
In the following two seasons he won the MSA Formula Championship as well as the Toyota Racing series among others.
In 2017 he graduated to Formula 3 with the same team and won another trophy before being officially unveiled as McLaren's test and reserve driver.
He finished runner-up a season later in Formula 2 before being roped in by McLaren for the 2019 season, finishing at P11 with 49 points.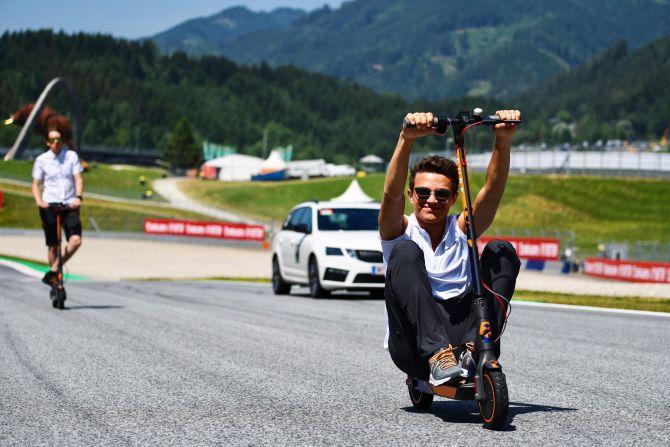 His on-track exploits apart, Norris is hugely popular on social media. According to Nielsen Sports, his social media following grew faster than any other F1 driver in revcnt weeks.
Norris has 1.3 million followers on Instagram, still way behind Mercedes' six times world champion Lewis Hamilton's 15.1 million or Australian Ricciardo's 3 million, but more than double that of last year's other rookies, Alexander Albon and George Russell.
Much of his appeal comes down to an infectious and impish personality -- the Briton calling up team mates and rivals on his mobile for some light-hearted banter before and during a virtual Bahrain race in March.
Norris and his McClaren team-mate Carlos Sainz are known to be easy-going characters, a laugh there and a smile here -- sometimes viewed as not serious enough.
But the pair insists that McLaren would not have finished in P4 in the 2019 Constructors Championship had it not been for their jovial nature.
In the wake of George Floyd's death at the hands of the police in Minneapolis, Norris, who has over 400,000 followers each on Twitter and streaming platform Twitch, urged them to sign a petition to fight discrimination, a move that saw him lose followers on the platforms.
'You try to do what's good and what's right, but so many people don't believe in it. If they don't believe in it, then I';m happy they unfollowed me,' Norris said.
'I've got to make the most of the opportunities to show people to believe in what's right ... Whatever way I can try to persuade them to believe in the right thing, I will try and do that,' he added.
In April, more than 36,000 people watched a livestream on Twitch of Norris shaving his head to raise more than $12,000 for the fight against coronavirus.
Will he be Lewis Hamilton's heir someday? This year's F1 races will offer us an indication of that.