Sujal Kahar is all set to represent India at the Football for Friendship tournament in Russia.
Ranjita Ganesan meets the energetic goalie.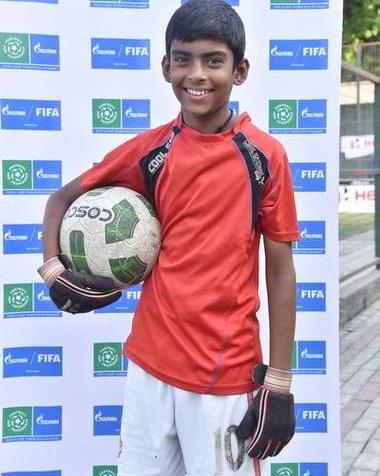 It is summer holidays at the Educo Saibaba Path Mumbai Public School in Parel, central Mumbai, but a small whirlwind of dust is forming somewhere in its mostly empty playground.
At the centre of it is a boy of 12 who stops, punches and catches a football thrown at him non-stop from varying directions and heights.
As he leaps and pivots for 10 full minutes, resembling Spiderman without the web, his green jersey, white shorts and matching shoes, which just a short while ago had been smooth and unspoilt, are rapidly swathed with mud.
Several such practice sessions will follow for Sujal Kahar, a Class 6 student of the public school who has been selected to represent the country at the Football for Friendship tournament in St Petersburg in June.
India has been invited for the first time to participate in the fifth edition of the friendly tournament, where 12-year-old boys and girls from 64 countries will play.
Russian state gas company Gazprom has been hosting the programme in collaboration with FIFA.
An open draw by the organising committee required that a goalkeeper be selected from India. He or she would also need to be comfortable speaking English, it said.
Just For Kicks, an NGO which ties up with municipal schools to teach football to 2,500 children from underprivileged backgrounds, was roped in to find a player here.
It zeroed in on Parel-based Sujal after a month of training and tryouts.
It was only after selection that this young footballer has looked up Russia on the map.
He does not know much about the country's language or people, but expects "it will be cold there."
The prospect of meeting other kids his age from various countries excites him the most.
Once there, Sujal will also partake in a children's forum, training with his counterparts.
At the end of the week-long event, he and his new friends will get to watch the final of the Confederation Cup, where he is convinced he will meet his favourite players, Lionel Messi and Cristiano Ronaldo.
He has some conversation points ready: "India is a nice country. We play good football."
This may not have been the case some months ago, but Sujal is not off the mark as India recently climbed several spots to break into the top 100 in FIFA rankings.
While his parents and coach are rallying to help with the passport and other formalities, the goalie is yet to tell his relatives about the achievement.
He lives in a small home in the Parel village area, in a joint family of 15 including his grandparents, uncle and cousins.
"He will inform them when everything is fixed," says his mother Renuka.
This sense of cautiousness reflects in Sujal's game too: He rarely ever injures himself.
With a slight frame and neatly-partitioned hair, he looks like the boy from the Adarsh Balak comics. Testimonies of his coach and parents confirm a good reputation.
"He came to the field in his school uniform, hands folded behind his back, and said he plays too," recalls Chhagan Chauhan, who has been coaching Sujal for a year.
"I asked what position he would like to try. He held out a pair of gloves and said 'goalkeeper'. I liked that."
Those were gloves his father had bought for him a year ago when he first began playing.
He takes meticulous care of these and the rest of his uniform, packing them each night into a sling bag.
His teammates, and other kids who train with Just For Kicks, too treat their kits with similar respect, says the NGO's co-founder Neha Sahu.
While footballers might normally use a pair of shoes for a year at the most, the kids make them last two or three years.
When Sahu started the initiative, she had been taking lessons in the dim, unwelcoming classrooms of municipal schools.
To boost attendance, she decided to introduce sports.
Football was chosen because of its relatively low input costs and ability to build team spirit and remove stress.
Schools and parents were apprehensive at first but acceptance grew as children showed greater discipline just so they would be allowed to play.
The organisation provides schools with footballs, cones for training, jerseys and shoes.
For Sujal, goalkeeping came by way of elimination.
"Most kids just want to be a striker so it is surprising how focused he is," Sahu observes.
But this was because when he started playing at age 10, he had struggled to keep possession of the ball.
"All my teammates would yell at me."
Obstructing the ball was comparatively easier. Moreover, he gets to be the one shouting instructions at his team now.
By contrast, his interest in academics is limited. Recently, however, he learnt some multiplication tables because he had to clear a test for permission to play. He has forgotten them now.
At home, the young boy takes possession of the remote control and much to everyone's chagrin, watches football highlights throughout.
He even teaches his sister Kashish and several local kids goalkeeping techniques at a playground next to his house.
Coach Chauhan will be stepping up practice routines in the run up to the Russia event, training for four hours daily.
There is no sophisticated technology to aid in these players' growth, but instructors at JFK have devised their own methods.
The children belong to homes of meagre means, so simple additions to the diet are prescribed -- two bananas, an egg, two glasses of milk, and lots of water.
During practice, Chauhan makes the kids go for longer without water breaks so they can develop endurance.
The coach also plans to take Sujal to softer turfs like the Chowpatty beach and the Mahalaxmi race course so that he can dive more fearlessly.
The goalie's father, Sandeep, sometimes drops him to practice and observes his game -- not all parents in the programme are able or willing to show such support.
He works long hours in a garments factory, checking shirt seams for stray threads.
On the sidelines of the Educo Saibaba Path school's football field now, which until two years ago was used mainly as a dumping space, he wipes his son's head with a handkerchief.
"(My son) has worked hard and been lucky too," he says.
Sujal is shy, speaking mainly in monosyllables, but he opens up when describing some of his best saves in matches.
He has big ambitions, though. For starts, when he returns from Russia, he will go in for a new hairstyle -- something with blonde streaks.
He should work towards playing for the Mumbai City FC team, suggests his coach.
"No, I want to be goalkeeper for India," says the young boy, lightly kicking a stray bit of paver-block from different sides as it were a football.