Slams come and go, Keys and Stephens friendship remains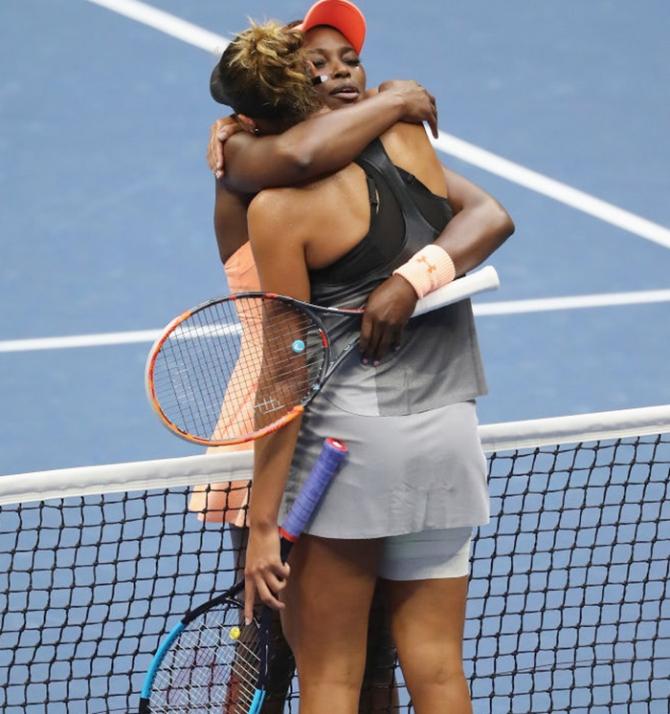 IMAGE: Sloane Stephens of the United States hugs Madison Keys of the United States after their women's singles final. Photograph: Michael Heiman/Getty Images
When you are having a bad day, it is good to have a friend's shoulder to cry on. For Madison Keys on Saturday, that was Sloane Stephens, the woman who had just humbled her to win the US Open title.
In a ruthless display, Stephens played more like the ultimate mean girl than best friend as she brought Keys to tears with a 6-3 6-0 demolition in front of a sold-out Arthur Ashe Stadium.
While never fun to be on the receiving end of an old fashioned thrashing, if it had to be anyone, Keys was glad it was Stephens handing out the punishment.
"Sloane is truly one of my favourite people and to get to play her was really special," said Keys.
"Obviously I didn't play my best tennis today and I was really disappointed but Sloane was very supportive and if there was someone I had to lose to today I'm glad it's her."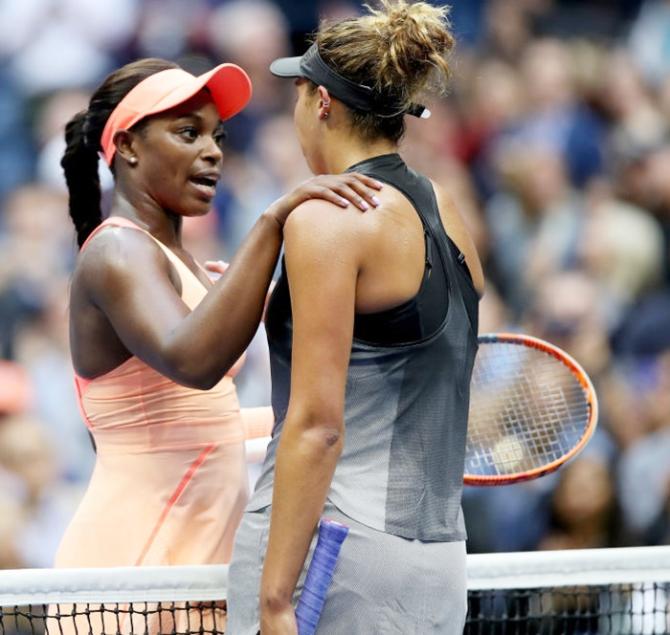 IMAGE: Sloane Stephens of the United States speaks with Madison Keys. Photograph: Matthew Stockman/Getty Images
In a business of clearly defined winners and losers, the two put their friendship to the grand slam test and it survived unscathed. Stephens, however, will have to pick up the bar tab as the two head out for a night on the town in the Big Apple.
"I would 1,000 per cent go. She can buy me drinks, all of the drinks," smiled Keys, when asked if she would celebrate with Stephens.
While not the sibling rivalry of the Williams sisters, the match did have a family feel as the long-time friends turned rivals scrapped over one of their sport's coveted prizes.
Quickly after the winning point, Stephens raced to the net and grabbed Keys in a long embrace, a touching moment in front of 23,000 fans.
Friendships can sometimes be lost in the crucible of competition, but all was quickly forgiven.
While waiting for the post-match ceremonies, Stephens moved her chair across the net to sit beside Keys, the two sharing a good laugh.
"We have known each other for so long and we have been through so much that we wanted to share that moment with each other," said Keys.
"To be able to share my first slam experience with a really close friend when it's also her first slam is a really special moment.
"There's no one else in the world that would have meant as much as it did."