'This is a dangerous business and we're not going to put someone in a car just because they come with money'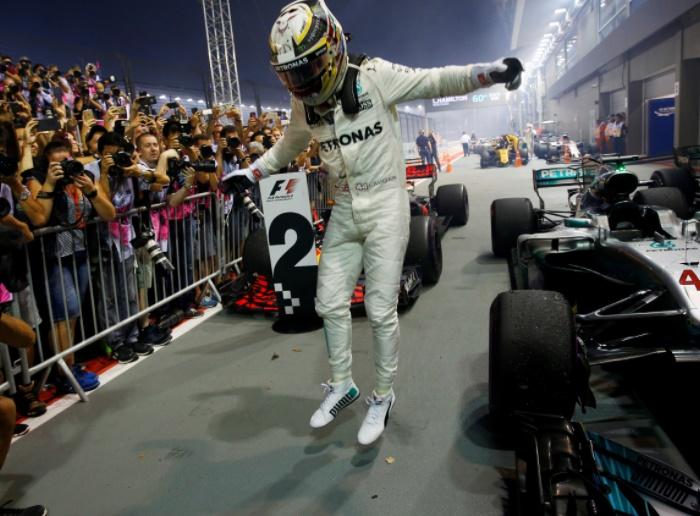 IMAGE: Mercedes' Lewis Hamilton celebrates winning the Singapore Grand Prix. Photograph: Edgar Su/Reuters
Williams defended their young and inexperienced Formula One drivers on Thursday, denying that the choice of Russian Sergey Sirotkin and Canadian teenager Lance Stroll had been swayed by money.
The combination of 22-year-old debutant Sirotkin and Stroll, 19, is the former world champions' youngest and rawest lineup yet.
Stroll, who stood on the podium as a rookie in Baku last season, is the son of a billionaire while Sirotkin has been backed through the junior series by Russian oligarch Boris Rotenberg.
"We would only put talented drivers in our car," deputy team principal Claire Williams told reporters when questioned at a team launch.
"This is a dangerous business and we're not going to put someone in a car just because they come with money."
"Our decision-making process is so much more complex than just deciding to put a driver into the race seat because they have some cash," she added.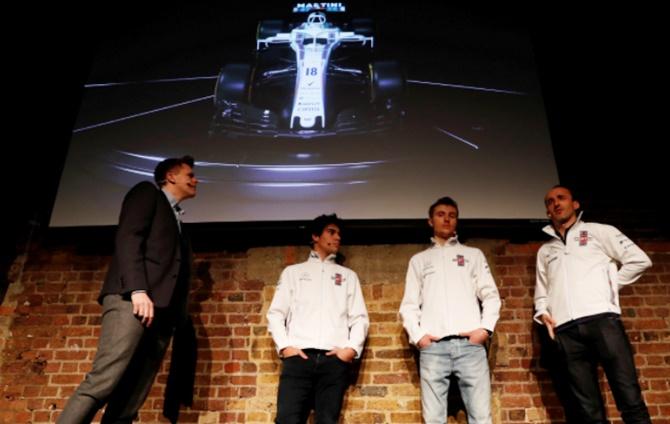 IMAGE: Jake Humphrey speaks with Williams' Driver Lance Stroll, Driver Sergey Sirotkin and Reserve and Development Driver Robert Kubica during the launch. Photograph: Paul Childs/Reuters
"Yes, we are an independent team and yes, sponsorship is really difficult to come by these days... so clearly if a driver has some financial backing then that is an added bonus, but it's not the foundation for a decision-making process at Williams."
The family-owned team, founded by Frank Williams, have to pay for their Mercedes engines and compete against manufacturers with far bigger budgets.
They have finished fifth overall for the past two seasons, after ending up third overall in 2015, and last won a grand prix in 2012.
The team that won titles in the 1980s and 1990s with a string of champions including Brazilian Nelson Piquet, Frenchman Alain Prost and Britons Nigel Mansell and Damon Hill, have had to budget carefully.
That has included looking to 'pay drivers', a term often used for those who may have more money than talent.
Ross Brawn, now a managing director of Formula One after winning titles with several teams including his own, has said he wants to see a 'proper meritocracy' with only the best 20 drivers on track.
"It is nothing new in Formula One that drivers come with money, and thank goodness they do," said Williams, saying it was 'incredibly naive' for anyone to say someone was 'just a pay driver'.
She pointed out that plenty of top drivers owed their careers to backers getting behind them early on.
"(Spanish bank) Santander has followed (double world champion) Fernando Alonso to every team he has been to. You could suggest he is a pay driver, I would not do such a thing," she added.
"The vocabulary used around pay drivers is wrong, it's inappropriate and it's unnecessary. it puts a negativity around a driver that we just should not be doing in this sport anymore."
Kubica older, wiser and happy to be back in F1
Older and wiser is how a delighted Robert Kubica described himself as he returned to Formula One when he joined his much younger Williams team mates at a pre-season presentation on Thursday.
The 33-year-old former race winner, who left the sport after partially severing his right forearm in a 2011 rally crash in Italy, has a new role as the British team's reserve and development driver.
That will entail taking part in three Friday first free practice sessions at grands prix as well as carrying out testing duties and working in their simulator at the factory.
Kubica said the first practice outing would be the Spanish Grand Prix in May, then Austria in July and a third probably at the end of the season in Abu Dhabi.
"A lot of things have changed since when I was young like this," the Pole told reporters, standing alongside Canadian teenager Lance Stroll and the team's 22-year-old Russian newcomer Sergey Sirotkin.
"Twelve years ago I was the first time on the drivers' presentation in Valencia. I was 21. Experience is good. I have a lot more knowledge than when I was 21," he added.
"I thought when I was young that I knew everything, but life teaches you a lot. I'm very happy to be here."
The former BMW-Sauber and Renault driver had at one point last year looked favourite for the 2018 race seat, with retired former Williams driver and champion Nico Rosberg lending his assistance, but in the end Sirotkin won out.
Kubica, whose arm is noticeably thin and twisted, has not raced in Formula One since 2010.
"Of course I would prefer to be here as a race driver but if you look at it from a different perspective, and you see where I was 12 months ago, nobody thought I would be in a position to drive an F1 car," he said.
"It has been a long journey, seven years away from the F1 paddock, so the feeling will be a bit different.
"There will be a lot of emotions going to grands prix ... visiting the places that gave me a lot in my life will be a special moment."
The season starts in Australia on March 25.