Wrestler Sushil Kumar, the only Indian sportsperson to win back-to-back individual Olympic medals, is disappointed to miss out on the Padma Bhushan award though his name had been recommended.
- 'Humbled' Mary Kom worried for boxing's future
Sushil's name had been recommended by the Sports Ministry but he was not considered for the honour since he had received the Padma Shri award in 2011.
As per the guidelines, there needs to be a period of at least five years between two Padma awards to the same person. However, this provision can be relaxed in "highly deserving cases" which is up to the discretion of the government.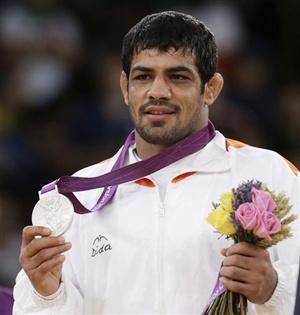 Under this rule, Sushil would be eligible for the Padma Bhushan or Padma Vibhushan only after 2016.
The 29-year-old Sushil said that it would have been good if his efforts of winning two consecutive Olympic medals had been recognised but he was willing to wait.
"I am disappointed because such recognitions always motivate you, but it's a part and parcel of life. You feel bad but one has to move on and take it in his strides," said Sushil.
Sushil won the bronze medal in the free-style event of the Beijing Games in 2008 and became the first Indian to win back-to-back individual medals when he clinched the silver medal in the London Olympics in 2012. He was also rewarded with the Rajiv Gandhi Khel Ratna award in 2009.
Wrestling coach Satpal was also disappointed that his ward Sushil missed out on the award this year.
"Sushil is an icon and has won two Olympic medals. It's a historic achievement and he deserved the honour," he said.
Batting great Rahul Dravid and Olympic bronze medallist M C Mary Kom were on Friday named for the prestigious Padma Bhushan Awards, the third highest civilian honour, while six other sports persons figured in the list of Padma Shri awardees.
Apart from Dravid and Mary Kom, six others sports persons -- mountaineer Premlata Agrawal, wrestler Yogeshwar Dutt, Para athlete Hosanagara Nagarajegowda Girisha, London Olympic silver medallist shooter Vijay Kumar, boxer Ngangom Dingko Singh and rower Bajrang Lal Takhar were chosen for the Padma Shri Awards.
Sushil said he was aware of the rules that there should be a minimum gap of five years between giving two Padma awards but said he was hoping for the honour as a 'special case'.
"I have read the rules for giving these awards. My nomination was sent as a 'special case' as there is a minimum gap between giving two Padma awards. But the rules also state that a player can be given the award under special case. That is why I was hopeful for the Padma Bhushan," he said.
"When people were congratulating me for my nomination, I was telling them to wait as stranger things have happened to me before. It took three years after Beijing Olympics for the Ministry to confer me with Padma Shri," Sushil said.
He congratulated cricketer Rahul Dravid and M C Mary Kom on being named for the Padma Bhushan.
"I am happy for Yogeshwar who got the Padma Shri. Also, would like to congratulate Mary Kom, Rahul Dravid, Vijay Kumar," he said.
"I feel sad for Saina (Nehwal) and Gagan (Narang) who missed out on these awards. A sportsperson works hard throughout the year for such recognition and awards."