Kishen Narsi, chairman of the AIBA's ad-hoc committee for India, tells Aruneel Sadadekar he would be happy to guide the Indian boxing ace in the best possible manner in his bid to make it to Rio.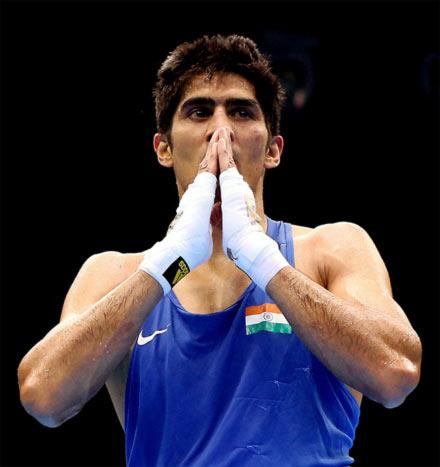 IMAGE: Indian boxer Vijender Singh.
Professional boxers will compete at the Rio de Janeiro Olympics after the international boxing association, AIBA, approved a constitutional change on Wednesday.
The landmark move opens the door for India's ace boxer Vijender Singh, who turned pro last June.
Next month the AIBA will hold a qualifying event exclusively for professionals, in Venezuela, which will have 26 Olympic places up for grabs.
Asked whether he would like to participate in the Rio Games, Vijender, who won a bronze at the Beijing Olympics in 2008, replied in affirmative.
"Why not, but we need to look at the clauses attached to this," he told Rediff.com.
"I welcome AIBA's decision of allowing professional boxers to compete in the Rio Olympics. I am yet to receive the formalities for this entire process. Since there is no federation in the country, I don't know who will guide me for this entire thing. Right now I am concentrating on my 16 July title fight, to be held in New Delhi," the Haryana-based boxer told PTI earlier.
Asked about Vijender's chances of making it to the Rio Games, Kishen Narsi, chairman of AIBA's ad-hoc committee for India, said: "I am happy that Vijender wants to compete for the country, but I am yet to receive the final statement of the meeting held in Lausanne, Switzerland. I am sure there will be several legal clauses attached to it.
"Vijender can contact me for this and I will try my best to guide him in the best possible manner."
Former world heavyweight champion Mike Tyson, who as an amateur won gold at the 1981 and 1982 Junior Olympic Games, has branded the move "ridiculous".
'It's ridiculous, it's foolish, and some of the pro fighters are going to get beaten by the amateurs. It's just going to happen, I really believe that,' the 49-year-old told Reuters.