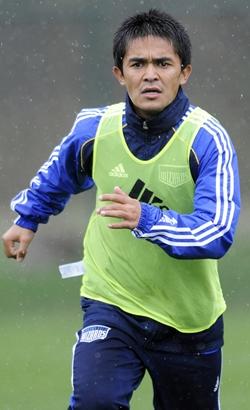 Indian striker Sunil Chhetri's Major League Soccer debut may not be too far away. His club Kansas City Wizards said on Thursday he will be soon included in the 18-man match-day squad.
Chhetri signed for KC Wizards in late March and made his debut for the Kansas-based side in the Lamar Hunt US Open match against Colorado Rapids in April. However, he is yet to debut in MLS, which is halfway through this season.
"Hopefully he will be able to make the 18-man active roster sometime in the coming weeks," KC Wizards Public Relations Officer Dave Borchardt said in an e-mail.
Chhetri has also a chance to play against the likes of Ryan Giggs, Paul Scholes, Gary Neville, Dimitar Berbatov and Edwin Van der Sar in KC Wizards' friendly match against Manchester United on July 25.
"The teams (KC Wizards and Manchester United) are still finalising how many players will be available for the game day roster as well as how many substitutions will be allowed," he said, when asked about Chhetri playing against Manchester United.
KC Wizards are now placed fifth in the eight-team Eastern Conference of the MLS with 15 points from 15 matches. They have won four, lost eight and drawn three.
Manchester United have confirmed that star players Ryan Giggs, Paul Scholes, Gary Neville, Darren Fletcher, Dimitar Berbatov and Edwin Van der Sar will play in the friendly at KC Wizards newly renovated Arrowhead Stadium on July 25.