"Boss, it is easier to get Aishwarya Rai," a Bengali daily's reporter was pleading into his phone, to his editor, about interviewing Sania Mirza.
Nearby, a security official was at the receiving end of a journalist's ire: "Why the hell are you following me? Do you know how many years I have been reporting?"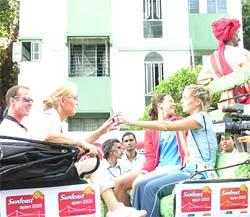 The security man's fault -- he had pointed out that the journalist was straying into out-of-bounds area in Sania's practice session. Yes, Indian sport's newest face is the only player at the 2005 Sunfeast Open at whose practice sessions journalists are persona non grata. Never mind Anastasia Myskina, the world number 14. 
Even Indian cricket's poster boys Sachin Tendulkar or Sourav Ganguly do not come into a press conference with security guards as Sania did on Saturday, wrote a leading Bengali daily.
In fact, Sourav's public spat with coach Greg Chappell was relegated to the inside pages, while Sania beamed  every newspaper's front page. And to give you an idea of just how much news that is in the City of Joy, you must know a Kolkata daily's headline in a match a couple of years ago when Harbhajan Singh had run through the opponent's top order: "Sourav checkmates with Bhajji gambit."
No shutterbug, however, caught Sania's initial grimace when she was asked to "smile for the camera please."
*****
Meanwhile, the purported reason for the blanket security cover around Sania, the 'fatwa' issued by an organization called the Jamiat-ul Ulema, should be taken with a pinch of salt. The organization has issued a press statement saying the news of the fatwa was a 'deep-rooted conspiracy' to stop Muslim girls from achieving high goals.
"It is against the tenets of Islam to enforce a dress code on others," Moulana Abdul Hameed Nomani, Jamiat's all-India secretary, was quoted as saying from Delhi.
*****
But if you were at the Netaji Indoor Stadium that literally rubs shoulders with the picturesque Eden Gardens, you would have thought you had strayed into a political meet. There were more policemen than tennis players, scribes and organizers put together.
And while everyone is citing Sania's security as the reason, nobody's sure just who is calling the shots. The organizers are pleading with irate reporters that Sania's family has requested the security arrangements, while Sania's father was quoted as saying, "Even we are feeling stifled amid all this security."
*****
Children have designed the trophy for the WTA Tier-III event, the organisers of the Sunfeast Open informed. Ten thousand school kids were asked to draw their designs of the winner's trophy. A panel of three -- actress Roopa Ganguly (who played Draupadi in the super hit television series Mahabharata about a decade ago) artist Wasim Kapoor and tournament director Jaidip Mukherjea -- chose the winning design, by Ispita Saha of St John's Diocesan High School.
Also announced were the winners of a contest for ball boys and ball girls at the event. Four children -- Advetya from Hyderabad, Magali from Mumbai, Shriya from Delhi and Saurabh from Bangalore -- will have a chance to see Sania and other stars from really up close.
And they faced the media, though they did not speak a word -- with the same kind of nonchalance Sania displayed. Must be something to do with youngsters these days!
*****
Overheard in Kolkata, a policeman speaking into his mobile phone: "Arrey baba, I know my duty is over, but let me catch a glimpse of Sania and then I'll promptly come home."
*****
Qualifying Rounds Update:
Ankita Bhambri (Ind) beat Isha Lakhani (Ind) - 6-3, 4-6, 6-4
Rushmi Chakravarthi (Ind) beat Chin-Wei Chan (TPE) - 6-3, 7-5
Chia Jung Chuang (TPE) beat Sanaa Bhambri (Ind) - 6-1, 6-4
Junn Namigta (JPN) beat Su Wei Hsieh (TPE) - 6-7(4), 6-3, 6-4
(Ankita Bhambri, Rushmi Chakravarthi, Chia Jung Chuang and Junn Namigata qualify for the singles main draw)
Match Schedule -- Monday, September 19, 2005
Court 1
Starting at 1:00 PM IST
Villmarie Castellvi (Puerto Rico) vs Emmanuelle Gagliardi (Switzerland)
Followed by
Chia-Jung Chuang/Rika Fujiwara vs Nicole Pratt/Tamarine Tanasugarn
Opening Ceremony at 6:00 PM
Not before 7:00 PM
Shikha Uberoi (Ind) vs Ryoko Fuda (Japan)
Followed by
Kaia Kanepi (Est) vs Ankita Bhambri (Ind)
Court No 2
Starting at 1:00 PM
Arantxa Parra Santonja/Antonella Serra Zanetti vs Chin-Wei Chan/Su-Wei Hsieh
Followed by
Rushmi Chakravarthi/Junn Namigata vs Melinda Czink/Yuliana Fedak