Olympic champion Jenn Suhr lit up the US indoor athletics championships on Saturday by leaping 5.02 metres to set a new women's pole vault world record.
The 31-year-old American's stunning vault in Albuquerque, New Mexico, on the first attempt at the height, eclipsed the previous indoor mark of 5.01m set by Russian great Yelena Isinbayeva in 2012.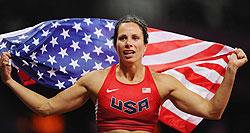 "I was in a groove tonight," Suhr said.
"I knew some big things could happen, I just need to be healthy and come down the runway.
"I'm glad that I got 5 metres out of the way, (with the) 5.02, because it is a mental barrier."
Suhr made three attempts at 5.07m to surpass Isinbayeva's outdoor world record of 5.06m but the Russian's mark remained intact at the end of the thrilling event.
Until her unsuccessful bid for 5.07m, Suhr had not missed a single attempt in the rarefied air of New Mexico, clearing her first height at 4.65m, and again at 4.70m and 4.75m.
She soared over the bar at 4.80m and upped the ante to 4.90m, smashing her previous indoor best of 4.88m before her record-breaking vault.
Photograph: Mike Hewitt/Getty Images