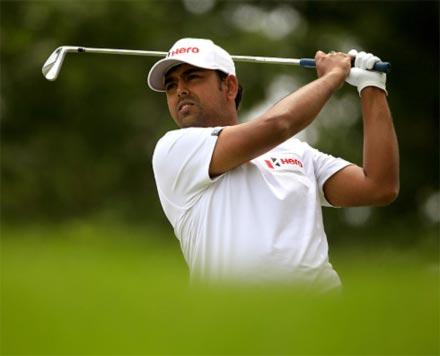 Anirban Lahiri, coming in after a short break following events in Europe, was hit by back spasms early in his first round as he carded a 77 in the World Golf Championships-Invitational in Akron, Ohio, United States.

Lahiri, winner of the Malaysian Open and Hero Indian Open, managed two birdies, five bogeys and two doubles and he was lying tied 72nd, one place behind Phil Mickelson, who also had a bad day.

Lahiri said he was just glad to get through the first round and would be seeing a doctor and also took on course treatment to help him complete his first round.

The Indian golfer started with a birdie on the first, at which point there was no sign of spasms, but he seemed hampered later on by the third hole and had a series of bogeys.

New Zealand's Danny Lee (65) went into sole lead at five-under with seven birdies against two bogeys, both on his first nine, which was the back nine of the course. Lee was one shot clear of Graeme McDowell and Jim Furyk, who carded 66 each.

"I started getting spasms on the golf course and just about managed to finish the round. It was not something I was carrying with me. I was not injured at all. It just came on this morning. It was fine at practice and I was fine at the first tee."

"I had about 134 (yards) to the front pin on the last hole. It would usually be a wedge and I hit a 8-iron and I kept my fingers crossed to just get through 18 holes. But I am disappointed as I feel I could have saved a couple of shots. I don't think I am playing bad, (but) I did putt bad (today). That can be worked on."

"I took some on course treatment at the 11th and 12th hole. I will go and see the physios later. It was not cramps, it was spasms. I had it once four years or so ago and had to pull out in the final round with six holes to go. This time it is not as bad. I am glad I got through the first day, which is usually the toughest, when it (spasms) comes on suddenly."

He smiled and added, "I know it is as bad a timing as it could be," referring to the PGA Championships, due next week.

Mickelson also had a tough day with a card of 76, which included a triple bogey on par-4 third.

The South Course featured fast fairways and firm greens, along with lush grass in the rough resulting as only 21 players in the 77-man field managed to break par.

Rickie Fowler and Justin Rose shot 67 each while Jordan Spieth shot even par 70 with one birdie and one bogey on each side of the turn.

A large group at 68 included Henrik Stenson, Ian Poulter and Lee Westwood. Spieth is playing his first event since he missed The Open Championship play-off by one shot.

McDowell, who recently fell out of World's top 50 for the first time in five years has not finished in the top 10 in America since playing this World Golf Championship a year ago.

Among Asian Tour members China's Liang Wen-chong and reigning Order of Merit champion David Lipsky were the best placed members in the elite field after battling to two-over-par 72 each, trailing leader Danny Lee by seven shots.

Thailand's Thongchai Jaidee battled to a 73, with one double bogey, three bogeys and two birdies and Australian Andrew Dodt shot 77.
Image: India golfer Anirban Lahiri.
Photograph: Sam Greenwood/Getty Images