Time away has been key for Federer, Nadal, says Corretja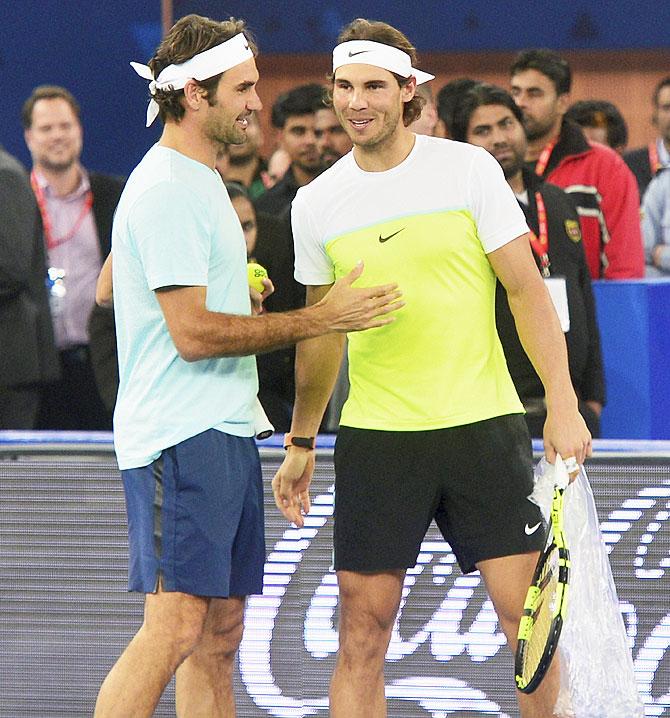 IMAGE: Rafael Nadal, right, and Roger Federer. Photograph: PTI
Roger Federer and Rafael Nadal have returned to tennis in blistering form this season because they were able to recharge during injury layoffs last year, former world number two Alex Corretja has said.
Nadal, the winner of 14 grand slam titles and the 2008 Olympic gold medallist, and Federer, who has won 18 grand slams, were sidelined for long periods last season as they battled injury.
Both players have hit the ground running in 2017, with Federer adding the Indian Wells and Miami Open titles to this year's Australian Open crown while Nadal, who lost to the Swiss in the Melbourne Park final, has won in Monte Carlo, Barcelona and Madrid.
"Everyone is surprised that Roger and Rafa have returned, but the key I think is that they have been able to stop," Corretja told TennisWorld website.
"The moment they have been able to stop and refresh themselves, they have found that strength again."
Corretja said world number one Andy Murray and number two Novak Djokovic are showing signs of wear and tear.
"Andy lacks that freshness and Djokovic is three quarters of the same. Although they have played fewer games, they really lack a little mental freshness," he added.
"When they are playing, those efforts take their toll."
Federer on Monday said he was pulling out of this month's French Open to avoid playing on clay this season as part of efforts to prolong his career, while Nadal will be bidding for his 10th Roland Garros title.