India fought hard but eventually ran out of steam going down to former champions Australia in the quarter-final of the World Squash Team Championship at Padewrborn (Germany) on Thursday.
Aussie top rung player, David Palmer recovered from a game down to get the better of India's highest ranked player Saurav Ghosal 7-11, 11-8, 11-4, 11-5 in 51 minutes.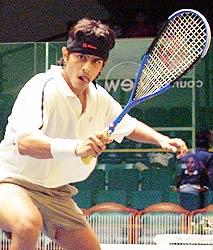 Later Siddharth Suchde fought gallantly before going down to Cameron Pilley 11-9, 11-8, 11-4 in 50 minutes.
The third tie between Stewart Boswell and Harinder Pal Sandhu was withdrawn.
Favourites England will face fourth seeds Australia and title-holders Egypt will take on third seeds France in the dream semi-final.
Sixth seeded India now play Italy for the sixth to eighth placing.
Despite the loss, Indian national coach Cyrus Poncha was pleased with his team's showing.
"Overall, it's a good show by our boys. Obviously, on world rankings, the Australian team was higher than ours -- but we gave a great fight.
"We've got a young team, with an average age of 22 -- so when you look at the big teams Egypt, England, Australia and France, we should get the title in two years time," he said.
"Saurav played a really good game and put David under pressure," explained Australian team manager Byron Davis.
"But David fought hard to come back and win the match. To get that win was great -- that put the pressure on them. Cameron then did what he needed to do and pulled us through. We're really glad to be in the semi-finals and look forward to playing England on the glass court," he said.
Palmer was delighted to be back in winning form.
"Saurav was very fast in the first game. I felt I had him under control but he was getting everything back. It was midway through the second that we had some long rallies and I think that did some damage. I had a good start in the third and from then I think I was in control.
"It was a good game of squash -- and I think I played better than yesterday, which gave me a bit of confidence," said the veteran Aussie who delighted home fans earlier this month by making the semi-finals of the Australian Open.
"It's very obvious that England and Egypt have had the strongest teams recently, but with the same team that we have today, we beat Egypt four years ago in the semi-finals and beat England for third place in the last championship.
"We've met our criteria by getting to the semi-finals and with the women winning the title last year it means we've secured our funding, which is very important."
Palmer said England go in as favourites but both Stewart and Cameron were capable of causing trouble on their day.
Besides, Nick and he have had some close battles over the years.
"Playing for Australia is always an honour, and that never changes," continued Palmer.
"Squash is a lonely sport much of the time, so playing team squash is very special, especially as we only do this every two years (unlike the Europeans who have their annual team event)."
Results:
AUSTRALIA bt [6] INDIA 2/0: David Palmer bt Saurav Ghosal 7-11, 11-8, 11-4, 11-6 (51m); Cameron Pilley bt Siddharth Suchde 11-9, 11-8, 11-4 (50m); Stewart Boswell v Harinder Pal Sandhu (Match withdrawn).