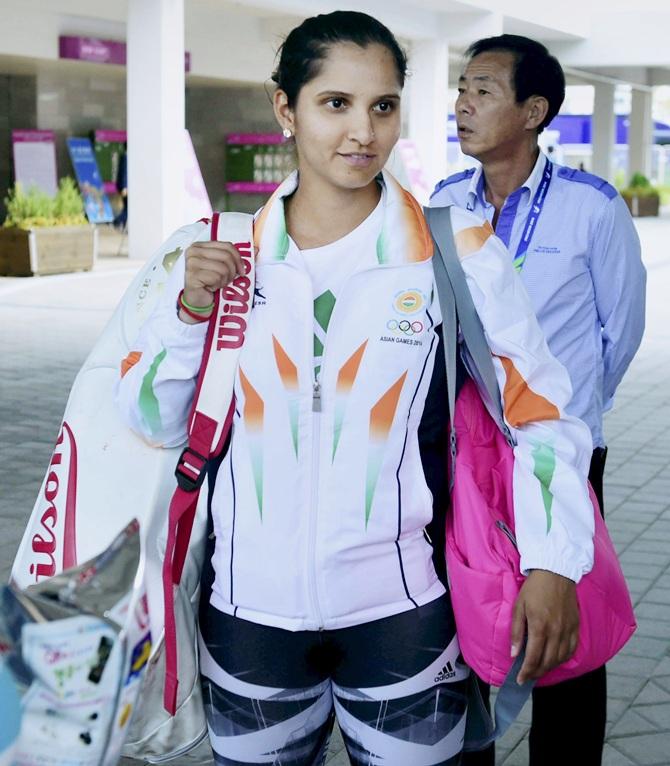 Sania Mirza spotted at Asian Games village. Photograph: PTI
Indian tennis ace Sania Mirza was spotted in the 17th Asian Games village in Incheon on Wednesday.
Complete coverage: 2014 Asian Games
Mirza has agreed to play in the upcoming Asian Games, two days after All India Tennis Association announced that they would allow top players to miss the Incheon event, keeping in mind their requirements on the professional circuit.
Sania's decision means that the Hyderabadi has put on line 900 ranking points, which she had to defend on the tour during the period of the Asian games, to be held from September 20-30.
Sania will miss the Wuhan WTA event which has 900 points on offer. She though, will play in Tokyo, where she is defending champion but now points in that tournament have been reduced to 475 from 900.
"I was feeling weird, I was not feeling happy with my decision, so I thought I will play. I know I am sacrificing 900 points, but sometimes you have to take a decision," Sania said before leaving for Tokyo.
After the Games, Sania will compete in China Open, starting September 29.
Sania and Cara Black are fourth in the Race to Singapore, the year-end championship but the Indian hoped that she will be able to earn enough points in Tokyo and Beijing to remain in top-8.
Asked if there was any pressure on her, the US Open mixed doubles champion replied in a negative.
"No there was nothing like that. I hope we come back with a medal, I know the chances are less in both mixed and women's doubles but I will give my best shot," the 27-year-old said.
Leander Paes, Rohan Bopanna and Somdev Devvarman have all been allowed by AITA to play on the professional circuit instead of the Asian Games to defend points in the next few weeks.
Qatar pulls out of women's basketball over hijab row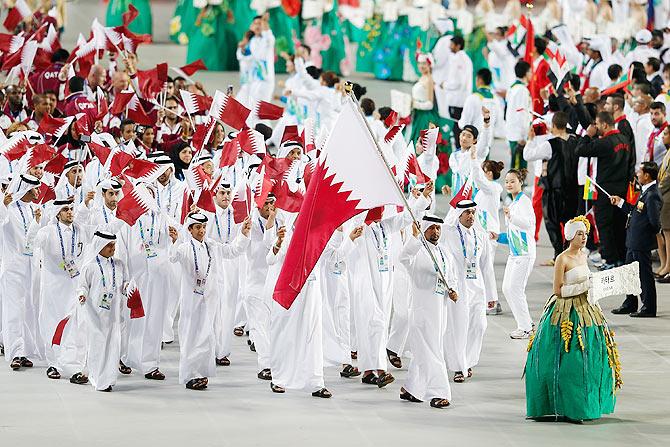 Mubarak Ali Al Morekhe of Qatar carries the country flag during the Opening Ceremony ahead of the 2014 Asian Games at Incheon Asiad Stadium on September 19, 2014 (This image is used for representational purposes only). Photograph: Lintao Zhang/Getty Images
Qatar have pulled out of the women's basketball competition at the Asian Games in South Korea after they were denied permission to wear the Islamic headscarf, an official with the Qatari delegation said on Thursday.
The Qatari players had been asked to remove the hijab before their group game against Mongolia on Wednesday but refused, leaving Incheon organisers no option but to declare a forfeit.
Under International Basketball Federation (FIBA) rules, Article 4.2.2 dictates players cannot wear "headgear, hair accessories and jewellery".
With no sign that the rule would be relaxed ahead of their next scheduled match against Nepal, Qatar decided not to go ahead with all their remaining games at the 17th Asiad, which is being run under the slogan: 'Diversity Shines Here'.
"We have decided not to take part in the remainder of the Asian Games women's basketball competition," an assistant with Qatar's National Olympic Committee told Reuters by telephone.
Competition at the Asian Games is conducted under the regulations of sports' international governing bodies, meaning athletes in other sports are free to wear the hijab.
All four bronze medal-winning rowers of Iran's lightweight women's quadruple sculls team wore hijabs on Wednesday, while Kuwait's Najlaa I M Aljerewi and Iran's Aghaei Hajiagha Soraya wore them in the triathlon and badminton events on Thursday.
Basketball remains one of the exceptions, though FIBA said earlier this month it had held discussions on the issue and was introducing a two-year 'testing phase' on what players can wear, though that would only apply at national level.
The Olympic Council of Asia (OCA) issued a statement on Wednesday saying: "The right of the athletes must be the highest priority."
Sports federations had a duty to protect athletes and "allow them to exercise their right of freedom of choice with dignity," OCA director general Husain Al-Musallam added in a statement.
Cambodian athlete Yi Sophany fails doping test
The Asian Games were hit by a second anti-doping violation on Thursday when the Olympic Council of Asia (OCA) said Cambodian soft tennis player Yi Sophany had tested positive.
The OCA said in a statement her urine specimen, collected in pre-competition testing on Sept. 16, was found to contain the banned weight loss drug Sibutramine.
The news comes two days after the Asian Games announced its first positive test.
Tajikistan soccer player Khurshed Beknazarov was thrown out of the multi-sport event in South Korea after his test showed the presence of the banned stimulant methylhexaneamine.