Batra meets Home Minister Amit Shah, seeks support for hosting 2026 Youth Olympics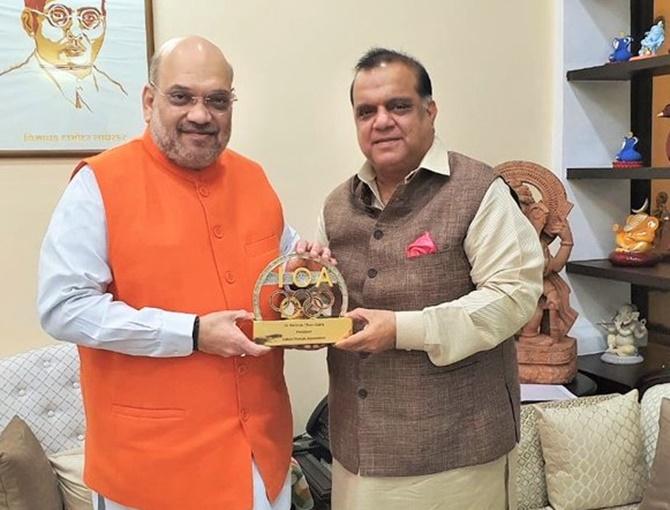 Indian Olympic Association (IOA) president Narinder Batra on Monday met Home Minister Amit Shah to seek government support for hosting the 2026 Youth Olympics.
Batra, who is also a member of the International Olympic Committee, said that one city out of New Delhi, Mumbai and Bhubaneswar will be chosen before presenting the bid. The IOC will then evaluate India's bid for acceptance or approval.
The bidding process of the 2026 Youth Olympics is likely to start next year.
Batra also discussed with Shah the IOA's bid to host the 2023 Session of the IOC in Mumbai. An IOC session -- where all the members and officials of the Olympic body will be present -- is a prestigious event and the IOA wanted to host it to coincide with the country's 75th year of independence.
The IOA chief, who is also the president of the International Hockey Federation (FIH), discussed the hosting of the 2013 Men's World Cup in Bhubaneshwar and Rourkela
"Hon'ble minister was also updated about preparations and training of the Indian contingent for the 2020 Tokyo Olympics," Batra said.
The government's flagship programme Khelo India Youth Games, Fit India Movement and the Target Olympic Podium Scheme were also discussed during the meeting.
Batra said the home minister was "very receptive and supportive".
Real Kashmir FC's two home matches postponed due to Srinagar airport closure
New Delhi, Dec 9 (PTI) Real Kashmir FC's two upcoming home I-League matches were on Monday postponed owing to inclement weather which has forced closure of the Srinagar airport, the All India Football Federation (AIFF) said.
Flight operations at Srinagar airport have been disrupted since Sunday due to dense fog.
"With the Srinagar Airport not being operational due to poor weather conditions, Real Kashmir Football Club's first two home matches against Gokulam Kerala FC on December 12, 2019, and Churchill Brothers FC Goa on December 15, 2019, stands postponed," the AIFF said in a press release.
No flight operations took place on Monday morning because of poor visibility. Primary schools were also closed due to adverse weather conditions as heavy fog engulfed most parts of the valley.
"New dates for the matches will be announced soon," the AIFF added.
Real Kashmir FC, which finished third in its debut season last year, had opened its campaign with a 1-1 draw against East Bengal at Kalyani, West Bengal, on December 4.