Tiger Woods set to return in Bahamas next month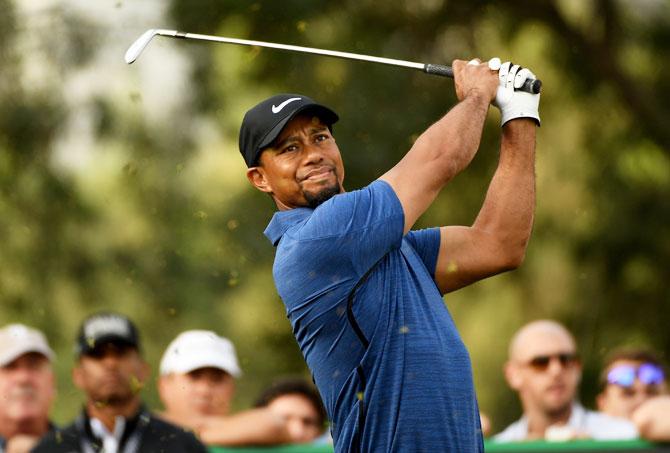 IMAGE: Tiger Woods has not played competitively in nine months. Photograph: Ross Kinnaird/Getty Images
Tiger Woods announced on Monday he will make his return to competitive golf at the Nov. 30–Dec. 3 Hero World Challenge at Albany in the Bahamas.
Woods, who continues to recover from back surgery and has not played competitively in nine months, will be part of an elite 18-player field.
"I am excited to return to competitive golf at the Hero World Challenge," tournament host and 14-time major champion Woods said in a statement.
"Albany is the perfect setting and it will be great to join this outstanding field..."
The 41-year-old American has only played six competitive rounds in the past two years while trying to recover from multiple back surgeries.
Last year Woods also made a comeback at the same event, ending nearly 16 months on the sidelines, and finished 15th in a final field of 17.
He showed flashes of the brilliant golf that carried him to 14 major titles. However, he also delivered the inept, often finding sandy waste areas off the tee or with his approach shots.
As his back issues continued, Woods returned to the PGA Tour in January. He missed the cut at the Farmers Insurance Open and shot an opening-round 77 a week later in Dubai before withdrawing.
In April he announced that he had undergone a fourth back operation in three years.
The winner of five tournaments in 2013, Woods has played just 19 events since.
"All of us would be overjoyed if Tiger Woods could come back and play at a high level," Woods' former swing coach Butch Harmon told Sky Sports. "He's playing an appropriate event because there are only 18 players, even though they are top echelon players.
"It's a more relaxed type of event. It's his tournament. I think he's going to feel a little more relaxed there.
"We'll have to see how he is physically, how he is mentally and how his nervous system holds up."
Woods will not find the competition any easier this year with a top flight field that includes Dustin Johnson, Jordan Spieth, Hideki Matsuyama, Justin Thomas, Jason Day, Rickie Fowler, Brooks Koepka, Matt Kuchar and Justin Rose.
The Hero World Challenge will be the latest in a long-running comeback saga that has produced more downs than ups.
The most recent embarrassing setback came last Friday when Woods pleaded guilty in a Florida court to reckless driving and entered a program for first-time offenders, avoiding a conviction on the charge of driving under the influence (DUI) last spring.
He was found asleep in May behind the wheel of a Mercedes-Benz, which was parked alongside a road not far from his home on Jupiter Island.
Woods had five drugs in his system when he was arrested, but no alcohol, according to a toxicology report. Those drugs included generic forms of the painkillers Vicodin and Dilaudid; the mood drug Xanax; the sleeping pill Ambien, and a drug that contained THC, the active ingredient in marijuana
Farah splits with coach Salazar, moving back to London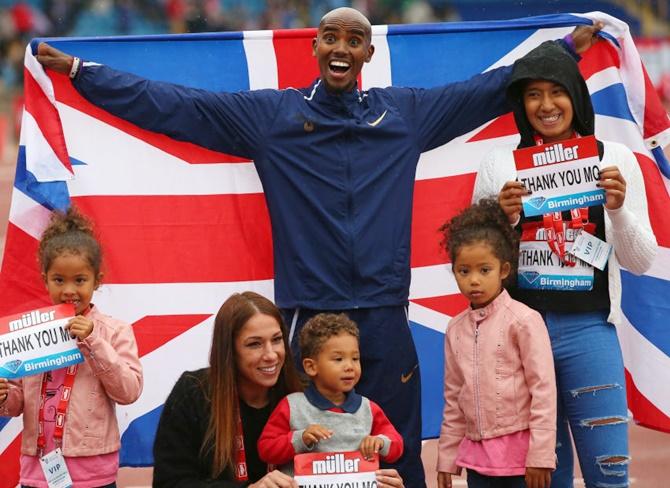 IMAGE: Mo Farah of Great Britain poses with his family. Photograph: Alex Livesey/Getty Images
Britain's Olympic and world champion Mo Farah has split with long-time coach Alberto Salazar because he wants to move back to London with his family, he said in an interview on Monday.
Distance great Farah, who moved to Portland, Oregon in 2011 to work with distance guru Salazar, said the decision had nothing to do with doping allegations surrounding the coach, which have been denied.
"I'm not leaving the Nike Oregon Project and Alberto Salazar because of the doping allegations," Farah, 34, was quoted as saying by The Sun newspaper's website (www.thesun.co.uk).
"This situation has been going on for over two years, if I was going to leave because of that I would have done."
In February, Salazar denied administering banned supplements to his athletes and issued a firm rebuttal of what he said were false allegations against him in a British newspaper.
The Sunday Times reported that American Salazar had used prohibited infusions of supplements to improve the performance of his runners, citing what the newspaper said was a leaked United States Anti-Doping Agency (USADA) report.
But Farah said in Monday's interview: "As I've always said, I am (a) firm believer in clean sport and I strongly believe that anyone who breaks the rules should be punished.
"If Alberto had crossed the line I would be out the door but USADA has not charged him with anything. If I had ever had any reason to doubt Alberto, I would not have stood by him all this time."
Farah, who was born in Somalia and moved to Britain at the age of eight, won 5,000m and 10,000m gold at the 2012 and 2016 Olympics as well as six world titles in those distances.
He ended his track career this year to concentrate on road running and will now work with Gary Lough, who previously coached his own wife and women's marathon world record holder, Britain's Paula Radcliffe.
"I'm leaving (Salazar and the U.S.) simply because my family and I are moving back to London," said Farah, who won 10,000m gold and then a silver in the 5,000m at the World Athletics Championships in London, the final track race of his career.
"We all loved spending our summer here (London) and (wife) Tania and I realised how much we have missed spending time with our friends and family - and the kids are so happy here, too."
Salazar wished Farah well.