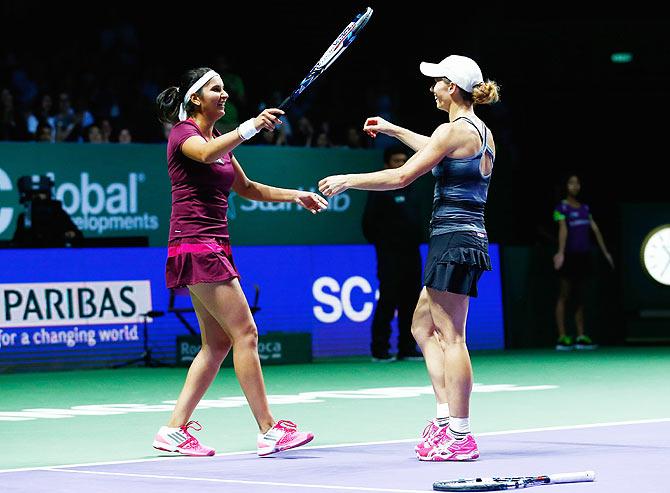 Cara Black of Zimbabwe and Sania Mirza of India celebrate defeating Raquel USA's Kops-Jones and Abigail Spears in the doubles quarter-finals at the WTA Finals on Thursday. Photograph: Julian Finney/Getty Images
Making their first appearance in the WTA Finals in Singapore, Sania Mirza and Cara Black outplayed Raquel Kops-Jones and Abigail Spears in their opening match to book their semi-finals berth on Thursday.
The Indo-Zimbabwe pair, playing their last tournament together, was made to work hard by the US duo of Raquel and Abigail as they won the match 6-3, 2-6, 12-10 in the super tie-break.
Sania will partner Chinese Taipei's Su-Wei Hsieh from next year.
In the season-ending tournament, the singles players are competing in a round-robin format, while the doubles team's will play in a single-elimination, each battling for the title and the prize money of a whopping US $6.5 million.
Saina in French Open Round 3, Ponappa wins mixed doubles match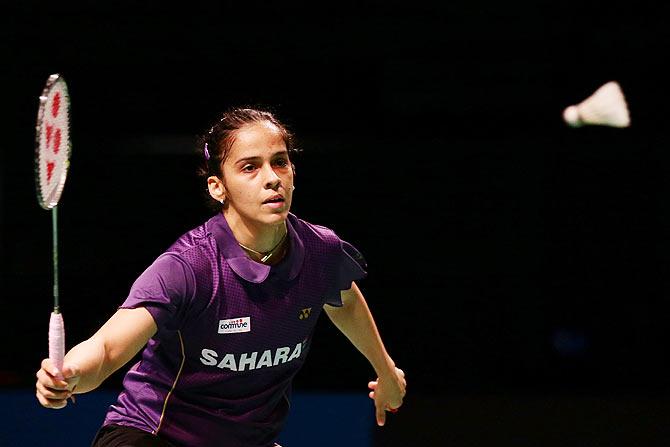 Saina Nehwal of India. Photograph: Matt King/Getty Images
Indian shuttlers continued to surge ahead in the ongoing French Open Super Series as Saina Nehwal made it to the women's singles third round while Ashwini Ponappa also won her second-round match with mixed doubles partner Vladimir Ivanov, in Paris on Thursday.
The fifth-seeded Saina was made to work hard by Kirsty Gilmour of Scotland in her 21-19, 21-16 win in the second round of the tournament.
Saina, who took just 37 minutes to outplay local girl Sashina Vignes Wara in the opening round, outplayed Kirsty in 39 minutes.
In mixed doubles, Ponnappa and Ivanov got past the Chinese pair of Lu Kai and Huang Yaqiong 21-8, 18-21, 21-9 in the second round.
The Indo-Russian pair of Ponnappa and Ivanov also took 39 minutes to dispatch their seventh-seeded opponents.
The Ponappa-Ivanov duo had beaten Keigo Sonoda and Shizuka Matsuo of Japan in the first round match.
Earlier, Commonwealth Games gold medallist Parupalli Kashyap had stunned World No 4 Kenichi Tago of Japan 21-11, 21-18 in the first round of men's singles draw on Wednesday.
Advani, Kothari advance to World Billiards semis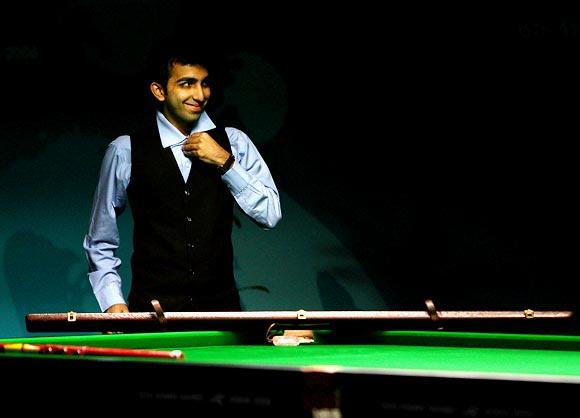 Pankaj Advani. Photograph: Ryan Pierse/Getty Images
Indian ace Pankaj Advani and Sourav Kothari set the green baize on fire to ensure a semi-final clash between themselves after registering resounding wins in their last-16 and quarter-finals clashes respectively in the 150 up format of World Billiards Championship in Leeds on Thursday.
Former champion Advani, who has already pocketed eight world billiards titles, first eased past another ex-champ David Causier 4-0 in the last-16 match to be one of the four Indians to enter the last-8.
Kothari and Punjab cueist Alok Kumar also got past their respective opponents without losing a single frame in the pre-quarterfinals.
Maharashtra ace Dhruv Sitwala though had to work hard for his 4-2 win against fellow country and state mate Nalin Patel.
The other Indians in the fray, Rupesh Shah, Siddharth Parikh, Devendra Joshi, Arun Agarwal and Jaiveer Dhingra were ousted after losing their respective matches.
The party though continued for India, as national cue sport poster boy, Advani lived up to his reputation as the Bangalore ace humbled Alok 4-0 in the last-8 encounter.
Kolkata's Kothari also continued his surge as he made short work of Ian Williamson 4-0 to set up a last-4 clash with Advani.
Lahiri celebrates Diwali with fireworks in Macau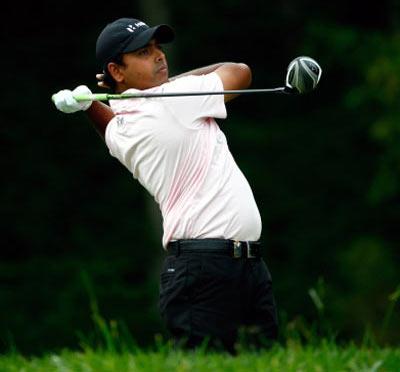 Anirban Lahiri of India. Photograph: Sam Greenwood/Getty Images
With India celebrating Diwali on Thursday, Anirban Lahiri had his own fireworks going during the opening round of the Venetian Macau Open with a sparkling career-best 10-under-par 61.
The round gave the 27-year-old four-times Asian Tour winner a one-shot lead over defending champion Scott Hend of Australia, who won the Hong Kong Open last week.
"It's a great Diwali and happy Diwali to everyone back home. It's nice to have some fireworks on the course," said Lahiri.
"It's fantastic. I really played solid all day and it was nice to get such fantastic weather and putt well.
"I think I did really well inside of 15 feet... this is the best I've putted for a while. My good friend S. Chikka who is playing this week pointed something out and he knows my game really well.
"Sometimes my putting stroke doesn't flow as well as it needs to and he spotted a little thing that really helped me. I felt really comfortable on the greens. I'm really happy."
Lahiri, who needed only 22 putts for his round, holed eight birdies and then capped it off by rolling in a 15-foot eagle putt on the last hole in benign conditions at the Macau course.
Australian Hend continued his red-hot form by sinking five birdies and one eagle on the back nine in his round of 62.
Multiple major winner Ernie Els of South Africa and Asian Tour veteran Thongchai Jaidee both scored 70s while Spaniard Miguel Angel Jimenez struggled on the greens for a one-over round of 72.
Spain drop to 10th spot, no changes in top 3 in FIFA rankings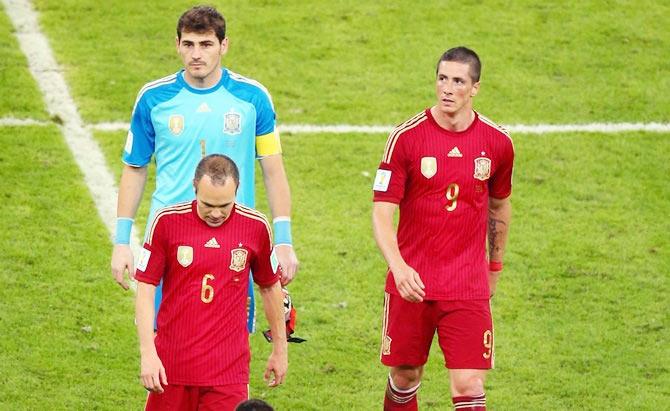 Andres Iniesta,Iker Casillas and Fernando Torres of Spain walk off the pitch. Photograph: Julian Finney/Getty Images
Switzerland, who were among the top seeds for the World Cup finals this summer, have dropped out of FIFA's top 10 world rankings after a poor start to their Euro 2016 qualifying campaign.
Portugal, who surprisingly lost 1-0 at home to Albania in their opening European qualifier, have moved back into the top 10 for the first time since July and are in ninth place in the listings published on Thursday.
Switzerland, who lost to England and Slovenia in their opening two qualifiers, slipped from 10th to 12th in the rankings while Portugal rose two places from 11th.
The top three positions are unchanged from September's listings with world champions Germany in top spot, Argentina second and Colombia third.
Belgium have climbed to fourth place -- their highest ever position.
Former world champions Spain have continued their slide from the summit they inhabited for so long, dropping another two places to 10th following their defeat to Slovakia in the European qualifiers.
Besides Belgium, three other teams have achieved their highest-ever ranking with Algeria moving up to 15th, Iceland up to 28th and Antigua and Barbuda up to 70th.
No Asian team is in the top 50 places with Iran the highest at 51st. The best movers were Togo, who moved up 73 places from 125th to 52nd.
Top ten (last month's places in parentheses):
1 (1) Germany
2 (2) Argentina
3 (3) Colombia
4 (5) Belgium
5 (4) Netherlands
6 (6) Brazil
7 (9) France
8 (7) Uruguay
9 (11) Portugal
10 (8) Spain
Kashyap, Srikanth climb seven spots in badminton rankings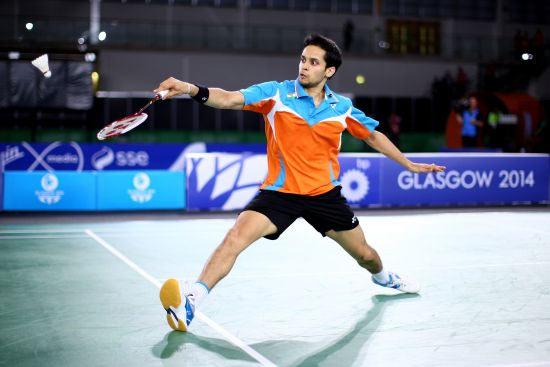 Parupalli Kashyap. Photograph: Richard Heathcote/Getty Images
India's Parupalli Kashyap and Kidambi Srikanth gained seven places each in the latest badminton world rankings released on Thursday.
Srikanth is now ranked 16th, while Commonwealth Games gold medallist Kashyap closed in on a top-20 slot with a spot in the 21st position.
India's ace women's player Saina Nehwal gained a spot to go sixth. Rising women's player P V Sindhu remains in the 10th position following her opening match loss at the French Open Superseries in Paris on Wednesday.
Malaysian Lee Chong Wei and Li Xuerui of China continue to top the men's and women's rankings, respectively.
Keane's book 'unnecessary', says ex-United captain Robson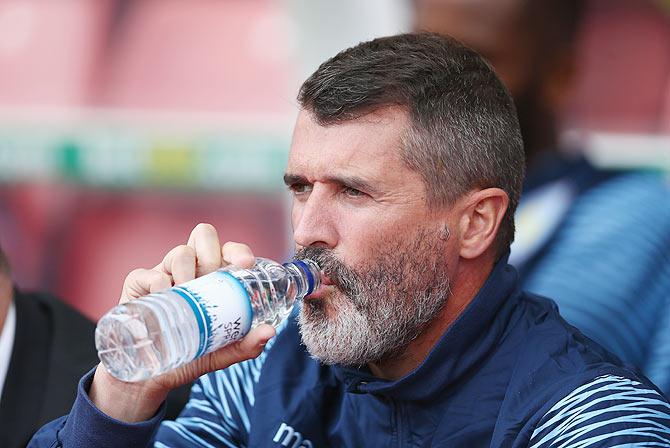 Aston Villa assistant manager and former Manchester United player Roy Keane. Photograph: Clive Brunskill/Getty Images
Roy Keane's autobiography, with its criticism of major figures at Manchester United, was unnecessary and the prevalence of such books unwelcome, according to former captain Bryan Robson.
"Is it necessary? If you are going to come about with a book, why not talk about the history of what you have done in the game, the good things about the game, rather than criticise people when there is no need to criticise people," Robson said at the Soccerex Americas Forum in Barbados on Wednesday.
"Roy is just an example. There are a lot of people doing that, they come out and criticise people in their books -- is there any need especially when you are making a great living out of the sport anyway?"
Keane makes some jibes at his former teammates in his recently published book 'The Second Half' and also reveals disputes within the United dressing room.
"I think with the players of today and the standard and the money they receive, I don't see why you write a controversial book and criticise people when you are only maybe doing it for the money," added Robson.
"If you are doing a constructive book for the good of the game, which has given you a great career, then go and write a book, talk about your memories, your great times but these people who go and write just criticising people to be controversial, to sell more books and make more money, no I'm not for that."
Keane, currently assistant manager with Aston Villa and Ireland, was critical of his former manager Alex Ferguson, who was disparaging about the Irishman in his own book last year.
Former England international John Barnes said the published pot-shots were unwelcome.
"I really believe from a footballing perspective all the experiences that we have had ... what happens in Vegas stays in Vegas," said the ex-Liverpool winger.
"So in terms of writing a book just from a sensationalist point of view, I wouldn't do that. Everyone is different though.
"Sir Alex Ferguson's book and Roy Keane's book, after everything that they have achieved and the people that have helped them to achieve that, to be criticising a lot of people now is not good," he said.
Kosovo gets IOC recognition, can field team at 2016 Rio Games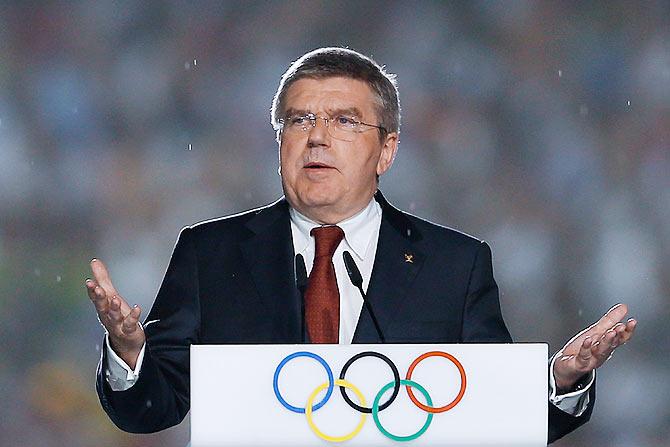 International Olympic Committee (IOC) President Thomas Bach. Photograph: Lintao Zhang/Getty Images
The IOC accepted Kosovo into the Olympic fold on Wednesday, clearing the way for the former Serbian province to send an independent team to the 2016 Games in Rio de Janeiro.
The International Olympic Committee executive board granted provisional recognition to Kosovo, which declared independence from Serbia in 2008. It will propose full recognition for Kosovo at the IOC general assembly in Monaco in December which should be a formality.
"The decision was taken by the executive board in the interests of the athletes in Kosovo and to remove any uncertainty they may have," the IOC said.
"It will allow them to take part in qualifications for the Olympic Games Rio 2016 and in future editions of the games."
The move was opposed by Serbian Olympic officials, who had worked to block international acceptance of Kosovo. Kosovo has a majority of ethnic Albanian inhabitants. Serbia, which considers Kosovo the cradle of its statehood and religion, has refused to accept the breakaway province's independence.
The IOC said Kosovo met the sports and technical requirements for acceptance, including the definition of a "country" in the Olympic Charter as "an independent state recognised by the international community."
The IOC said Kosovo is recognized by 108 of 193 UN member states.