A summary of sports events and sports persons, who made news on Saturday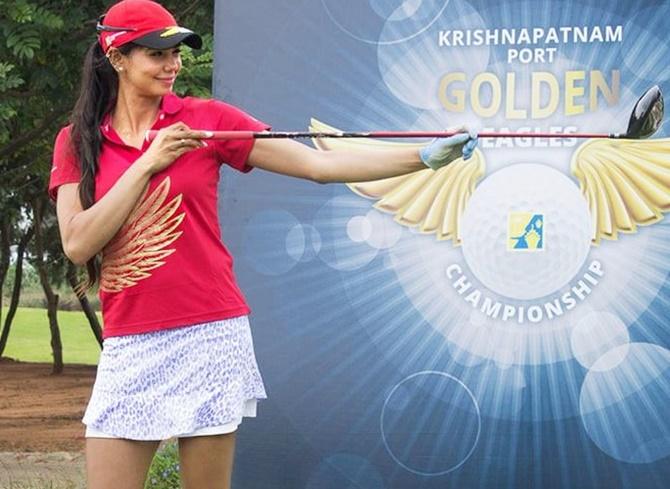 IMAGE: Sharmila Nicollet fought her way back into the tournament. Photograph: Sharmila Nicollet/Twitter
Sharmila Nicollet has become the first Indian golfer to qualify for the China Ladies PGA Tour.
The 26-year-old Bengaluru golfer fought her way back into the tournament in the last two rounds to earn a card for the Tour, which had Women's World rankings points also.
Sharmila, who played on the Ladies European Tour before losing her full card, played her three rounds in the CLPGA Tour Qualifying School in 77-73-72 to finish in tied 21st and pick one of the 30 cards available in the 88-player field.
The course conditions were tough, but Sharmila, came through it well.
She is planning to play in China, Australia and the LET besides some events on the domestic Hero Women's Pro Golf Tour in India, too. The plan according to her is to work towards collecting points to qualify for the 2020 Olympics.
Sharmila's qualification is a continuation of the growth story of Indian golf as the country's top woman golfer Aditi Ashok straddles between US LPGA and Ladies European Tour and is ranked 78th in the world.
Besides Aditi and Sharmila, Vani Kapoor has a full card on LET, while Amandep Drall, Gaurika Bishnoi and Saaniya Sharma have limited status on the Ladies European Tour.
Akhil remains unbeaten in circuit
Seasoned Indian boxer Akhil Kumar kept his unbeaten professional record intact, scoring a Technical Knockout over Tanzanian Sadiki Momba in his second bout, in New Delhi.
Competing under the aegis of a new promoter in Hope and Glory Boxing, in association with the World Boxing Council (WBC), the 35-year-old Akhil got the better of Momba in the very first round of what was to be a six-round super lightweight (63.5kg) contest.
The former Commonwealth Games gold-medallist left his rival with a bloodied face, forcing an early end to the proceedings.
Also winning on the six-bout fight-card was Beijing Olympics quarterfinalist Jitender Kumar (lightweight, 61.2kg).
He got the better of Georgian Dato Nanava. Jitender was also competing in just his second professional bout an maintained his unbeaten record.
Vishnu Vardhan, Rawat post wins in ATP Challenger
Five Indian players, including Olympian Vishnu Vardhan today made it to the final qualifying round of the Chennai Open ATP Challenger tournament in Chennai.
The fourth-seeded Vishnu Vardhan, ranked 512 currently, made short work of compatriot Ramakrishnan Rangaraju 6-3, 6-0.
He will meet fifth-seed Sidharth Rawat for a spot in the main draw. Rawat routed fellow Indian Shahbaaz Khan conceding only three games.
Little-known local lad Abhinav Sanjeev Shanmugam sprung a surprise, beating American Tyler Hochwalt first and then getting the better of eighth-seeded Aryan Goveas 7-6, 4-1 (retired).
Yuki Bhambri, who will be the second-seed in the main draw, and other Indians including Sumit Nagal, Prajnesh Guneswaran, Saketh Myneni and Sasikumar Mukund, had an intense practice session.
Ghosal gets past Scot Lobban into final
National champion and top seed Saurav Ghosal subdued a fighting Greg Lobban, the third seed from Scotland, to enter the final of the $ 35,000 Vedanta Indian Squash Open in Mumbai.
Ghosal, 12-time winner of the national men's crown who is currently ranked 14th in the world, put his best foot forward and scored a 11-8, 13-11, 11-6 victory in 54 minutes over Lobban, ranked 33rd globally, in a hard-fought semi-final tie in the PSA Tour event at the NSCI courts in Worli.
In a repeat of the CCI International summit clash, Ghosal will meet second-seeded Swiss Nicolas Mueller tomorrow for the title following the latter's come-from-behind 9-11, 11-6, 13-11, 11-4 victory in 54 minutes over seventh seeded English rival Chris Simpson.
It was the second win over Lobban in as many face-offs for the 31-year-old Ghosal, who intends to play in singles and mixed doubles in the April Commonwealth Games in Gold Coast, Australia, against the Scot.
India go down 1-4 to defending champs Kazakhstan in WSB opener
India's second stint at the semi-professional World Series of Boxing (WSB) was off to a disappointing start as the team went down 1-4 to three-time champions Astana Arlans in Karaganda City, Kazakhstan.
World Championship quarter-finalist Kavinder Singh Bisht (52kg) was the lone Indian boxer to pull off a win as he fetched a split 2-1 verdict over Akniet Baltabayev.
The visiting side, christened Indian Tigers in its second coming and owned fully by the Boxing Federation of India, returned to the event, in which boxers compete in five rounds of three minutes each, after seven years.
Each tie comprises five bouts and India were being represented by Kavinder, Ankush Dahiya (60kg), Duryodhan Singh Negi (69kg), Brijesh Yadav (81kg) and Parveen Kumar (+91kg)
The Indian Tigers replaced Mumbai Tigers, which had pulled out in 2011 due to differences with the then national federation.
India will next square off against the Patriot Boxing Team from Russia, once again in an away clash, on March 2. The tie is scheduled to take place in Kazan.