Rooney 'more or less' decided on Man United future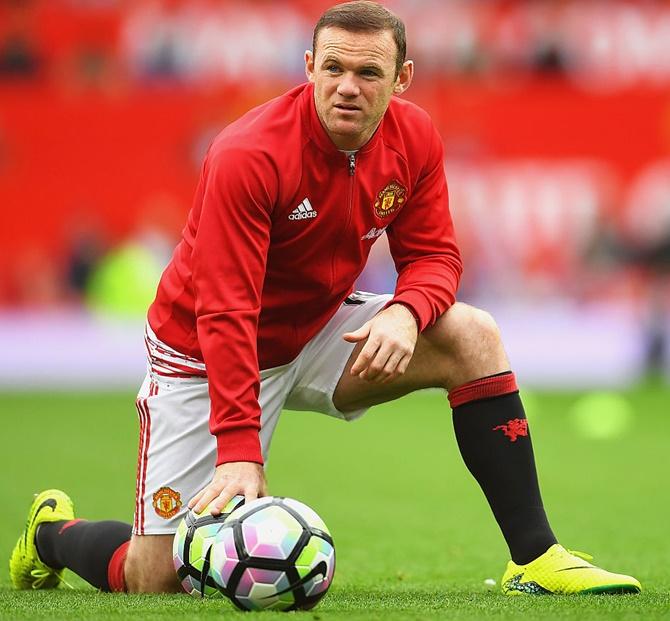 IMAGE: Wayne Rooney of Manchester United stretches. Photograph: Laurence Griffiths/Getty Images.
Manchester United captain Wayne Rooney is close to making a decision about extending his 13-year stay at the Premier League club but will take a few weeks to contemplate, the 31-year-old has said.
Rooney, United's record goal-scorer with 253 goals, has two years left on his contract but his role at the club has become diminished with the striker making just 25 starts and 14 substitute appearances in the side's 64 matches this season.
"Honestly, I've said before, I don't know," Rooney told British media.
"I've got decisions to make now over the next few weeks, have a word with my family and then I'll decide. I think I just have to make a decision in terms of a football decision, and that's what I'll do.
"More or less, yeah," Rooney added when pressed about whether he was close to a decision.
Rooney, who was left out of the England squad for their upcoming matches against France and Scotland, was introduced in the 90th minute of the Europa League final on Wednesday as United won 2-0 to seal a Champions League spot next season.
Valentino Rossi recovering after motocross accident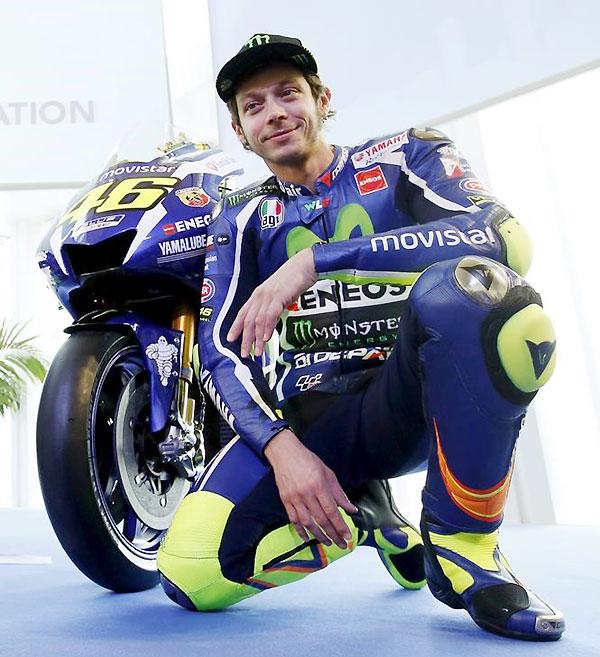 IMAGE: MotoGP rider Valentino Rossi. Photograph: Albert Gea/Reuters
Valentino Rossi has suffered slight liver and kidney lesions in a motocross accident, but the Italian MotoGP great is making "positive progress" and could be released from hospital on Friday, his Yamaha team said.
The 38-year-old nine times world champion was admitted to hospital in Rimini after the accident in eastern Italy on Thursday.
"Valentino will continue to receive pain relief over the next 12 hours and, over the course of the day, he will undergo routine diagnostic tests," Yamaha said in a statement.
"If the results are positive, he may be discharged from the hospital within the day."
Yamaha said Rossi, currently third in a championship he led before crashing in France last weekend, had spent a quiet night in hospital and felt less pain in his chest and abdomen.
"The pain is the result of slight liver and kidney lesions that have not evolved into further complications," the statement added.
Rossi's home grand prix at Mugello, near Florence, is the next round of the MotoGP championship on June 4.
Wales boss Coleman says not interested in Palace job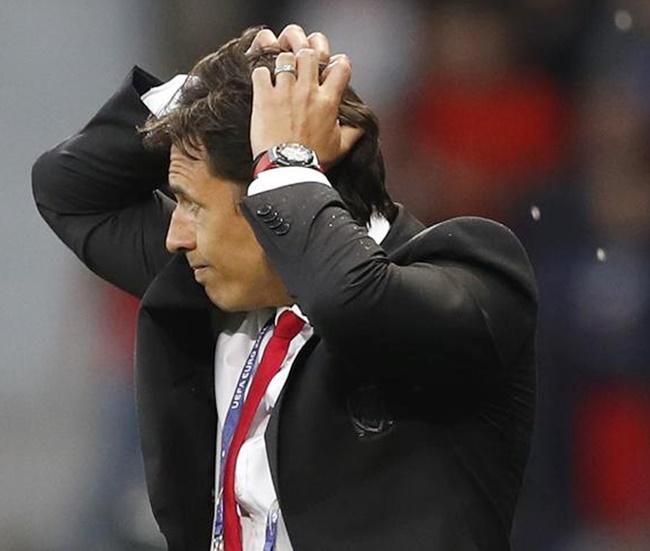 IMAGE: Wales head coach Chris Coleman reacts. Photograph: Carl Recine/Reuters
Wales boss Chris Coleman is not interested in becoming the new manager of former club Crystal Palace and is rather preoccupied with the June 11 World Cup qualifier against Serbia, the 46-year-old has said.
Premier League side Palace are without a manager after Sam Allardyce stepped down on Tuesday and Coleman, who made 154 appearances for Palace from 1991-95, had been linked with the vacant position, according to media reports.
Coleman, who has a year left on his contract with the Football Association of Wales, said he was only thinking about the match against Serbia.
"I'm happy to talk about the Palace. I'd love to go back to the Palace but I'm not sure Prince Charles is ready for me just yet," Coleman quipped after announcing his squad for the game.
"I had a good time at the Palace but I'm only thinking about Serbia. That's all I'm thinking about, that's all I care about. All I care about now is Wales.
"I don't think about after Serbia... "
Wales are third in Group D, four points adrift of second-placed Republic of Ireland and first-placed Serbia, who are level on 11 points.
Gareth Bale will miss the Serbia match through suspension but Coleman was confident that his side would get a result without the forward.
"We went to Belgium once (in 2013) with no Gareth Bale, no Ashley Williams, no Joe Allen - and we got a result. On the night, Aaron Ramsey was incredible, he ran the show," Coleman said.
"People are prepared to step up, I'm quite confident of that. Ideally you want your best players on the pitch but I've had a lot of time to plan.
"I've total belief in my players. Are they capable of doing what they need to do? Absolutely. There's no worries."
De La Hoya flays Mayweather v McGregor 'circus'
Hall of Famer Oscar De La Hoya has termed the proposed bout between retired American boxer Floyd Mayweather and Irish mixed martial arts champion Conor McGregor a "circus", saying the sport may never recover if the "farce" is allowed to take place.
McGregor, the biggest pay-per-view draw in the UFC promotion, announced earlier this month that he had signed his half of the deal to box against the 40-year-old Mayweather, who retired in 2015 with a 49-0 record.
"With each passing day, it looks more and more likely that the circus known as Floyd Mayweather v Conor McGregor will be coming to town in the near future," De La Hoya wrote in an open letter posted on his Facebook account.
"One group will eventually be left to make sure this farce doesn't occur... We, the fans, who are the lifeblood of our sport," he wrote.
The 10-time professional world champion predicted his former rival Mayweather would simply destroy the 28-year-old McGregor in any such contest.
"...just wait until the best boxer of a generation dismantles someone who has never boxed competitively at any level -- amateur or professional.
"Our sport might not ever recover," said De La Hoya, pointing out the differences between boxing and MMA.
"To use a bit of an extreme analogy, I happen to be a pretty good golfer. Could I potentially hold my own on one of the second-tier tours? Maybe. But would I be able to compete with Rory McIlroy, Jordan Speith or Sergio Garcia? Of course not. Nor would I think to try."
The proposed bout threatens to overshadow the September superfight between Gennady Golovkin and Canelo Alvarez which De La Hoya's company is promoting but the American said his concern was genuine.
"...if Floyd were to come out of retirement to take on someone like Keith "One-time" Thurman, Errol Spence or some other top welterweight, not only would I applaud the fight, I'd be the first one on line for a ticket," he added.
"That kind of fight is what the fans -- and I am a fan first -- deserve."