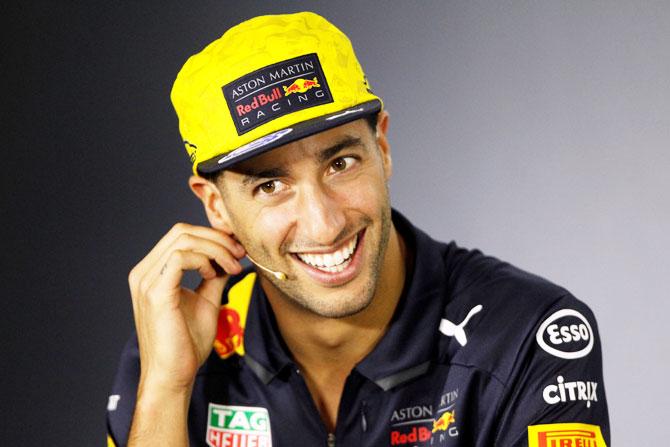 Australian driver Daniel Ricciardo will join the Renault Formula One team next season after agreeing a two-year deal, the French manufacturer said in a statement on Friday.
"It was probably one of the most difficult decisions to take in my career so far. But I thought that it was time for me to take on a fresh and new challenge," said Ricciardo.
The surprise announcement will ripple through the driver market, with other teams set to shake up their line-ups as a consequence.
"Daniel Ricciardo has advised us that he is to leave the team at the end of the 2018 season," Red Bull said in a statement without saying where he was headed.
The winner of two races this season has been linked to Renault and McLaren in media speculation but the former, as a manufacturer team in fourth place in the championship, look a more desirable option.
There was no immediate comment from the French team.
"We fully respect Daniel's decision to leave Aston Martin Red Bull Racing and we wish him all the best in his future," said Red Bull team boss Christian Horner.
"We would like to thank him for his dedication and the role he has played since joining the Team in 2014, the highlights of course being the seven wins and the 29 podiums he has achieved so far with us.
"We will now continue to evaluate the numerous options available to us before deciding on which driver partners Max Verstappen for the 2019 season."
Ricciardo had been out of contract at the end of the year and was assessing his options, but any hope of joining champions Mercedes disappeared when they retained titleholder Lewis Hamilton and Finland's Valtteri Bottas.
Glamour team Ferrari have shown no obvious interest either, with Sauber's Monegasque rookie Charles Leclerc tipped to replace Kimi Raikkonen if the 38-year-old 2007 world champion is not kept on.
The extrovert Australian, a fan favourite with his permanent smile and thrilling overtakes, had indicated before the August break that he was set to stay at third-placed Red Bull and was just 'fine-tuning' details.
Former champions Renault are the best of the rest and had a vacancy, with Spaniard Carlos Sainz there on loan from Red Bull alongside Germany's Nico Hulkenberg.
Sainz could return to the Red Bull fold alongside his former Toro Rosso team mate Verstappen but has also been linked to McLaren, where he could form an all-Spanish line-up with Fernando Alonso.
McLaren have not won a race since 2012 and are going through a rebuilding phase.
Russian Lysenko stripped of neutral athlete status
Russian high jumper Danil Lysenko has been provisionally suspended and stripped of his status as a neutral athlete following breach of anti-doping regulations, the International Association of Athletics Federations (IAAF) said on Friday.
Russia was banned by the IAAF in 2015 following an independent World Anti-Doping Agency investigation into allegations, still denied by Moscow, of state-sponsored doping.
Some Russian athletes, however, were cleared to compete internationally by demonstrating to the IAAF that their training environment met the required anti-doping standards.
The Athletics Integrity Unit (AIU) has charged and provisionally suspended Lysenko for the breaches.
"The decision... has been made as a result of Mr Lysenko's failure to provide whereabouts information as required under the IAAF Anti-Doping Rules and Regulations and to make himself available for out-of-competition testing by the AIU," the IAAF said in a statement.
Lysenko cannot compete at next week's European Athletics Championships in Berlin, the governing body added.
The 21-year-old equalled the season's best in high jump with a leap of 2.40 metres at the Monaco Diamond League meeting last month.
Competing as a neutral athlete, Lysenko also won gold at the world indoor championships in Birmingham by defeating Qatar's Mutaz Essa Barshim, who beat him to top the world championships in London last year.
He was one of seven Russian athletes allowed by the IAAF to participate in Birmingham in March.
British javelin thrower Blair hit with four-year ban
Former British javelin champion Joanna Blair has been suspended from all sport for four years following a positive test for steroids in 2017, UK Anti-Doping said on Friday.
Blair tested positive for a metabolite of the steroid metandienone after an out-of-competition test while in France for the European Team Championships in June 2017, after which she was provisionally suspended.
The 32-year-old has said that she did not intentionally ingest the substance, arguing that a creatine supplement she was taking had been contaminated. However, her appeal was dismissed and the sanction upheld.
"We've seen numerous cases involving steroids in recent months. This case demonstrates that there are serious consequences to an Anti-Doping Rule Violation (ADRV)," UKAD chief executive Nicole Sapstead said in a statement.
"Beyond the performance-enhancing qualities of steroids, there are significant health risks associated with their use, including kidney failure, liver damage and an increased risk of strokes and heart attacks."
The period of ineligibility will apply from the date of notification of the failed test on July 20, 2017 and will run until July 19, 2021.
European Championships: Russian pairs take first golds
Synchronised swimmers Svetlana Kolesnichenko and Varvara Subbotina were crowned as the first champions at the inaugural multi-sports European Championships on Friday.
The Russian pair, a combination of youth and experience, dominated the duet technical routine at Glasgow's Scotstoun Sports Campus, performing to the soundtrack of musical 'Chicago'.
Their compatriots Aleksandr Maltsev and Mayya Gurbanberdieva then underlined their country's familiar dominance in synchro events by taking the duet technical mixed title.
Subbotina, a 17-year-old, and Kolesnichenko, a 24-year-old who has won 13 world titles and was part of Russia's gold medal winning team at the 2016 Rio de Janeiro Olympic Games, are only in the first year of their partnership.
The penultimate duo to perform, they dominated the event with a total of 95.1035 points, in a different league to Ukraine's silver medallists Anastasiya Savchuk and Yelyzaveta Yakhno (92.6188) and Italy's bronze winners Linda Cerruti and Costanza Ferro (89.7519).
Maltsev, a double world champion in the mixed duet free, and Gurbanberdieva, a 19-year-old with a stellar junior career behind her, sealed the Russian golden double with 89.5853 points from Italy's Manila Flamini and Giorgio Minisini (88.6973) and the Spain's Berta Ferreras Sanz and Pau Ribes Culla (82.3217).