Summary of sports events and persons who made news on Friday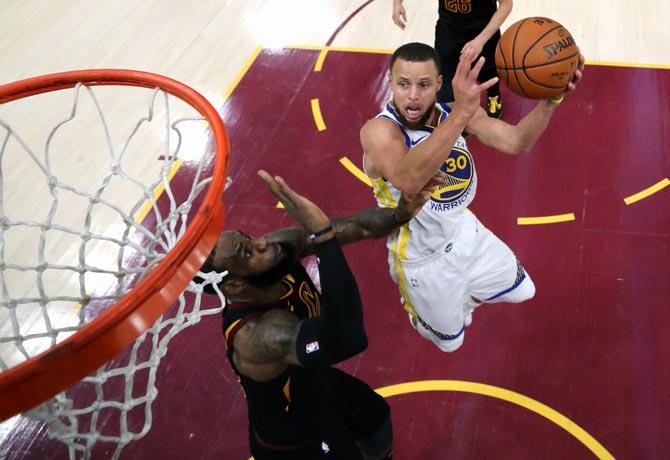 Three-time NBA champion Stephen Curry will take space agency NASA up on its offer to tour its lunar lab after he sparked controversy by saying he did not believe humans had ever been to the Moon, comments he later called a joke.
Allard Beutel, a spokesman for the agency who this week invited Curry to tour the Johnson Space Center in Houston, told science publication Inverse on Thursday the Golden State guard said he would be willing to make the trip.
"Mr. Curry (is) taking us up on our offer," Beutel said.
"We still need to work out all the visit details."
The controversy started on Monday when Curry said on a podcast that he did not believe humans had ever been to the Moon.
NASA landed 12 American astronauts on the Moon from 1969-1972.
On Wednesday Curry backtracked, telling ESPN that his comments were just a joke.
"Obviously I was joking when I was talking on the podcast. [Then] I was silently protesting how stupid it was that people actually took that quote and made it law," he said.
"I am definitely going to take [NASA] up on their offer. I am going to educate myself firsthand on everything that NASA has done and shine a light on their tremendous work over the years.
"And hopefully people understand that education is power, informing yourself is power."
The Warriors will be in Houston to take on the Rockets on March 13.
WTA to offer increased rankings protection for returning mothers: report
The Women's Tennis Association (WTA) will offer greater protection to the rankings of mothers returning to the tour after giving birth, British media reported on Thursday.
Players returning from maternity leave or injury will now be able to use their previous ranking to enter 12 tournaments over a three-year period.
However, Serena Williams' request for returning mothers to be seeded in line with their rankings has not been approved.
The 23-times Grand Slam champion made a comeback in February after giving birth to her daughter last year.
Her world ranking had fallen to 451 when she was not seeded at the French Open. She was, however, seeded 25th at this year's Wimbledon despite being ranked outside world's top 32 players.
The BBC reported that the WTA had also clarified its regulations around clothing to ensure Williams would be able to wear the black catsuit which attracted the ire of the French Tennis Federation president Bernard Giudicelli.
The WTA did not immediately respond to a Reuters request for confirmation.
Chelsea condemn alleged anti-Semitic chanting
Chelsea said fans found guilty of racism would face the strongest possible action following allegations of anti-Semitic chanting by their supporters during their final Europa League group game against Vidi FC in Budapest on Thursday.
British media reported some Chelsea supporters chanted offensive songs about Tottenham Hotspur fans early in their 2-2 draw in Hungary.
The incident came days after four Chelsea fans were banned from their matches pending a police investigation following the alleged racist abuse of ManchesterCity forward Raheem Sterling last Saturday.
"Anti-Semitism and any other kind of race-related or religious hatred is abhorrent to this club and the overwhelming majority of our fans," the club said in a statement.
"It has no place at Chelsea or in any of our communities. We have stated this loud and clear on many occasions from the owner, the board, coaches and players.
"Any individuals that can't summon the brainpower to comprehend this simple message and are found to have shamed the club by using antisemitic or racist words or actions will face the strongest possible action from the club."
European soccer's governing body UEFA said they would wait to receive their official reports before launching an investigation.
"As is standard procedure, we will be waiting for official reports from the game before deciding if any action/investigation into any alleged misbehaviour should be launched," UEFA said in a statement.
Chelsea progressed to the knockout stage as Group L winners ahead of BATE Borisov in second. Vidi were eliminated after finishing third.
La Liga says UEFA third competition plans endanger European soccer
Spain's La Liga said on Thursday that UEFA's plans for a third club competition "endanger the future" of European soccer and risk domestic leagues becoming uncompetitive.
The Spanish football league called on European soccer's governing body to open up dialogue with leagues and increase solidarity payments before moving ahead with plans for a third major club competition.
This is set to be introduced from the 2021-22 season with 32 teams in the group stage, the head of the association representing Europe's biggest clubs said in September.
"Fundamental issues related to the long-term health of clubs, programming, TV rights, competitive balance in national leagues and the relationship between national leagues and European club competition have been ignored," La Liga said.
"While the European leagues have accepted the introduction of a third club competition, UEFA can't take these decisions on their own without considering the leagues that will be affected," La Liga President Javier Tebas said in a statement.