A summary of sports events and sports persons, who made news on Wednesday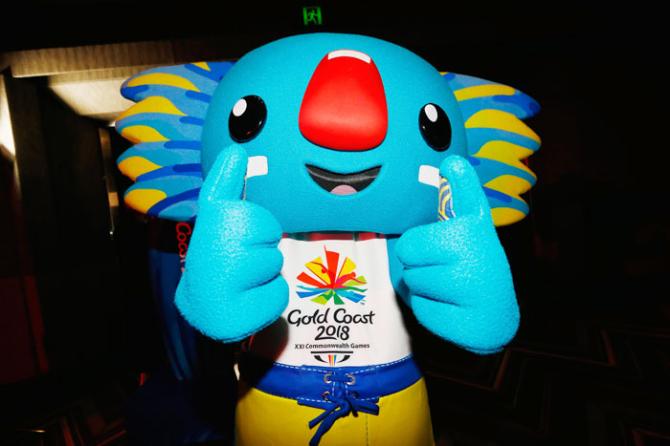 IMAGE: 'Borobi' the 2018 Gold Coast Commonwealth Games mascot (Image used for representational purposes). Photograph: Jason O'Brien/Getty Images
The International Hockey Federation (FIH) has selected three Indians to officiate in next year's Commonwealth Games in Gold Coast.
While Davinder Bhatia has been appointed as a judge, Deepak Joshi and Durga Devi will be seen officiating as umpires.
The 56-year-old Davinder was recently promoted to FIH Technical Official category 3 for outdoor hockey and is delighted that her hard work is paying off.
"I have been a former hockey player with the Indian women's team that won the gold medal at the 1981 Asia Cup and 1982 Asian Games. The happiness and sense of achievement that I am feeling with my appointment as a judge at the Commonwealth Games is unimaginable.
"Hockey India's efforts and my hard work have finally paid off. I can still proudly represent my country at the highest level even at this age," said a delighted Davinder.
The two Indian umpires who have been appointed for the Gold Coast 2018 Commonwealth Games too are proud of their achievement at such a young age.
"I started hockey coaching in 2011 after pursuing NIS diploma course. I got the opportunity to work as a volunteer in the Hockey World League Round 2 in 2013 and Junior Men's Hockey World Cup in 2013 wherein I officiated in the practice matches. Soon I realised that I can take up umpiring as a career," said 29-year-old Deepak.
"Getting selected for the Commonwealth Games is the result of hard work and the experience I have gained. It is the proudest moment of my life."
33-year-old Durga Devi, who will also be an umpire at the Gold Coast 2018 Commonwealth Games added: "I started my playing career in 2003 from the SAI Hostel in Dharamshala, and represented the Himachal Pradesh state team. However, I could not get selected for the National Team and hence grew my focus on umpiring.
"I have had a lot of opportunity offered by Hockey India and this has given me the right exposure to officiate at the Commonwealth Games."
Both the Indian men's and women's hockey teams will be seen in action at the 2018 Commonwealth Games to be held in Gold Coast April 4 to 15.
Deepa Malik to receive M G Mehta Human Spirit award
Rio Paralympics silver medallist Deepa Malik will be honoured with the 'M G Mehta Human Spirit' award, at a ceremony to be held here next month.
The award, which has been previously won by Padma Shri awardee Arunima Sinha, the first Indian woman amputee to scale Mount Everest in 2013, and paralympic cyclist Aditya Mehta, has been instituted by the Ratna Nidhi Trust.
"I look forward to receiving this award. Ratna Nidhi's work for persons with disabilities has been massive and at a global scale. Their founder Mahendrabhai Mehta was a beacon of light. This award, in his memory is absolutely priceless," Malik was quoted as saying in a statement issued in Mumbai.
Malik was honoured with the Padma Shri earlier this year and Arjuna Award in 2012.
"We chose Deepa Malik for the 'M G Mehta Human Spirit' award, for her exemplary achievements. We confer this every year around World Disability Day (observed on December 3) to a deserving individual who is a role model to persons with disabilities in India," trustee of Ratna Nidhi Trust, Rajiv Mehta said.
The award will consists of a cash award of Rs 1 lakh and a citation.
The award ceremony will be held on November 21 at the Y B Chavan Auditorium in south Mumbai.
Spanish player banned for eight months for betting offences
Spanish tennis player Samuel Ribeiro Navarrete has been given an eight-month ban and fined $1,000 for "betting-related corruption offences", the Tennis Integrity Unit (TIU) said on Tuesday.
The TIU said an investigation had found the player made 28 bets on matches between January and March 2013, although none of the bets related to matches in which he played.
Navarrete, 24, has a career-high singles ranking of 723, which he reached in July 2016.
Four months of his ban is suspended on condition that he commits no further breaches of the Tennis Anti-Corruption Program, the TIU added in the statement.