Summary of sports events and persons who made news on Tuesday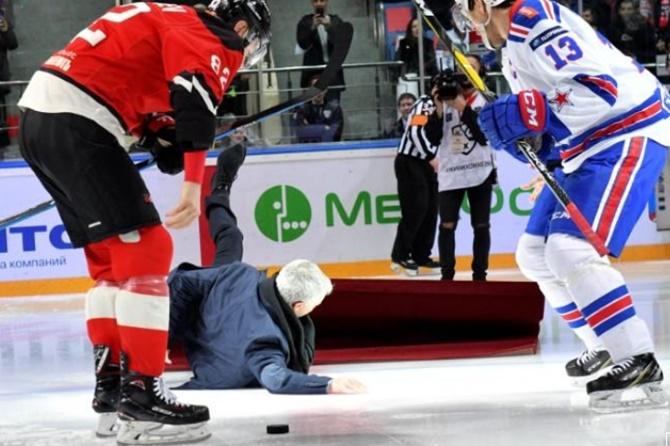 Former Manchester United manager Jose Mourinho took a nasty tumble at an ice hockey game outside Moscow on Monday, drawing gasps and laughs after performing a ceremonial puck drop.
Mourinho, who was sacked by United in December, made the first puck drop of the Kontinental Hockey League (KHL) game between Avangard Omsk and SKA Petersburg, two of the league's best teams, at an arena in Balashikha.
Yet as he walked off the ice to the theme song of the "Rocky" movie series, Mourinho tripped on a red carpet and fell backwards, sparking gasps from the crowd.
He was helped up by SKA captain Pavel Datsyuk, a Russian national team player and twice Stanley Cup winner with the Detroit Red Wings in North America's National Hockey League (NHL).
Avangard Omsk wrote on their Instagram page that Mourinho, 56, had not sustained any injuries in the fall.
"Everything is fine with the coach," the team said. "He is already back on the plane."
Impressive win for Sasikumar, Nagal bows out of ATP Challenger
India's Sasikumar Mukund came up with an impressive performance to outclass his German rival Sebastian Fanselow 6-3, 6-1 in the second round of the Chennai Open ATP Challenger 80 tennis tournament.
However, Sumit Nagal, who is aiming to get his career back on track after a moderate 2018, suffered a 3-6, 4-6 loss to Korea's eighth seed Duckhee Lee.
Mukund played fluent, attacking tennis to subdue his German rival. He started strongly and held serve with an ace.
Fanselow struggled but held serve in his opening game. From 2-all, Mukund won 12 of the next 13 points to go ahead 5-2.
The German held on to his serve after great difficulty to claw back to 3-5.
Mukund then saved the only break point against him with an ace and thereafter went on to win the next two points to clinch the first set 6-3.
The Indian was at his best in the second set, securing a break in the very first game and began to find the lines with greater regularity.
Fanselow held serve in the third game but Mukund was on a roll now and won 16 of the next 20 points played to record a straightforward win.
He will next play third-seeded Mohammed Safwat of Egypt in the next round. Safwat defeated Andrea Pellegrino of Italy 6-3, 7-5 in a clinical display.
In the another match, former Wimbledon junior doubles champion Nagal struggled to find his serving rhythm and Lee, a semifinalist here last year, broke Sumit thrice to win the first set 6-3.
In the second set the two players traded one service break each. At 4-all, Lee held serve and broke Nagal in the tenth game with ease to move into the next round.
In another match, Khelo India Games Under-21 winner, Manish Sureshkumar, a wild card entrant found the going tough against Brydan Klein of Britain and went down in straight sets.
In the doubles, Italian pair of Gianluca Mager and Andrea Pellegrino shocked the third-seeded Indian duo of Arjun Khade and Saketh Myneni in straight sets.
Top-seeded Prajnesh Gunneswaran will open his campaign on Wednesday against Daniel Altmaier of Germany, while 11th-seed Saketh Myneni will face compatriot Vijay Sundar Prashanth.
Arjun Khade will face 13th-seed Jose Hernandez-Fernandes of the Dominican Republic.
Results: Men's singles: Main draw: 1st round (Indians unless specified): Luke Saville (Aus) beat Moez Echargui (Tunisia) 7-6 (9-7), 6-1; Brydan Klein (GBR) beat Manish Sureshkumar 6-2, 6-3; Alexander Zhurbin (Russia) beat Ricardo Ojeda Lara (Spain) 6-2, 6-4; Collin Altamirano (USA) beat Kaito Uesugi (Japan) 1-6, 6-3, 7-6(8); Ian Gakhov (Russia) beat Dayne Kelly (Aus) 7-6, 6-3.
Second round: Mohamed Safwat (Egypt-X3) beat Andrea Pellegrino (Italy) 6-3, 7-5; Sasikumar Mukund (X16) beat Sebastian Fanselow (Ger) 6-3, 6-1; Duckhee Lee (Kor-X8) beat Sumit Nagal 6-3, 6-4; Andrew Harris (Aus) beat Tsung-Hua Yang (Taipei) 6-2, 6-1; Alejandro Davidovich Fokina (Spain-X5) beat Renta Tokuda (Japan) 3-6, 6-2, 6-3; Nicola Kuhn (Spain-X10) beat Antoine Escoffier (Fra) 4-6, 7-6(5) 4-0 (retired).
Men's doubles: 1st Round: Sidharth Rawat and Manish Sureshkumar beat Anirudh Chandrasekar and Abhinav Sanjeev Shanmugam 6-7(5), 6-2, 10-5; Gianluca Mager and Andrea Pellegrino (Italy) beat Arjun Kadhe and Saketh Myneni (X3) 7-6(4), 6-3; Matt Reid and Luke Saville (Aus-X1) beat Blake Ellis and Bradley Mousley (Aus) 7-6(4), 6-4.
N Vijay Sundar Prashanth (Ind) and Rubin Statham (NZ) beat Byran Klein (GBR) and Toshihide Matsui (Japan) 6-4, 6-4; Nam Hoang Ly (Vietnam) and Sumit Nagal beat Ivan Nedelko and Alexander Zhurbin (Russia) 6-1, 6-2.
Halep appoints Belgian Van Cleemput as new coach
Former world number one Simona Halep has appointed Thierry Van Cleemput as her new coach and will officially begin working with the Belgian at next week's Qatar Open.
Halep had planned to fly solo for the first few months of 2019 after former coach Darren Cahill left to spend more time with his family in Australia.
French Open champion Halep began speaking with Van Cleemput at last month's Australian Open after he split with world number 21 David Goffin midway through the tournament, according to a report on the WTA website.
Van Cleemput had worked with his compatriot for the last five years, overseeing Goffin's rise to the top-10.
World number three Halep, whose pre-season was shortened due to a back issue, made the fourth round at Melbourne Park where she lost to American Serena Williams in three sets.
Halep will represent Romania in their Fed Cup tie against Czech Republic in Ostrava this weekend before tournaments in Doha and Dubai.
Shaky Wawrinka suffers first-round defeat in Sofia
Three-times grand slam champion Stan Wawrinka fell at the first hurdle in the Sofia Open on Monday, beaten 3-6 7-6(5) 6-4 by Romanian Marius Copil.
The Swiss, who has fallen to 57 in the rankings, strolled to the first set in just 23 minutes after breaking Copil in the sixth game, but the Romanian became more and more comfortable as the match went on and bagged the second set after a tiebreak.
Copil, who reached the tournament's final last year, put up stubborn resistance from the baseline in the third set, wrapping up his first career victory over the 33-year-old Wawrinka, whose trademark backhand failed to fire.
"It's great to start with a win against Wawrinka," said world number 56 Copil. "I made a few mistakes at the beginning. I had to change things, I knew I had to stay in the game after losing the first set.
"I served well today," added the Romanian. "The serve has always been my main weapon."
Next up for Copil is the winner of the first-round clash between sixth seed Fernando Verdasco of Spain and Bulgarian qualifier Alexandar Lazarov, who defeated Italy's Luca Vanni 7-6(6) 3-6 7-5 on Monday.
Top seed Karen Khachanov of Russia will kick off his campaign in the second round against the winner of the match between Uzbekistan's Denis Istomin and Italian Matteo Berrettini.
Greek second seed Stefanos Tsitsipas, who reached the Australian Open semi-finals last month, will play against Germany's Jan-Lennard Struff or Italy's Stefano Travaglia.