Mary Kom shocked by coach's resignation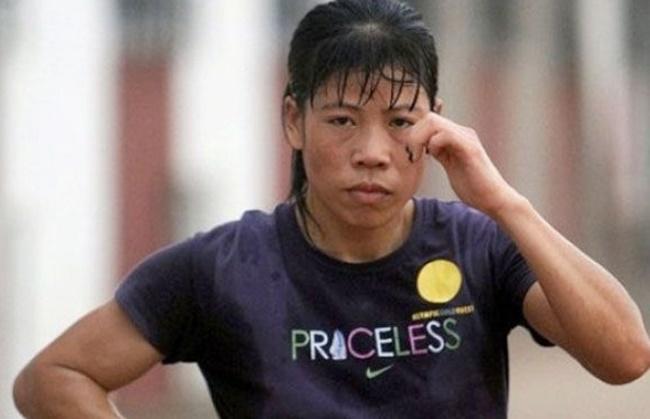 IMAGE: MC Mary Kom will try to convince coach Stephane Cottalorda on reconsidering his resignation. Photograph: PTI
Top Indian woman boxer M C Mary Kom says coach Stephane Cottalorda's resignation has left her shocked and she would try to convince him on reconsidering it.
Cottalorda, India's first foreign coach for women boxers, resigned within a month of taking over, complaining of delay in salary payment and lack of professionalism in the national federation.
The 41-year-old Frenchman, who took over in August, e-mailed his resignation to the Boxing Federation of India (BFI), saying that he could no longer wait for the fulfillment of promises made to him.
Reacting to the development, Mary Kom, a five-time world champion and an Olympic bronze-medallist, said, "It is very disappointing and I am quite shocked. Speaking as an athlete, I can only say that he had been an excellent addition to the camp."
"It was our responsibility to take care of his requirements. I hope he comes back, in fact, I will personally try to convince him on coming back," said the boxer, who is also a government observer for the sport.
Cottalorda alleged that he repeatedly communicated his concerns to the federation, which did not act on them.
The federation, on its part, asserted that most of Cottalorda's demands have been met and they would try and persuade him to come back. Ironically, his initial arrival itself was delayed by over a month owing to some procedural issues.
BWF World Senior C'ships: Miranda, Sanave and Rupesh enter quarters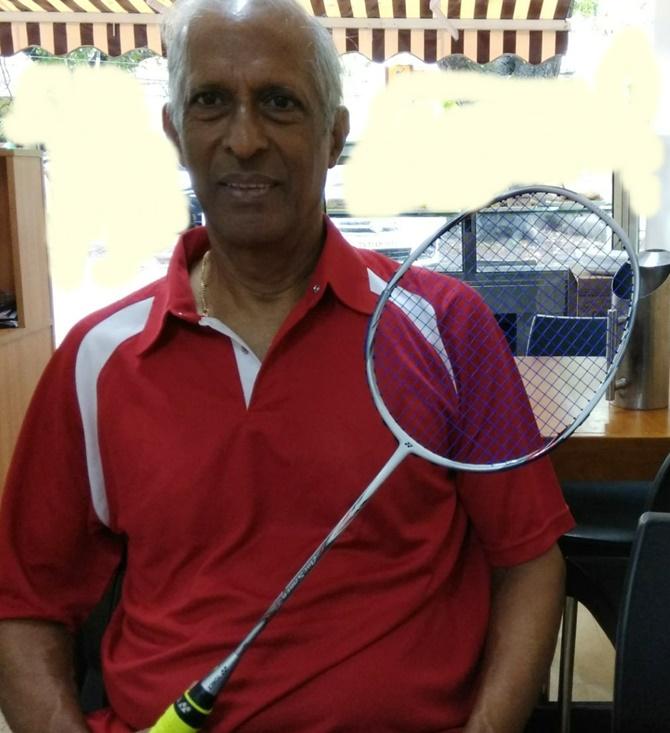 IMAGE: Hubert Miranda. Photograph: Facebook
India's Hubert Miranda cruised into the quarter-finals of the BWF World Senior Badminton Championships at the Rajiv Gandhi Indoor Stadium, in Kochi, on Thursday.
The 5/8 seeded Indian in +65 men's singles category brushed aside Germany's Eckhardt Peschel 21-10, 21-7 in just 17 minutes.
Miranda, who won a bronze medal in above-65 World championship in New Zealand recently, earlier registered a comprehensive 21-14, 21-12 victory over Noriaki Imai of Japan.
The 69-year-old will next meet Denmark's Per Dabelsteen.
Indian duo of Sanave Thomas and Rupesh Kumar registered a scintillating victory over the Swiss pair of Philippe Gabella and Raphael Lienhard to cruise into the quarter-finals.
The top seeded Indian pair, touted as firm favourites to lift the men's double title in the +35 age category made short work of the Swiss pair 21-7, 21-10 to stay on course for their maiden Masters title.
They will meet the Danish pair of Lars Klintrup and Morten Rasmussen in the last eight stage.
In the +55 men's singles category, one of the tournament favourites Harjit Singh made a stunning comeback to register a hard fought victory 14-21, 21-12, 21-9 over Fred Fiebeg of Germany to book a spot in the quarterfinals. He will take on 3/4 seeded Bengt Mellquist of Sweden in his next match.
India out of top-100, placed 107 in FIFA ranking
The Indian football team has dropped 10 places to be placed 107 in the latest FIFA ranking.
The Sunil Chhetri-led side notched up two victories and a draw in three matches after they were placed 97th last month.
India beat Mauritius and held Saint Kitts and Nevis to a draw to clinch the Tri-nation football series before defeating Macau in an away fixture in the 2019 AFC Asian Cup
Qualification third round.
India have dropped below the 100th spot for the first time since May.
The Blue Tigers had achieved one of their best rankings in recent history when they climbed to the 96th spot in July.
Mukund, Khade into semis of ITF Futures
Second-seed Sasikumar Mukund of India and his compatriot Arjun Khade reached the singles semi-finals of Justice P S Kailasam ITF Men's Futures Tennis Championship 2017 here today with hard-fought wins.
Joining them in the last four were Dutchman Colin van Beem (seeded fourth) and Seong-Gook Oh of Korea.
Mukund needed over two hours to edge out the sixth-seeded Haadin Bava 7-5, 7-6 while Khade, who reached the semi-final in last week's event at the MCC courts, continued his good run by beating Canadian Kelsey Stevenson in three sets.
Van Beem did well to stop the winning run of qualifier Jayesh Pungliya, beating him 7-5, 6-3.
Results (Indians unless otherwise specified): Men's singles (quarterfinals): Sasi Kumar Mukund (2) bt Haadin Bava (6) 7-5, 7-6(6); Arjun Kadhe bt Kelsey Stevenson (Canada) 3-6, 6-4, 6-4; Seong-Gook Oh (Korea) bt Clement Larriere (FRA) 6-0, 1-6, 6-4; Colin van Beem (Neth) (4) bt Jayesh Pungliya 7-5, 6-3.
Doubles (Semifinals): Arjun Kadhe/Rishabdev Raman bt Lucas Gomez (Mexico)/Kelsey Stevenson 6-4, 6-3; Chandril Sood/Lakshit Sood (1) bt Mohit Mayur Jayaprakash/Vinayak Sharma Kaza (4) 6-3, 4-6, 10-8.