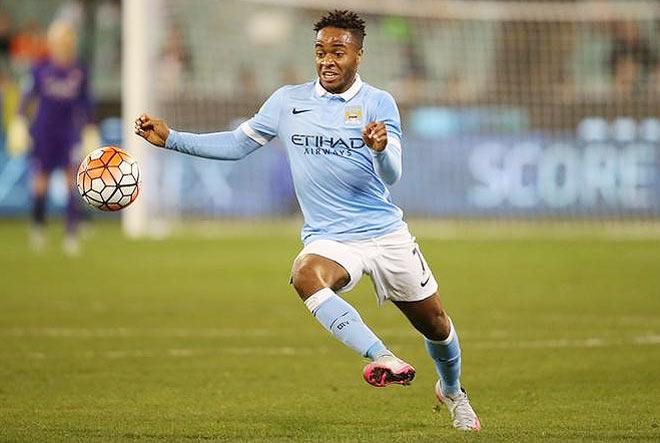 IMAGE: Raheem Sterling. Photograph: Jason O'Brien/Action Images via Reuters
A man arrested for an attack on Manchester City forward Raheem Sterling has been jailed for 16 weeks after he pleaded guilty to racially aggravated common assault on Wednesday.
The Manchester and Salford Magistrates' Court heard that the attacker, Karl Anderson, had 25 convictions for 37 offences, including football-related violence, the BBC reported. The 29-year-old will pay a 100 pound ($134) fine.
Anderson apologised for his actions, which involved kicking Sterling four times and abusing the player using racist language during the "unprovoked" assault outside City's training ground on Saturday.
Sterling said he "did not think this kind of behaviour happened in this country in this day and age" in his victim impact statement read out to the court.
The 23-year-old England international scored twice in City's 4-1 win over Tottenham Hotspur at the Etihad Stadium on Saturday evening.
Mumbai City FC beat NorthEast FC 2-0 in ISL
NorthEast United FC lost 0-2 to Mumbai City FC to suffer another home setback in Hero Indian Super League at the Indira Gandhi Athletic Stadium, in Guwahati on Wednesday.
Balwant Singh scored on either side of the break to ensure a 2-0 win for the Mumbai outfit.
NorthEast were on the attack from the start and were unlucky not to have scored in the fourth minute. Luis Alfonso nicked the ball from Achille Emana in midfield and dribbled his way into the box to get his shot away.
It beat custodian Amrinder Singh, but not the upright. The 26th minute saw the home team miss a great chance. Halicharan Narzary whipped in a pass from the left flank to which Marcinho got a toe to set up Seiminlen Doungel. An onrushing Amrinder, however, put Doungel off, and he couldn't keep his shot on target. Three minutes later, Narzary fashioned a shot from a slightly acute angle, but it resulted in the ball just about sailing over the crossbar.
However, it was MumbaiCity who took the lead against the run of play, and it was down to some lapse judgement from Highlanders' keeper Ravi Kumar who was covering for a suspended TP Rehenesh.
Balwant got on the other side of the defence with the ball, but the NorthEast defenders could have probably covered back. Kumar though chose to rush out of the box, and Mumbai's top scorer slotted the ball through his legs and into the goal for a 1-0 lead at the break for the visitors.
NorthEast took charge once more after the restart, and substitute Malemngamba Meitei stung Amrinder's palms with a fierce shot after skipping away from his marker on the hour mark. Mumbai fashioned a couple of opportunities themselves within the next four minutes.
First Emana's 62nd minute shot after cutting inside was met with a smart save from Kumar. Then two minutes later, Balwant missed a glorious opportunity when Emana's free-kick found him free in the box. He could not keep his header on target though.
But the two would combine again for Mumbai's and Balwant's second. Rowllin Borges scuffed an attempted back-pass in the 68th minute, and it allowed Emana to nip in. With an on-rushing Kumar in front of him, the Cameroonian unselfishly squared it for Balwant to score into an empty net.
Two Kosovo men plea guilty of plotting to attack Israeli soccer team
Two Kosovo men pleaded guilty on Wednesday to planning attacks at a World Cup soccer match in Albania against the visiting Israel team last year.
Kosovo police arrested 19 people in November 2016 on suspicion that they had links with the Islamic State militant group and were planning attacks in Kosovo and neighbouring Albania. Nine of them were charged.
The state prosecutor said some of them were in contact with Lavdrim Muhaxheri, Islamic State's self-declared "commander of Albanians in Syria and Iraq", who ordered them to attack. Police said Muhaxheri was killed in June this year.
"... I accept guilty plea," defendant Kenan Plakaj said in court. He is accused of making explosives, after police found half a kilo of explosives at his house, the indictment said. The other defendant, Besart Peci, also pleaded guilty.
Sentences were not announced.
Another defendant facing trial had kept in his basement 283 grams of self-made explosives. The same triacetone triperoxide explosive was used in attacks in Paris and Brussels and has been found in various foiled bombings in Europe since 2007.
No militant attacks have been staged in Kosovo, whose population is largely ethnic Albanian Muslim. But at least 200 people have been detained or investigated over offences related to Islamic State, and a total of 300 Kosovars have gone to Syria to fight for Islamic State. More than 70 have been killed.
International and local security agencies in Kosovo are worried that many of those returning from combat zones will pose a security threat.
In 2015, Kosovo adopted a law introducing jail sentences of up to 15 years for anyone found guilty of fighting in wars abroad.
Turkey wants NBA star jailed for insulting President Erdogan
A Turkish prosecutor asked for NBA's New York Knicks star Enes Kanter to be jailed for up to four years for insulting Turkish President Tayyip Erdogan, the state-run news agency Anadolu reported on Wednesday.
Kanter's passport was revoked by Turkish authorities earlier this year, and an arrest warrant was issued after he was named a "fugitive" by a Turkish court over his support for U.S-based Islamic preacher Fethullah Gulen, whom Ankara accuses of orchestrating an attempted coup in July 2016.
Kanter is a long-time supporter of Gulen, who has lived in self-imposed exile in Pennsylvania since 1999 and whose extradition Erdogan is seeking. Gulen denies involvement in the failed putsch.
The indictment on Wednesday said Kanter used Twitter to "defame and deride" Erdogan, Anadolu said.
The 6-foot-11-inch center tweeted on Wednesday in response to the indictment, adding screenshots of the media reports.
"I have said less than that honourless (man) deserves. Add another 4 years for me, master," he told his 526,000 Twitter followers.
Kanter was detained in Romania in May when authorities learned his Turkish passport had been revoked. He later returned to the United States.
Kanter lashed out at Erdogan at a news conference following his detention, calling him the "Hitler of our century."
He holds a US green card that allows him to live and work in the country on a permanent basis.
Last year, Turkish media published a handwritten letter signed by Kanter's father, Mehmet, disowning a son he accused of having been "hypnotized" by the Gulen movement.
In response, the 25-year-old Kanter -- the third pick in the NBA draft when he joined Utah Jazz in 2011 -- said he was dedicating himself to Gulen and the cleric's Hizmet (Service) movement.