Kynan shoots 49 as Indian men's trap raises medal hopes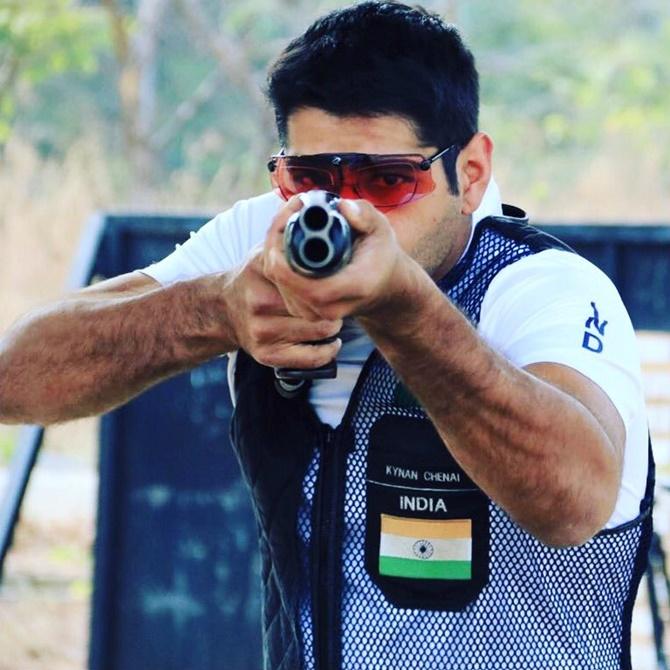 IMAGE: Kynan Chenai in action. Photograph: Twitter
Indian men's trap team, including Kynan Chenai, raised hopes of a medal after they grabbed the fourth place in the qualification rounds on the opening day of the ISSF World Shotgun Championship in Moscow.
Chenai, fresh from an Asian Championship Bronze last month, shot 49 while Zoravar Sandhu and Birendeep Sodhi also shot scores of 47 and 46 respectively out of 50, to take India to fourth in the Team competition, a point behind second and third placed Croatia and Kuwait respectively.
Semi-finalists and final team standings will be determined after three more rounds or 125 shots on Saturday.
At the Fox Lodge shooting range, Chenai had two rounds of 25 and 24 to be placed 15th on count-back, but replication of Friday's form could see him earn a top six berth, which would be the first step towards a medal for the close to 150 Trap shooters in the fray.
In women's Trap, Rajeshwari Kumari was the best placed Indian with a score of 45 putting her in 22nd place. Shreyasi Singh was in 41st place with 42 while Seema Tomar was 54th with 40.
Pacquiao withdraws from November fight with Horn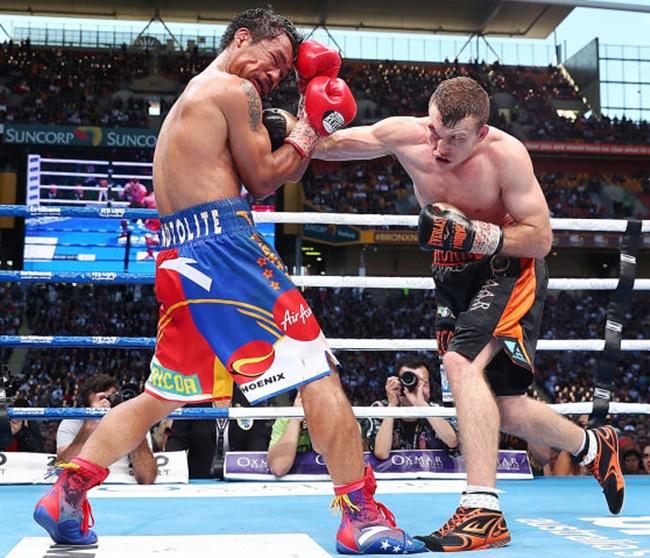 IMAGE: Jeff Horn of Australia punches Manny Pacquiao during the WBO World Welterweight title fight. Photograph: Chris Hyde/Getty Images
Manny Pacquiao has pulled out of his proposed November rematch with Jeff Horn for the WBO welterweight title because of government duties.
Pacquiao, a senator in the Philippines, is unavailable for the proposed Nov. 12 bout due to the conflict, the Australian promoters of the fight announced Friday. Horn upset Pacquiao for the WBO welterweight title in a unanimous 12-round decision in Brisbane, Australia, on July 2.
"On behalf of the Philippines government, he (Pacquiao) will be part of a delegation that will visit China in the middle of his proposed preparation period for the fight," said Dean Lonergan, who is Horn's promoter.
"Pacquiao is committed to fighting again in 2018 and a rematch with Jeff Horn for the WBO world welterweight title."
The proposed rematch in Brisbane had been confirmed by both camps on Aug. 21. The fight was expected to be held at the same outdoor stadium in Brisbane where a hometown crowd of 51,000 saw Horn, a former schoolteacher, stun Pacquiao for the WBO welterweight belt.
Rossi vows to make quick return after surgery
Italian MotoGP great Valentino Rossi has vowed to make a quick return to the track after surgery on Friday for a broken leg sustained in an off-road bike accident that effectively ended this year's title chances.
"The surgery went well. This morning, when I woke up, I felt already good," the 38-year-old said in a Yamaha statement after the operation in the eastern Italian coastal city of Ancona.
"I'm very sorry for the incident. Now I want to be back on my bike as soon as possible. I will do my best to make it happen."
Yamaha said Rossi was operated on in the early hours after being transferred from hospital in Urbino, where he had initial X-rays.
"Valentino is doing well," Raffaelle Pascarella, director of the Ancona hospital orthopaedics and trauma department, told a news conference.
Pascarella said the operation lasted about an hour and involved inserting a pin into the injured limb. Rossi will stay in hospital for another three or four days, but should rest for around 40 days.
Exactly how long Rossi will wait before getting back on his bike "depends a lot on him", Pascarella said, adding: "I was struck by how calm he was."
The accident, while he was riding an off-road enduro bike, and likely recovery time realistically ends Rossi's title chances for another year.
There are six races remaining and the Italian seems sure to miss at least two of them.
The next race is at Misano on Italy's Adriatic coast, near Rossi's home, on Sept. 10 and that is followed by Aragon in Spain on Sept. 24.
The rider is currently fourth in the overall MotoGP standings and 26 points behind leading compatriot Andrea Dovizioso. A race win is worth 25 points.
Rossi also broke his right leg in practice for the Italian Grand Prix in 2010. The rider returned to MotoGP after an absence of six weeks that time.
Nagpur's Divya wins gold in World Cadets Chess Meet
Eleven-year-old Divya Deshmukh emerged winner in the girls' U-12 category at the World Cadets Chess Championship at Pocos de Caldas, Brazil.
In the Under-8 open section, A R Ilamparthi of Tamil Nadu drew his final round game to finish fourth with eight points.
Divya drew with top-seeded compatriot Rakshitta Ravi in the eleventh and final round on Thursday to win the coveted title. She scored a total of 9.5 points to give India its only medal in the championship this year.
The Nagpur girl with an ELO rating of 1993, started as the third seed, won eight games and drew three rounds for the triumph. Rakshitta Ravi finished eighth with seven points. Bhagyashree Patil finished 15th with 6.5 points. Dhayana Patil scored 6 points to finish 18th.
It is Divya's second world title after her victory in the under-10 World Youth Chess Championship in Durban in 2014. She had previously won the U-10 Asian blitz event in early 2014 and won the rapid and standard formats in the Asian Schools Championship in 2012. Also, in 2013, she had become the youngest woman FIDE Master.
Bottas pips Hamilton in Monza practice
Mercedes dominated Italian Grand Prix practice on Friday with Valtteri Bottas pipping teammate Lewis Hamilton for the fastest lap of the day, with Ferrari's Formula One leader Sebastian Vettel the best of the rest.
Hamilton was quickest in a cloudy morning session with some rain, clocking a lap of one minute 21.537 seconds while Bottas was second, but the tables were turned in the dry afternoon running.
The Finn pulled out a 1:21.406 while Hamilton - who will oust Vettel from the championship lead he has held all season if he wins the last European race of the year on Sunday - was 0.056 slower.
Vettel, seven points clear of his British rival, was third in both sessions with the gap closing in the afternoon to just 0.140. He had been more than a second slower in the opening 90 minutes at Ferrari's home track.
"It's been a good day, a clean day," said Hamilton, who won in Belgium last weekend and is favourite to take a record 69th career pole position on Saturday.
"We got the running done, we got through our programme with no problems. The car seems nicely balanced here. We just have some work to do to eke out a little bit more performance.
"It looks quite close between us and the Ferraris, so I anticipate it's going to be similar to the last race in that sense."
Ferrari Kimi Raikkonen was fourth fastest in practice one and two.
The Ferrari fans will take heart that Mercedes also looked strong in Belgian Grand Prix practice at Spa last weekend. Ferrari closed the gap, with Vettel on Hamilton's tail throughout the race.
They will also be buoyed by the fact that no driver has won two races in a row this season.
"I think going into this weekend we need to be fair and say that the track layout suits Mercedes, but the performance that we showed last week gives us hope," Vettel had told reporters on Thursday.
The Red Bull pairing of Australian Daniel Ricciardo and Dutch teenager Max Verstappen followed in fifth and sixth places, but both face grid penalties after Saturday's qualifying because of power unit changes.
Verstappen will have a drop of 15 positions while Ricciardo, who finished third in Belgium last weekend, has a 20 place penalty.
In a surprising move up for struggling McLaren, whose Honda engine has been short on both performance and reliability, Belgian Stoffel Vandoorne was seventh quickest and Fernando Alonso eight. Alonso also has a 35-place grid penalty, however.
Spaniard Carlos Sainz, who also has a 10 place grid penalty, ended the second session early when his Toro Rosso suffered an engine failure.
The virtual safety car was deployed near the close when Kevin Magnussen's Haas stopped on track with a broken suspension.