A summary of sports events and sports persons, who made news on Friday.
Aditi Ashok moves up to tied-4th in Dubai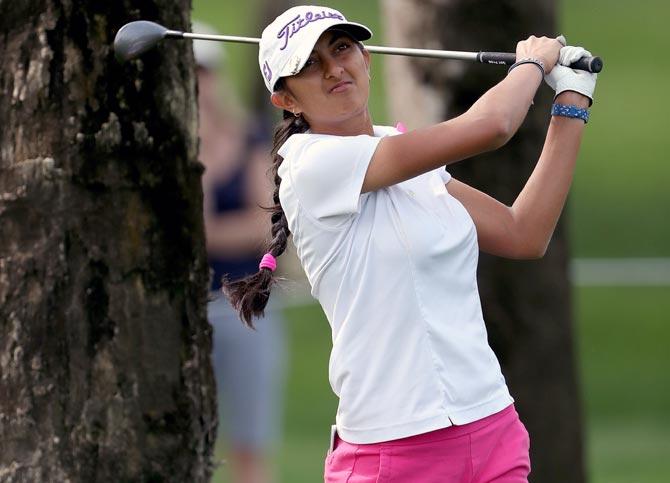 IMAGE: Aditi Ashok plays her second shot on the par 4, first hole during the third round of the 2017 Dubai Ladies Classic. Photograph: David Cannon/Getty Images
Aditi Ashok carded yet another solid four-under 68 to move to Tied-4th after round three at the Omega Dubai Ladies Classic at the Emirates Golf Club in Dubai.

The 19-year-old, who was the Rookie of the Year in 2016 and also second on the Order of Merit, had five birdies against one lone bogey. The final round will be played on Saturday.
At 9-under, Aditi (69-68-68) is three shots behind the leader, Dutch golfer Anne Van Dam (70), who is now 12-under for 54 holes. Anne Van Damm had shot 69-65 on first two days.

Aditi, who has three titles on the Ladies European Tour, had won in Qatar (in 2016) and in Abu Dhabi this year.

Yin, 19, had a stunning round with four birdies in a row from second to fifth and in all made eight birdies against one bogey. She join Sweden's Pernilla Lindberg for a share of second on 10-under, just two shots behind the overnight leader.

On the moving day, a number of players, including Dame Laura Davies, the recent Ricoh Women's British Open winner In-Kyung Kim and Charley Hull moved up onto an exciting bunched-up leaderboard, with just four shots separating the top 11.

England's Hull, who finished runner-up to China's Shanshan Feng last year, and Aditi, were tied for fourth on 9-under while Kim and Davies shot matching 66s to move into a six-way tie for sixth on eight under.

American Katie Burnett, Laura Jansone of Latvia, Florentyna Parker of England and Denmark's Nicole Broch Larsen completed the group, promising a thrilling finish coming down the stretch on Saturday.
Kuznetsova to miss Australian Open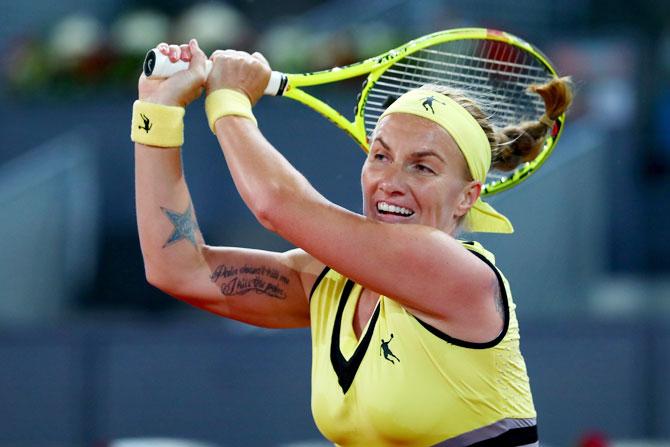 IMAGE: Russia's Svetlana Kuznetsova. Photograph: Clive Rose/Getty Images
Russia's world number 12 Svetlana Kuznetsova will miss next month's Australian Open as she recovers from wrist surgery, organisers confirmed on Friday.
The 32-year-old former French and US Open champion was already rated doubtful and was missing from the official entry list when it was published on Friday along with China's world number 94 Zheng Saisai, who has a right knee problem.
Reigning champion Serena Williams was included in the field for the first grand slam of the year but remains a doubt for the event after giving birth to a daughter in September.
Novak Djokovic, Andy Murray, Kei Nishikori and Stan Wawrinka, all of whom ended last season early due to injuries, are expected to return to Australia next month.
"We have been in regular contact with Andy Murray, Kei Nishikori and Stan Wawrinka, who are all set for the Aussie summer," tournament director Craig Tiley said in a statement.
"They will all have lower rankings meaning there's a real chance we'll finally see a breakthrough from one of the rising stars like Alexander Zverev, Dominic Thiem or David Goffin."
The Australian Open follows the world rankings for seedings so world number ones Rafa Nadal and Simona Halep will top the men's and women's singles draws for the Jan. 15 to 28 event at Melbourne Park.
US gymnastics team doctor sentenced to 60 years for child pornography
A federal judge on Thursday sentenced Larry Nassar, the former USA Gymnastics team doctor accused of sexually assaulting gymnasts, to 60 years in prison on federal child pornography charges that grew out of a sex abuse investigation.
US District Judge Janet Neff in Grand Rapids, Michigan handed down the sentence sought by prosecutors, who said there was a link between Nassar's child pornography and his "prolific molestation of children," according to court documents.
"He has demonstrated that he should never again have access to children," Neff said according to the Lansing State Journal.
Nassar's attorney, Matt Newburg, said he was "devastated" and remorseful, according to a State Journal video.
Nassar, 54, pleaded guilty in July to possessing thousands of images and videos of child pornography depicting children as young as infants between 2003 and 2016.
Nassar is also set to be sentenced in January in two Michigan courts after pleading guilty to additional counts of criminal sexual conduct related to allegations he assaulted girls under the guise of medical treatment.
US expects to participate in Winter Olympics: White House
White House Press Secretary Sarah Sanders on Thursday said the United States looks forward to participating in the Olympic Winter Games in South Korea in February, after questions arose about security in the neighbour to North Korea, which has recently ramped up weapons testing.
"The US looks forward to participating in the Winter Olympics in South Korea," Sanders wrote in a tweet.
"The protection of Americans is our top priority and we are engaged with the South Koreans and other partner nations to secure the venues."
United Nations Ambassador Nikki Haley had cast doubt over whether athletes representing the country would participate in the Olympics, telling Fox News on Wednesday that the United States is concerned about its citizens,
When asked Thursday at the regular White House press briefing, Sanders said "no official decision has been made" about participation and the decision would come closer to the games' start date, February 9. She also said the decision would be reached through a process involving multiple agencies, where President Donald Trump would "certainly weigh in."