A summary of sports events and sports persons, who made news on Tuesday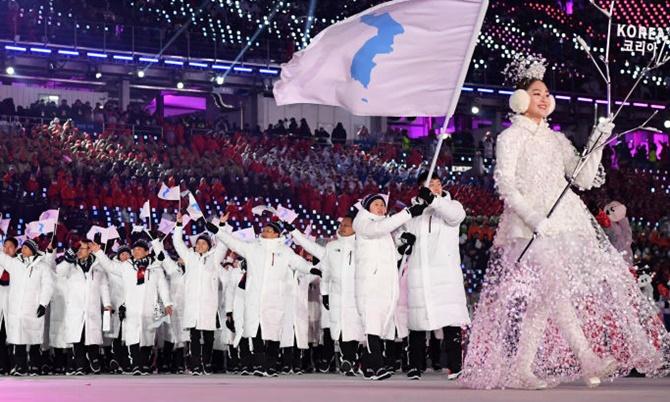 IMAGE: The North Korea and South Korea Olympic teams enter together under the Korean Unification Flag during the Parade of Athletes during the Opening Ceremony of the PyeongChang 2018 Winter Olympic Games. Photograph: Matthias Hangst/Getty Images.
Ministers from the two Koreas agreed to push for a unified delegation from both countries parading together in the opening ceremony at this year's Asian Games in Indonesia, according to the Yonhap News Agency.
At a meeting in Pyongyang on Monday, the North's Kim Il-guk and his South counterpart Do Jong-whan discussed future sporting collaborations between the nations as tensions heightened by Pyongyang's nuclear ambitions continue to thaw.
The nations marched under a unified flag at the opening and closing ceremonies of February's Winter Olympics in Pyeongchang and the ministers were optimistic of a similar partnership at the August-September Asian Games, being co-hosted by Jakarta and Palembang.
According to Yonhap, the ministers would be finalising the details after the two countries' historic summit at the end of April.
"It would be great if we can have working level discussions and start working on specific agreements after the summit at the end of April," Do told reporters. "I hope sports can lead the way for inter-Korean reconciliation."
A South Korean delegation travelled to Pyongyang on Saturday in a reciprocal cultural visit after North Korea sent performers to the South for the Winter Games.
A taekwondo presentation preceded performances from K-pop stars, including Red Velvet, in the North Korean capital.
The neighbours are technically still at war after the 1950-53 conflict ended with a ceasefire, not a truce.
Pacquiao to fight Argentine Matthysse for WBA welterweight title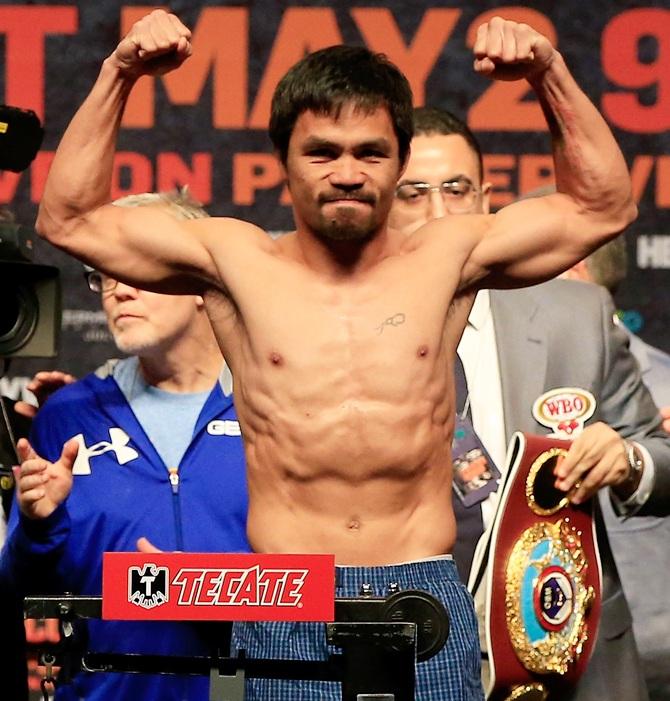 IMAGE: Manny Pacquiao. Photograph: Jamie Squire/Getty Images
Manny Pacquiao will fight Argentine welterweight champion Lucas Matthysse for the World Boxing Association (WBA) crown in Kuala Lumpur in July, promoter Oscar de la Hoya said.
"Signed, sealed, and delivered: Proud to officially announce that WBA welterweight world champion @MatthysseLucas will put his title on the line against @mannypacquiao in Kuala Lumpur, Malaysia on Saturday night July 14 (U.S. time)," De la Hoya said on Twitter.
Matthysse beat Thailand's Tewa Kiram to win the vacant WBA welterweight belt in January and take his record to 38-4-0.
Filipino Pacquiao, 39, last fought in a unanimous points loss to Australian Jeff Horn in July last year. He is ranked second in the division and has an overall record of 57-6-2.
Seven cities confirm interest in 2026 winter Games
Seven cities, or joint-bidding cities, have expressed interest in hosting the 2026 winter Olympics, the International Olympic Committee said on Tuesday.
Canada's Calgary, Austria's Graz, Swedish capital Stockholm, Sion in Switzerland, Turkey's Erzurum, Japan's Sapporo and a joint bid from Italy's Cortina d'Ampezzo, Milan and Turin are all in the initial process.
The cities will now enter a dialogue stage until October when the IOC will invite an unspecified number of them to take part in the one-year candidature phase.
The IOC has overhauled the bidding process for Games after a sharp slump in interest from potential cities in recent years, cutting costs for bid cities and slashing the campaign time in half.
It will elect the winning bid at its session in Milan in September 2019.
Nearly one third of Champions League matches one-sided
Nearly one third of matches in this season's Champions League have been one-sided, ending in a difference of three goals or more, according to a survey by a Swiss-based institute.
The CIES Football Observatory analysed results in 29 European competitions - 27 domestic leagues plus the Champions League and Europa League - and found that the number of "very uneven" games had increased in 20 of those compared to last season.
"This analysis reveals the general trend towards competitive imbalance in European football," it said.
UEFA President Aleksander Ceferin has said that lack of competitive balance was the biggest issue facing European club football.
The flagship Champions League has become increasingly dominated by a handful of elite clubs while many domestic leagues have turned into one-horse races, such as the Bundesliga where Bayern Munich are cruising towards a sixth successive title.
The CIES study said the Champions League had the highest number of games ending in a difference of three goals or more at 29.5 percent, compared to 21 percent at the same stage last season.
Of Europe's five biggest domestic leagues, the figure was highest in the English Premier League at 21.9 percent and was lowest in the Bundesliga at 11.1 percent, down 5.6 percent on last season despite a number of high-scoring games involving Bayern Munich.
The figures for the other big five leagues were 19.8 percent in Serie A, 17.9 percent in La Liga and 17.6 in Ligue 1.
A relatively small percentage of Europa League games, 16.1 percent, were uneven while the Russian league had the least number of unbalanced matches at 10.5 percent, the report said.
Latin Americans fans buying World Cup tickets faster than Europeans
Latin American fans are buying tickets for the World Cup in Russia faster than Europeans, according to figures published by global soccer body FIFA on Tuesday.
FIFA said that 394,433 tickets were sold in the most recent sales period and 216,134 of those were allocated to fans from the host nation.
Fans from the United States were the biggest buyers among foreign supporters with 16,642 tickets, even though their team has not qualified. However, as the numbers are based on country of residence, a proportion of the U.S. sales could come from the nation's large Hispanic community.
The next five biggest purchasers were Argentina (15,006), Colombia (14,755), Mexico (14,372), Brazil (9,962) and Peru (9,766).
Germany, whose team are the defending champions, was the top European nation with 5,974 tickets allocated while China (6,598), Australia (5,905) and India (4,509) completed the top ten.
China and India have also failed to qualify.
FIFA did not give a breakdown for the overall total of 1,698,049 tickets which have been sold so far. The final batch of tickets will go on sale from April 18, the organisation said.
A number of European countries and the United States are in a major standoff with Russia, with expulsions of diplomats on both sides, over the poisoning of a former Russian spy in England last month. Britain has blamed the attack on Russia which has denied responsibility.
FC Goa beat ATK to enter quarter-finals
FC Goa beat fellow Indian Super League side ATK 3-1 to book a quarter-final berth in the Super Cup football tournament in Bhubaneswar on Tuesday.
Ferran Corominas (45+1) opened the scoring for FC Goa before Robbie Keane (50th) replied with an equaliser soon after the lemon break in the round of 16 match at the Kalinga Stadium.
Strikes from Hugo Boumous (70th) and Brandon Fernandes (77th) helped the Goans book a a quarter-final spot. They take on Jamshedpur FC in the last eight stage.
Jamshedpur FC had beaten I-League champions Minerva Punjab 5-4 in sudden death penalty shootout in a round of 16 match on Monday.